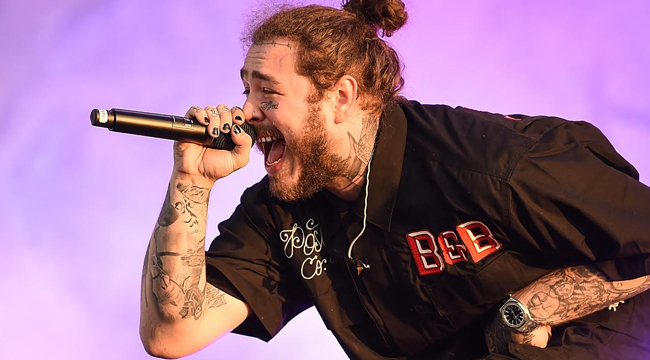 A lot has changed since the very first Lollapalooza began all the way back in 1991. What was once a traveling showcase of musical talent curated by Perry Farrell that hit outdoor amphitheaters from Mansfield, Massachusetts to Irvine, California has now become a sprawling, single four-day long event held annually in the heart of Chicago in Grant Park, attended by roughly 400,000 people. During that early, formative era, Lolla was a cultural touchstone, where the likes of Pearl Jam, Soundgarden, Nine Inch Nails, Smashing Pumpkins, and Red Hot Chili Peppers burnished their legacies in front of the unwashed, disaffected Gen-X masses.
This year, however, felt like a critical tipping point. Where once Lollapalooza was a rock festival with a few hip-hop names added among the roster — the first lineup featured Ice-T and his group Body Count, the second had Ice Cube, while the fourth had the Beastie Boys and A Tribe Called Quest — now that dynamic has entirely flipped on its head. In 2018, hip-hop reigned supreme, while rock was relegated to the fringes, and not always by the organizers in charge.
The perfect visual metaphor for this shift came in the late afternoon on the second day of the festival. A sea of teens and twenty-somethings had tilted the entire gravity of Grant Park northward toward the Bud Light stage to watch Post Malone regale them with hits from his first two albums, Stoney and this year's blockbuster Beerbongs & Bentleys. It was by far the largest gathering of people for a non-headliner all weekend long, and easily surpassed the audience size that many other people with bigger fonts on the poster. The distance from the lip of the stage to Jackson Street is nearly a quarter of a mile, and kids had filled nearly every inch of that span. It was incredible.
Posty had just finished crooning his song "Stay," a rather tender, minor-key ballad that he played while strumming a beautiful looking acoustic guitar and had segued into the next track "Go Flex," when the urge to destroy took hold. The rapper grabbed the guitar and as the crowd cheered him on, smashed it into kindling on the stage. Then he ripped into "Rockstar," while an inferno of pyro flailed him. Several mosh pits broke out near the front, while kids dreamed of "poppin' pillies" and feeling like their face-tatted idol in front of them.
I personally couldn't help but contrast the enthusiasm for Post Malone with the frankly disappointing crowd that showed up to catch Jack White close the festival out at the larger Grant Park stage just two nights later. White is the preeminent guitar god of his generation, an artist who crafted one of the great arena rock anthems of all-time, "Seven Nation Army," and an honest to God rockstar. The exact kind Post once daydreamed about on record with 21 Savage. And yet, the audience for White just wasn't there. I'd say that he drew about half the amount of people as Post, and that's being generous.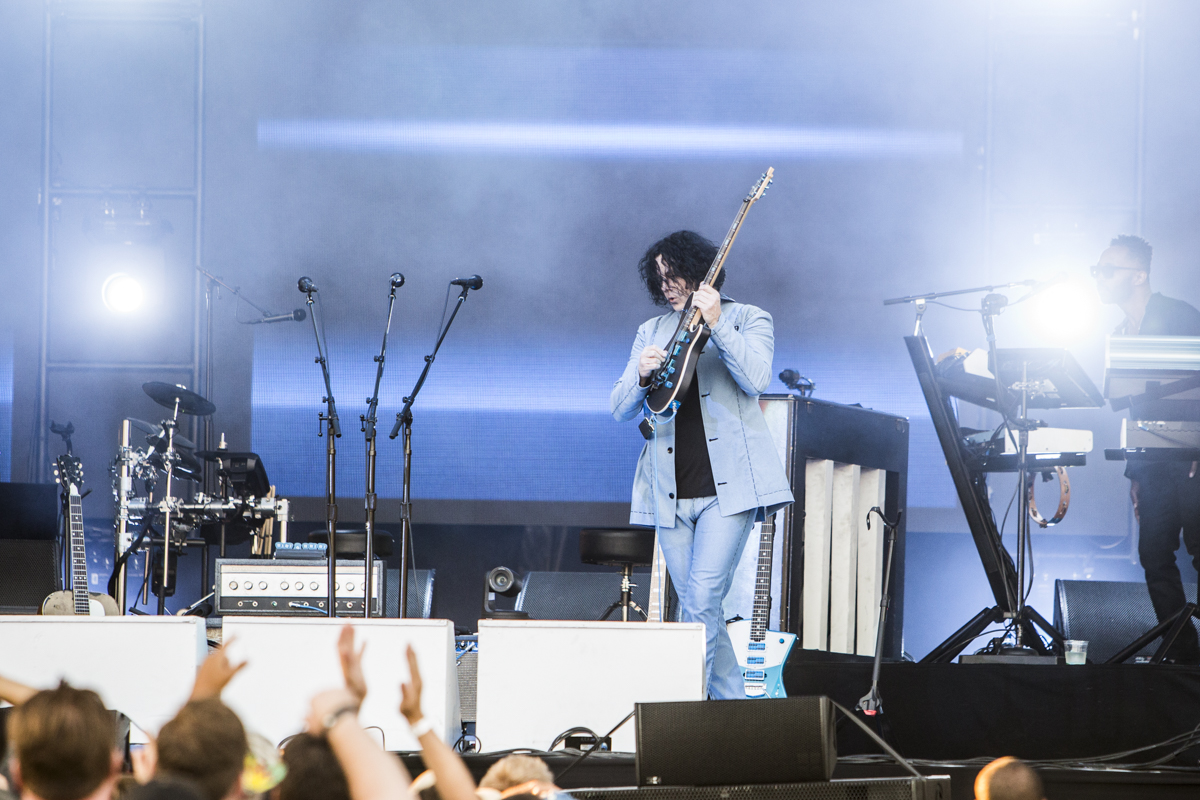 The attendance, or lack thereof, wasn't necessarily White's fault. The guy had already headlined Lollapalooza by himself once before — in a year where he shared top-billing with The Black Keys and the aforementioned Chili Peppers — and had also played the event even earlier with his "sister" Meg in The White Stripes. He has the power and pull to draw in a sizable crowd, just not here, and not for this particular group of festival-goers. For what it's worth, people still went apeshit when he strapped on his trusty Kay guitar and played "Seven Nation Army" to end his set, and were still "Oh, oh, oh-ing" acapella down Michigan Avenue long after he departed. He still played his ass off, and didn't personally show an ounce of disappointment or resentment for the relatively thin crowd that stretched out before him.
He, and probably other big names like The National and Arctic Monkeys (who had the misfortune of playing opposite of Kanye West's resurgent protégé Travis Scott, the night he dropped the best album of his career, Astroworld) probably would have done much better had they waited a couple of months and played alongside other Lolla veterans like Blink-182 and Interpol at the rock-focused Riot Fest, because it wasn't just Post and Trav that got tremendous responses from the hip-hop heads among the Lolla-goers, to the detriment of bands who played counter to them.
In the later afternoon on Saturday, the brightly colored, polarizing up-and-comer Lil Pump treated a wild crowd to a well-received stop-and-start showcase that was marred by technical issues on the Petrillo Music Shell, before ceding the limelight to no less than the rap God himself, LL Cool J just across the way on the Bud Light stage. LL levitated out of nowhere wearing a Rock The Bells jersey and proceeded to delight the same audience with classic gems like "Mama Said Knock You Out" and "Goin' Back To Cali." It was as jarring a generational swing as you could imagine, but no one seemed outwardly perturbed by it.
On Sunday, Gucci Mane and Lil Uzi Vert offered a double dose of Atlanta-style trap music. The former was workmanlike in his approach, rarely stopping to engage the crowd and instead hitting us with song after song after song, pausing only briefly to strip off his orange plaid jacket, before diving into the next track. He's racked up so many damn projects at this point, it's hard to blame him for wanting to show off a bit from each. Uzi, on the other hand, was far more unpredictable, seemingly changing the order of setlist on the fly, and at one point directing his DJ to save a slow jam he had just pressed play on for later in the set, because he wanted to "rage." A crowd-pleaser to his core, Uzi ran through his breakout hit "XO Tour Life" twice while surrounded by pillars of flame and upside down crucifixes. The flailing mass of bodies below him recalled a scene from Dante's Inferno.
Chicago was well-represented on the bill — as well it should be as a breeding ground for some of the absolute best MCs and producers on the planet — and it was nice to see people like G Herbo, Taylor Bennett, and Valee make the most of their time in front of the hometown crowd. One of my favorite moments all weekend long was when the Compton rapper Buddy, performing on one of the smaller side stages, brought Valee out for a quick run-through of his single "Womp Womp" that caused a flood of fans to come sprinting in from all directions.
All of this isn't to say that the thirst for rock was completely dry. Around the same time Post Malone was about to take the stage, the young, Led Zeppelin-esque Detroit rockers Greta Van Fleet drew an impressive chunk of people to watch them rip into songs from their first two EPs. And then, of course, you had St. Vincent, who brought an element of visual artistry to her set that was hardly touched by any other performer on the bill. The Wall-era Pink Floyd vibes were very real, especially with the different members of her band donning odd, faceless disguises.
The first time I attended Lollapalooza was back in 2015. That year, the two biggest names on the schedule were Paul McCartney and Metallica, both of whom, I don't have to tell you, are musical institutions without peer. They were also there in the lofty heights of the first line of the poster as throwback options, whose best work was decades behind them. 2018 felt much different. This year's collection of artists — I haven't even mentioned Bruno Mars or The Weeknd, who both delivered exhilarating, widely-attending main stage performances — felt fresh and forward-thinking in a way that maybe people haven't come to expect from Lollapalooza. All that's to say is there were plenty of young, emerging rock stars burnishing their own reputations in Chicago this weekend. Just don't expect them to play the guitar any time soon.