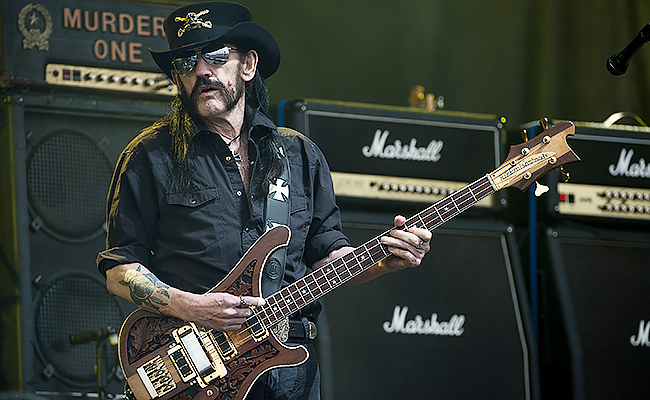 LEMMY IS FINE. Recent health scares had everyone freaked out about the beloved rock icon lately, and for good reason: Motorhead cancelled a few shows on the first leg of its North American tour when the infamous frontman stopped a show in Austin after three songs, saying, "I can't do it." After a few days of proper rest, Motorhead was back out on the road and Lemmy shows no signs of stopping.
His lifestyle has sidelined him a couple of times in the past. He was diagnosed with diabetes and was rumored to have had a defibrillator installed in his heart, yet he continued to drink and smoke. After "an unspecified hematoma" forced the cancellation of some shows two years ago, he made some changes. He switched from his famous Jack-and-Cokes to vodka and orange juice, and cut down on his smoking. When you ask him how he's doing at the start of a conversation, he replies very clearly, "I'm alright, thank you." And then he laughs.
Truly, it seems like Lemmy will go on forever. Born Ian Fraser Kilmister in Stoke-on-Trent in England on Christmas Eve 1945, Lemmy will turn 70 this year, while Motorhead this year turned 40. By most accounts, he has been drinking and smoking almost the entire time, and the band's music has only gotten better. Everyone knows classics like "Ace of Spades," "Iron Fist," "Damage Case," "Killed By Death," and "No Class," but if you haven't heard "Runaround Man," "Just 'Cos You Got the Power," the entire 1916 album, or "Whorehouse Blues," you haven't really been listening to Motorhead.
Bad Magic, the new Motorhead album, is the band's 22nd, and rocks like a bastard. At 69 years old, Lemmy is living the life most Viagra dads and AARP weekend warriors can't even come close to in those silly commercials. He recently embarked upon the second "Motorhead Motorboat Cruise," a rock and metal-themed cruise in the Caribbean featuring bands like Slayer and Anthrax, with Motorhead at the helm. Then the band will head over to Europe for shows through the end of the year.
In spite of his busy schedule, Lemmy made time to chat with Uproxx about the new album and all the good things going on in his life.
You recently switched from Jack Daniel's to vodka. Is there a brand of vodka that you favor?
Not really. They all taste the same with orange juice, although I do have shots of them.
Speaking of whiskey, Motorhead has some unusual merchandise for sale. Beside your whiskey, there are also now Motorhead sex toys, even rolling papers. How involved in the selection of the band's merchandise are you?
[Laughs] Well, see, what they do is, they do a deal with our manager. And then he comes around and tells us and it's too late to change it. So it's always a bit of a surprise, you know? The sex toy thing was a surprise, but it seems to be working out.
Have you gotten any feedback about the sex toys yet?
No, I haven't. I'm sure I'll get some, though.
What about the whiskey?
"The whiskey, yeah, I chose it, out of five when we were tasting the five types they brought us, and I picked that one. I don't drink it regularly. The tour rider hasn't changed, though, because we still need whiskey for the crew and they like it. A lot.
Bad Magic debuted at No. 1 in Finland, Germany, and Austria, and took high chart positions all over the world [it's peaked at No. 35 in the U.S.]. What does it mean to you after 40 years?
Well, it means we're doing it right [laughs], you know? All those years we were ignored, I knew we were right and they were wrong. So, we just carried on doing what we're doing in our own way, and it eventually scored. And I'm very grateful for it.
The opening track, "Victory or Die," is a great song.
It's just our attitude, you know? It's just about fighting for a spot, you know what I mean? It's a great motto. We're going to enlarge it on the backdrop.
"Til the End" is a bit mournful.
Yeah, we do one or two like that on most of our albums now. "Lost Woman Blues," "1916," "Whorehouse Blues" … we've done quite a few of those sort of songs, but people don't seem to remember from album to album. So, it's our surprise to you.
You wrote "Mama, I'm Coming Home" for Ozzy Osbourne, so it's not that far from what you do. It's in your repertoire.
Yes. I wrote the lyrics, but it's more in his repertoire.
What inspired the cover of "Sympathy for the Devil?"
That was Triple H, actually, the wrestler. He wanted me to do about five covers to use as entry songs, for entering into the ring, you know? We did that one and we did "Heroes" by David Bowie, but we liked "Sympathy" so much, we pinched it and put it on our album.
In 2004, Motorhead appeared on the soundtrack to The SpongeBob Movie. You re-recorded "You Better Run" as "You Better Swim."
Yeah! [laughs]
It was recently announced that there will be a musical stage production based on SpongeBob, featuring original songs by John Legend, David Bowie, Cyndi Lauper, and Steven Tyler and Joe Perry. Will Motorhead be contributing?
We haven't been asked yet, so I guess not. We're not that high up in the musical galaxy, you know? I can live without it.
Does Motorhead still record all of its shows, and will there be any new live albums released soon?
No. We used to, but we stopped doing that. We tape the occasional one just to see that we're keeping up, you know what I mean? But we might possibly release another live album down the line. We've got a European tour in the fall, you know, so we might do something in London for the 40th anniversary. Forty years this year."
Yes! But what about you? You're turning 70 this year! What are your plans for your birthday?
Same as the last five years, I'm going to Vegas! That's what I do on my birthday. I don't really care about Christmas, you know? When you're born on Christmas Eve, it's a big hole in the ground. So I go to Vegas!