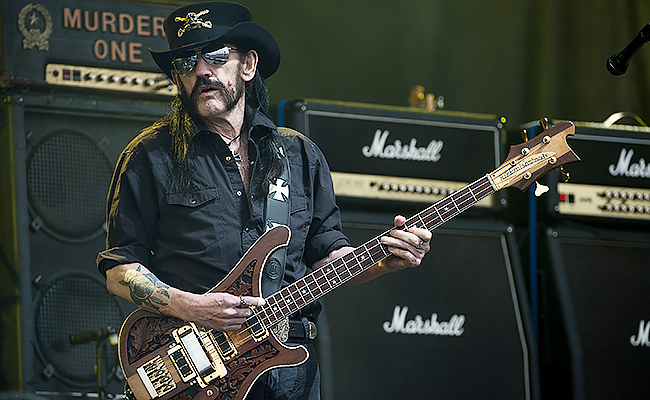 LEMMY IS FINE. Recent health scares had everyone freaked out about the beloved rock icon lately, and for good reason: Motorhead cancelled a few shows on the first leg of its North American tour when the infamous frontman stopped a show in Austin after three songs, saying, "I can't do it." After a few days of proper rest, Motorhead was back out on the road and Lemmy shows no signs of stopping.
His lifestyle has sidelined him a couple of times in the past. He was diagnosed with diabetes and was rumored to have had a defibrillator installed in his heart, yet he continued to drink and smoke. After "an unspecified hematoma" forced the cancellation of some shows two years ago, he made some changes. He switched from his famous Jack-and-Cokes to vodka and orange juice, and cut down on his smoking. When you ask him how he's doing at the start of a conversation, he replies very clearly, "I'm alright, thank you." And then he laughs.
Truly, it seems like Lemmy will go on forever. Born Ian Fraser Kilmister in Stoke-on-Trent in England on Christmas Eve 1945, Lemmy will turn 70 this year, while Motorhead this year turned 40. By most accounts, he has been drinking and smoking almost the entire time, and the band's music has only gotten better. Everyone knows classics like "Ace of Spades," "Iron Fist," "Damage Case," "Killed By Death," and "No Class," but if you haven't heard "Runaround Man," "Just 'Cos You Got the Power," the entire 1916 album, or "Whorehouse Blues," you haven't really been listening to Motorhead.
Bad Magic, the new Motorhead album, is the band's 22nd, and rocks like a bastard. At 69 years old, Lemmy is living the life most Viagra dads and AARP weekend warriors can't even come close to in those silly commercials. He recently embarked upon the second "Motorhead Motorboat Cruise," a rock and metal-themed cruise in the Caribbean featuring bands like Slayer and Anthrax, with Motorhead at the helm. Then the band will head over to Europe for shows through the end of the year.
In spite of his busy schedule, Lemmy made time to chat with Uproxx about the new album and all the good things going on in his life.
You recently switched from Jack Daniel's to vodka. Is there a brand of vodka that you favor?
Not really. They all taste the same with orange juice, although I do have shots of them.
Speaking of whiskey, Motorhead has some unusual merchandise for sale. Beside your whiskey, there are also now Motorhead sex toys, even rolling papers. How involved in the selection of the band's merchandise are you?