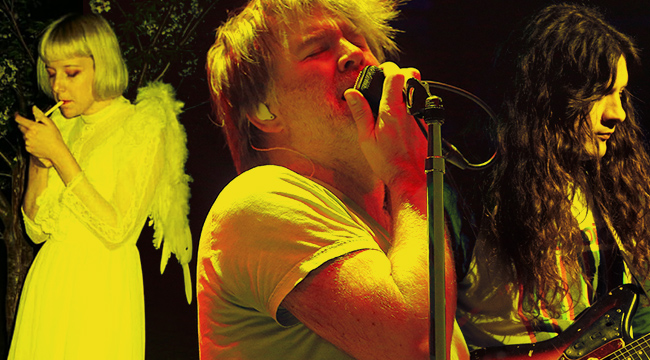 Indie music has grown to include so much. It's not just music that is released on independent labels, but speaks to an aesthetic that deviates from the norm and follows its own weirdo heart. It can come in the form of rock music, pop, or folk. In a sense, it says as much about the people that are drawn to it as it does about the people that make it.
Every week, Uproxx is rounding up the very best of the indie releases from the past seven days. This week offered up great new albums from rising artists Dilly Dally and The Dirty Nil, a cover of a disco legend from LCD Soundsystem, and a sprawling new Kurt Vile song that's among the best he's ever released. It was a pretty great week for indie music.
Dilly Dally — Heaven
Heaven is an album that almost didn't happen, as Toronto punks Dilly Dally almost imploded before it could even be made. But the album takes the adversity and channels it into something truly special. As our own Corbin Reiff wrote in his profile of the band, "The songs are deep, lacerating, introspective, and begging to be blasted at hazardous volumes."
Aphex Twin — Collapse
There might not be a longer-lasting institution in the world of electronic music than Aphex Twin. Or, at least a longer-lasting artists who has remained at the forefront of innovation within the genre. That makes pretty much everything he does essential, and his latest, Collapse, is no different for all its skittering, drippy, and glitch-filled mastery.
The Dirty Nil — Master Volume
Canadian rockers The Dirty Nil combine both punk and classic rock influence to make music that lands somewhere in-between. Having already won a Juno for their previous work, their new record, Master Volume, seeks to improve upon the formula. Our own Steven Hyden writes that the new album "delivers the band's sharpest set of songs via gloriously drunken guitar heroics and Bentham's strutting, histrionic vocals."
Low — Double Negative
When a band is as consistently good as slowcore legends Low, it's hard to distinguish one record as particularly more vital than the last. But that's just what is happening with Double Negative, as it's earning more buzz for the Sub Pop band than they've received in more than a decade. Inspired in part by the political moment, Low doesn't reinvent their own wheel so much as they just let it evolve at its own pace, further cementing their status as one of the most enduring bands of the last 25 years.
LCD Soundsystem — "I Want Your Love"
Even though LCD Soundsystem is currently between albums and tours, this week they rolled out an in-studio performance of a song that was a staple of their latest run. LCD and Chic seem like an ideal marriage, with one of disco's legends receiving an homage from one of its greatest students. And for those who aren't overly familiar with the original song, it's basically new LCD Soundsystem for you.
Kurt Vile — "Bassackwards"
Kurt Vile's upcoming album Bottle It In features three songs that all extend into the 10-minute range. As seen on "Bassackwards," these extended, sprawling, vibey sessions suit Vile's relaxed aesthetic and calming delivery. The affectations he puts on his voice only add to the charm, but at its heart, there is still remarkable sturdiness to Vile's songwriting. "Bassackwards" ultimately succeeds at being many things at once.
Philippe Bronchtein — "Me And The Moon"
As Hip Hatchet, formerly Portland-based songwriter Philippe Bronchtein crafted warm folk music that used both his voice and spare instrumentation to build sturdy compositions. Now going by his own name, Bronchtein has moved to Nashville and his latest song mirrors his new locale. It's all cast-iron skillet and campfire light, his dusty voice painting a whistful picture that does his given name justice.
Rostam — "In A River"
Last year, former Vampire Weekend member Rostam released his debut solo album, Half-Light. It was a powerful, adventurous record that we named one of our favorites of the year. For his newest track, Rostam is in decidedly more commercial territory, crafting an easy-on-the-ears number that feels destined for a TV spot or film sync. For an artist that's worked with some of the biggest pop stars in the world, it feels like they are rubbing off on him, albeit through his own unique lens.
Adrianne Lenker — "Symbol"
Big Thief's songwriter Adrianne Lenker isn't taking a step backward on her upcoming solo album, Abysskiss. Her more stripped-down offerings are just a different side of her, and an important one to witness as her band reaches new professional heights. On her latest single, "Symbol," Lenker notes that the song helped her "articulate the recognition of a very deep sense of home contained within the warmth of my loved ones and friends made visible in something as simple as a smile."
D33J — "Nothing Left" Feat. Deb Never And Shlohmo
Talk about a song being all in the family. Featuring WEDIDIT's co-founder on the mic, the collective boss Shlohmo on production, along with D33J, and one of its signees, Deb Never, on the hook, the tune might as well be a label showcase. Just in time for the WEDIDIT 10-year anniversary, the tune proves that these like-minded artists remain on the forefront of both hip-hop and electronic music, where they set trends for the days, months, and even years to come.