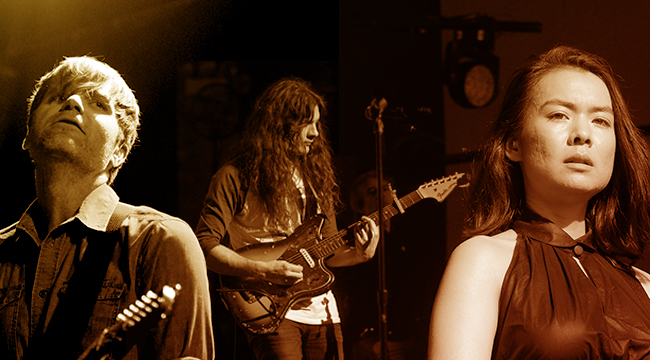 Indie music has grown to include so much. It's not just music that is released on independent labels, but speaks to an aesthetic that deviates from the norm and follows its own weirdo heart. It can come in the form of rock music, of pop, or of folk. In a sense, it says as much about the people that are drawn to it as it does about the people that make it.
Every week, Uproxx is rounding up the very best of the indie releases from the past seven days. This week offered up the latest Mitski record that will surely be on many year-end lists, a return to form from Death Cab For Cutie, and great new songs from Kurt Vile, Cat Power, and Low. It was a pretty great week for indie music.
Mitski — Be The Cowboy
Queen may have come out last week, but this week there's a different artist ascending to the throne. Mitski's place as one of indie rock's best rising songwriting talents doesn't feel like it can be referred to as "rising" anymore. This is the work of an artist that's arrived. As our own Steven Hyden writes in his RX review, "Mitski remains an outsider on Be The Cowboy — mysterious and charismatic, but ultimately untouchable and resolutely herself."
Death Cab For Cutie — Thank You For Today
20 years into their career and Death Cab For Cutie may have found the secret to new life. Lose a core member, gain two others, and reconcile the things that drew people to you in the first place with your own needs to push forward. "I hope for this album, that this reminds people what they love about the band," bandleader Ben Gibbard told me in our RX interview. The good news is that he's totally right.
Ian Sweet — "Hiding"
Ian Sweet's Jillian Medford came up in the DIY scene of Boston, but now that she's in Los Angeles, she's returned to her solo roots for her latest album. That doesn't mean "Hiding" is some hushed singer-songwriter fare. Far from it. The song is kinetic in a way that her previous work has only hinted at, working up steam in its propulsive verse to an emotional explosion at its chorus. It's always exciting to hear an artist release their best work yet, and that's exactly what Ian Sweet is doing on "Hiding."
Kurt Vile — "Loading Zones"
Everone's favorite slack rocker with the best hair in the music biz is back. Following his last solo album which included the biggest hit of this career ("Pretty Pimpin',") Kurt Vile's first bit of new music since last year's Courtney Barnett collab is a shimmering bit of jangle rock that hits on everything the Philly musician does well. He voice booms with quirky personality and a breathless delivery, embracing a twang that is usually only hinted at. As is most things that Kurt Vile releases, "Loading Zones" is essential listening.
Joyce Manor — "Think I'm Still In Love With You"
Every Joyce Manor song could be called "Think I'm Still In Love With You" and it would probably make sense. It's a sentiment that hits on the core of the band, always looking back and forward at the same time. Their appeal is similar, pop-punk that evokes the music we loved as children and the rare rock band making exciting new tunes in 2018.
Cloud Nothings — "The Echo Of The World"
In the pop-punk world, Cloud Nothings are at the entire other end of the spectrum from Joyce Manor. Cloud Nothings rarely even exemplify the pop element, but many of the best-known songs skirt that line, hooky and shoutable without feeling innately youthful. But this song is the other side of Cloud Nothings, the part that feels like it could run you over with a bulldozer, all thrashy and full of grit.
Animal Collective — Tangerine Reef
A band that made a name for themselves for expanding their listener's minds are kicking things into the next gear on their latest project. Tangerine Reef is an audiovisual album made in collaboration with Coral Morphologic, celebrating The Year Of The Reef with a look a life underwater, using time-lapse and slow pans to look at a world that often goes unseen. The downside is that this AnCo record does not feature their most well-known member, Panda Bear, but Avery Tare, Geologist, and Deakin try to make due on their own.
Connor Youngblood — Cheyenne
Connor Youngblood is a Nashville-based multi-instrumentalist who's been catching our attention through his strong advance singles ahead of this debut album. The record is the result of two years of travel, bringing the sights and sounds and experiences this young man has lived and bringing them to his audience. Youngblood plays more than 30 different instruments on the album, essentially resulting in the epitome of the solo album.
Cat Power — "Woman" Feat. Lana Del Rey
Some collaborations are particularly unexpected. Cat Power and Lana Del Rey come from different eras, have wildly different audiences, and very different musical styles, but hearing their voices together on the anthemic "Woman" turns out to be a perfect marriage. If Del Rey's career as a huge headlining artist ever doesn't work out, she might look into a role as an expert harmonizer, as her notes sound just lovely as bedding for Cat Power's lead track.
Low — "Disarray"
Slowcore legends Low have been making consistently great music for decades, to the point that their consistency works against them when it comes to media coverage. But their latest song, "Disarray," much of what we know about Low flies out the window. Sure, the gorgeous vocal harmonies are still there, but they are placed over a bed of damaged, electronic-sounding textures that sound like everything that's holding the song together is unraveling. At times, there are even moments of silence where the song sound like it has swallowed its own tail. Nope, it's just a slight pause before the band jumps into the deep end once again.