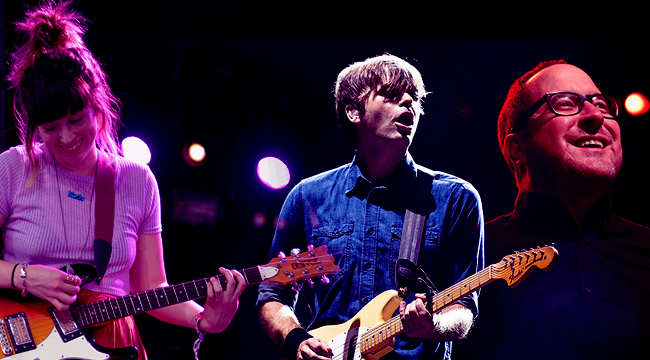 Indie music has grown to include so much. It's not just music that is released on independent labels, but speaks to an aesthetic that deviates from the norm and follows its own weirdo heart. It can come in the form of rock music, of pop, or of folk. In a sense, it says as much about the people that are drawn to it as it does about the people that make it.
Every week, Uproxx is rounding up the very best of the indie releases from the past seven days. This week offered up Wild Pink's fantastic new collection, a wonderful reminder of Waxahatchee's Southern roots, and new songs from mainstay Death Cab For Cutie and ascending artists Tomberlin, Steady Holiday, and Devon Welsh. It was a pretty great week for indie music.
Wild Pink — Yolk In The Fur
Every year, there might be an album or two that comes along that makes you think "I'm going to be listening to this band for a long time." Wild Pink are that for 2018, and Yolk In The Fur is a record I can imagine listening to consistently for the rest of my life. It's earnest songwriting without being precious, a record delightfully out of step with its peers. In short, it is one of the best rock records of the year.
Waxahatchee — "Chapel Of Pines"
For the last couple albums, Waxahatchee has mostly been known as a band, expanding songwriter Katie Crutchfield's personal compositions into sometimes punky, sometimes plaintive works. But "Chapel Of Pines" sounds like home for Waxahatchee, giving the Southerner a platform to let her roots shine. The song is from an upcoming EP, and if it follows suit, it could be an all-timer.

Joyce Manor — "Million Dollars To Kill Me"
Pop punk's not dead. Los Angeles' Joyce Manor have been making heart-on-their-sleeve-tattoo rockers for several albums, showing off an ear for a melody and a penchant for sharp lyrical observations. Their latest is no different, which is just about the best news possible. Still, don't expect them to break into the mainstream.
Death Cab For Cutie — "I Dreamt We Spoke Again"
Death Cab For Cutie haven't been on an indie label for more than a decade, but few can claim to have shaped the sound and direction of indie rock as much as they have. Part of that is how little major label fame has changed the band, and the latest single, "I Dreamt We Spoke Again," is a shining example of this. Ben Gibbard's voice sounds muffled and homespun, still connected to his roots and never needing to retreat behind the gloss of big budget. It's just what we want out of our faves, to keep growing but never really change.
Tomberlin — "I'm Not Scared"
One of the best things that happens at concerts is when it's a noisy club or bar and the artist starts playing a quiet number, forcing everyone to just hush. Tomberlin has this quality embedded in her music, the kind of intimate compositions that force everyone to just shut up and listen. Her latest, "I'm Not Scared," is particularly beautiful and full of a sorrow, with the line "to be a woman is to be in pain" stinging with conviction.
Sandro Perri — "In Another Life"
A seven year gap after an album is a lot, no matter what position you occupy in the music industry. For someone like Sandro Perri, it's enough to make all but the most devoted fans forget you even exist. But the brilliance of "In Another Life," which will evoke comparisons to Sufjan Stevens, Andrew Bird, and Arthur Russell, is enough to bridge the passing of time. Suddenly, it's like Perri was never gone at all, and his great 2011 album Impossible Spaces wasn't the forgotten classic that it is. Great music can make all narratives esentially disappear. It can rewrite the history books completely.
Foxing — "Nearer My God"
St. Louis indie rock band Foxing has never made music that sounds fitting for the mainstream. But that all changes with "Nearer My God," a slowbuilding anthem that feels fit for the biggest stages imaginable. And Foxing is ready for it, as they've recorded the song in five different languages. I'm partial to the English version, but it's really the post-rock peaks that sell the song, making the listener reimagine everything they thought Foxing is.
Steady Holiday — "Who's Gonna Stop Us"
The new music that Los Angeles' Steady Holiday has been releasing is not shy about making political statements. But even beyond her lyrics, the ominous tone that her music takes, particularly on her latest "Who's Gonna Stop Us," feels particularly suited for the times we're in. Or, to soundtrack a David Lynch film. Either one, really.
Devon Welsh — "By The Daylight"
When some artists go solo, like a Harry Styles or Camila Cabello, there is still a large built-in audience due to the grandeur of their celebrity. For someone like Devon Welsh, whose own Majical Cloudz project called it quits in 2016, it can feel a bit more like starting from scratch, even though his image and personality were tied so closely to it. On his latest, Welsh sounds like he is relishing in the freedom that comes with reinvention, building the song around an Owen Pallett-esque string arrangement and holding it all together with his unmistakable voice.
Connor Youngblood — "Los Angeles"
The soulful, androgynous voice of Connor Youngblood is, simply put, a revelation. On Los Angeles, the delicate production and calm tempo offer a pristine canvas for him to present that voice, holding the song together with candlelight smokiness that doesn't have many parallels in the indie world of today.
The Hold Steady — "The Stove And The Toaster"
It's exciting when a band figures out how to reinvent themselves and exist at a more modest level. This is what has happened to The Hold Steady, who rather than release music in a traditional cycle, have been offering two-sided singles to accompany residencies in cities around the world. And, this is more notable because the songs have generally been strong. Maybe its Franz Nicolay's return to the band, or maybe it's just easier focusing on single songs at a time. Regardless, "The Stove And The Toaster" is the latest example of a band that sounds dialed in for the first time in nearly a decade.