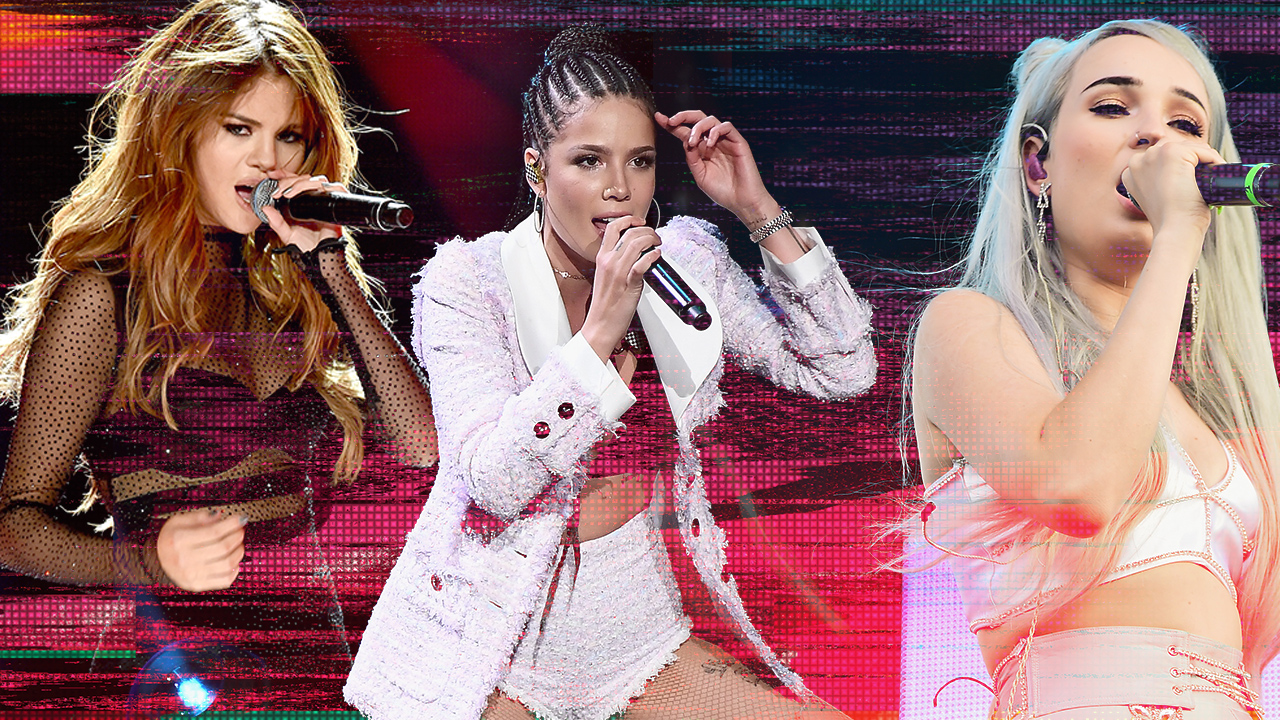 Earlier this week, Charli XCX and Troye Sivan announced that they were releasing a song this Friday — called "1999," with the Matrix inspired album artwork to match. I thought the week couldn't get any better than two of the reigning queens and kings of pop teaming up for a throwback jam — but I was wrong. Kim Petras surprise dropped an EP of spooky, Halloween-inspired songs, Kero Kero Bonito surprise dropped their new album Time 'N' Place, and although it technically came out last week, Cher's ABBA tribute album was released after last week's pop column went to publish.
Every Friday, Uproxx will round out the very best pop releases from the week. This week has treated us especially well — Charli and Troye's song is fantastic, but we've already been gifted a week's worth of bops.
DJ Snake, Feat. Selena Gomez, Ozuna, and Cardi B, "Taki Taki"
DJ Snake rounded up some of the biggest names in Latinx pop and rap for the incredibly catchy "Taki Taki." Ozuna, a Puerto Rican rapper who's up for a Latin Grammy after his latest smash album, contributes tight Spanish verses, and "Taki Taki" boasts one of the best Cardi verses outside of Invasion Of Privacy. Additionally, the song also features Selena Gomez's first Spanish vocals since she was releasing music with her band The Scene.
Kim Petras, "Close Your Eyes"
Up-and-coming pop star Kim Petras' first collection of music is here, and it's… a Halloween-themed EP? TURN OFF THE LIGHTS, VOL. 1 is incredibly fun, though — just the right amount of dance-ready silly, and the perfect soundtrack to your Halloween party. The EP's best song is "Close Your Eyes," a vampiric bop about losing control that sounds a bit like an early-2010s Katy Perry single. She threatens that she's "gonna eat your heart," but in a sexy way.
Kero Kero Bonito, "Dear Future Self"
London indie-pop group Kero Kero Bonito's entire album, Time 'N' Place is excellent and worth a listen, but "Dear Future Self" is a highlight. The song starts out with '60s-esque doo-wop background vocals and twinkling synths, but the song builds to an intricate crescendo. As the title suggests, Sarah Midori Perry is singing to a future version of herself. Past-Sarah wants to know all the typical things — do cars fly? Do we time travel yet? But she also expresses some poignant hope and fear: "But I heard all the years'll leave you hurt / Everyone you love disappears and nothing works / Please don't say you hate the world / I hope that I won't." The song escalates beautifully, and by the end, it reminds me a little of The Beatles' "A Day In The Life," jumping between weird orchestration and simple, angel-voiced melodies.
Mariah Carey, "With You"
Mariah Carey has been the queen of ballads for over two decades, and she's done it again with her newest single, "With You." Carey finds solace in her love. She's a little wary at first, because the fairytale might not have looked like the others she'd lived, but the person she's singing about is reliable and good to her. He's loved her "since that Bone Thugs song," 21 years by my calculations, and he was there for her through everything. Carey sings, "She was full of such trepidation / There in front of the whole damn nation," perhaps about the New Year's Rockin' Eve, perhaps just a metaphor for any difficult personal situation. On this song, Mariah is loved and in love, and "With You"is her best in years.
Halsey, "Without Me"
This year, Halsey continued her run of hit features, with her vocals on G-Eazy's "Him & I" and "Eastside" with Benny Blanco and Khalid. "Without You" is Halsey's first solo single of the year, and it sees her returning to the alt-pop sound of her first LP. On "Without You," Halsey sings about a messy breakup and codependent relationship. She idealized the relationship, but to a fault: "Feeling so high, but too far away to hold me / You know I'm the one who put you up there." The song samples Justin Timberlake's "Cry Me A River" in the bridge, an unexpected flourish. Halsey told Zane Lowe that this is the first song she's releasing as "Ashley," vulnerable and herself out from behind the comfort of the Halsey mask.
Cher, "Gimme! Gimme! Gimme! (A Man After Midnight)
Cher's cover of "Fernando" on the Mamma Mia: Here We Go Again! soundtrack was the song of the summer, and she's back with ten contenders for song of the fall on her album of ABBA covers. Cher's version of "Gimme! Gimme! Gimme" is mostly faithful to the original, but the chorus has a 2018-club-ready beat and a breakdown toward the end. The backing vocals remind me of "Get Lucky." Dare I say that this song is as compulsively danceable as Daft Punk?
Ralph, "For Yourself"
Canadian indie pop up-and-comer Ralph (real name Raffaela Weyman) dropped her first full-length LP last Friday, and it's an incredibly assured debut. "For Yourself," the album's opener, is a self-love anthem. "You know how to light your own fire / Never be lonely if you got you," Ralph sings, urging the listener to "live for yourself," and embrace the "beauty in solitude." A lot of single-girl anthems are love songs for a night out, hookups, and groups of friends. But "For Yourself" asks us to be tender with ourselves. When you're not on the dancefloor or having a night in with your friends, when you're just in your pajamas or at lunch alone, that doesn't have to be lonely. "You know how to light your own fire."
Sigrid, "Sucker Punch"
Norwegian pop singer Sigrid is already huge in the UK — "Strangers" was a top-ten single in England last year, and number-one (!!) in Scotland. "Sucker Punch" is punchily written, with an infectious synth beat. "Sucker Punch," as a collection of vowels and consonants, has a fun kind of syncopated sound. (Say it five times fast and you'll see what I mean.) Sigrid leans into it with clipped, hiccuping vocals in the verses ("Meet me in the hallway / For a cup of coffee by the stairs") and a bouncy, see-sawing chorus. Sigrid released an EP earlier this year, and is opening for Maroon 5 in the US next year. If American listeners don't know who she is yet, we all will soon.