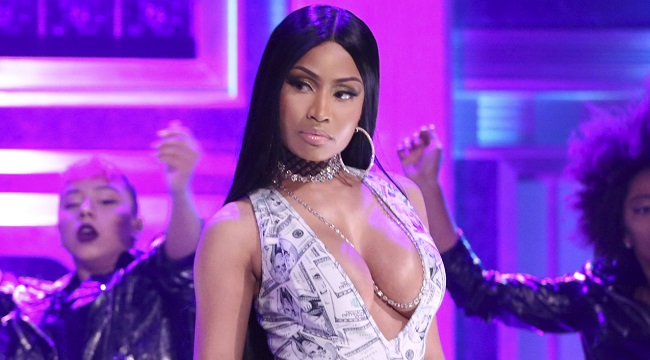 To be from Jamaica, Queens, Nicki Minaj sure has a tumultuous relationship with New York radio stations. The rap star, who just dropped two singles, has had gripes with Power 105's The Breakfast Club for a while. After Charlamagne and DJ Envy unabashedly sided with Remy Ma after "Shether" last Spring, Nicki called them "fake and phony" (based on that and Birdman's "are you finished or are you done," maybe it's a YMCMB mandate to hit The Breakfast Club with redundant phrases). Nicki's also had her differences with Hot 97, specifically Funk Flex, who called her wack as recently as February.
Apparently Flex – or Hot 97's program director – didn't find her "Chun-Li" hit wack, as he was playing it this weekend and giving it his trademark bomb treatment. Nicki noticed the moment and shouted out Flex and Hot 97 host Peter Rosenberg – who's also had words with Drake. "Wait hold on. Yo did hell freeze over? ?," she said in the caption of a clip she ripped of a New Yorker jamming to "Chun-Li" on Hot 97. "I wasn't in NY so idk if this rlly happened. This COULD be a fake video," she joked.
She then got more earnest:
Man, all I'll say is THANK YOU. Takes real n—-z to do this. I don't mind criticism, but hating on smthn that's clearly hard AF will only make you look less credible, miserable, & prove your issues are PERSONAL &unwarranted. So respect to everyone showin love. I haven't asked anyone to promote my music. Haven't buttered anyone up behind the scenes, haven't booked their show, reached out, NOTHING!
If Nicki ends up on Hot 97's Summer Jam stage, one could look at this post as the olive branch.