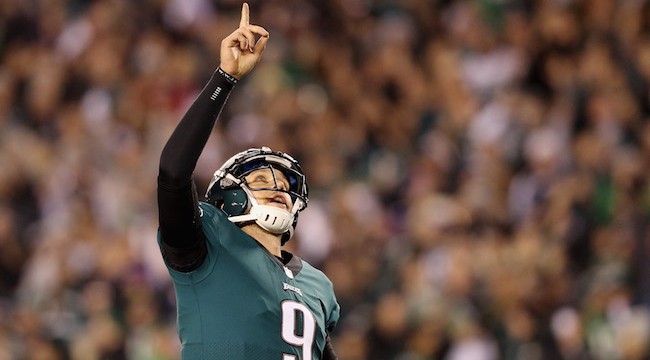 In honor of the Philadelphia Eagles' upcoming Super Bowl appearance, the team's home game DJ Lushlife has delivered a rousing remix of War On Drugs' "In Chains" to cheer the team to victory.
While the original song is a slow-burning, soft rock-style ballad dedicated to the confusion and conflict of falling in love, Lushlife's remix is upbeat, with electronic dance undertones that give it a more propulsive energy. It's clear Lushlife wanted a version that would translate to the jubilant feeling currently coursing throughout Philly now that the city is in position to win its first major sports championship in 35 years. The 76ers last brought home the NBA's Larry O'Brien trophy in 1983, while the Eagles haven't won an NFL championship since 1960 before it was known as the Super Bowl. The last time Philly made the Super Bowl was 1980.
"DJing for the Eagles 2017-18 season has been nothing short of electric," Lushlife explained. "It just felt different from past seasons from day one. I left the last playoff game totally buzzing from the energy. Then, earlier this week, after War on Drugs brought the Best Rock Album Grammy home to Philly, I felt compelled to make a track to commemorate the moment. I hope this buoyant, French house-inspired remix of the War on Drugs' 'In Chains' captures that soaring feeling and gets fans extra hyped this weekend."
Other local Philadelphia fans that have come out in support of the Eagles include Meek Mill, from whom the team draws inspiration, and The Roots, who performed at halftime during the NFC championship.