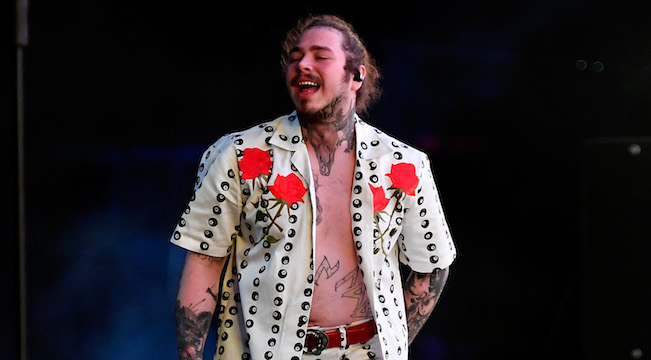 Post Malone, hip-hop's favorite dorm party starter, continues to break records with his eclectic sound and scruffy-but-affable personality. His latest album, Beerbongs & Bentleys, picked up some intriguing distinctions on its way to earning a No. 1 debut on the Billboard Hot 200, smashing Spotify's "first day and one-week streaming" records, and garnering a platinum distinction, racking up 461,000 streams and 153,000 traditional sales in its first week.
Fueled by the success of chart-topping, hypnotically catchy singles like "Psycho," "Rockstar," and "Stay," Beerbongs & Bentleys is Malone's attempt to bridge the gap between the formerly disparate regional sounds of hip-hop and other genres, like folk, rock, and country. Apparently, it's a formula that works, despite his protestation that "nobody talks about real sh*t in hip-hop." His fans clearly find something relatable in his music, and it must be said that the Beerbongs singles travel well, blending in a number of settings from dive bar jukeboxes to stadium shows.
Both "Rockstar" and "Psycho" reached Top 10 status on the Billboard Hot 100 chart, and the success of Post Malone's latest album even extended to a prior release, Stoney, which returned to the Top 10 on the Top 200 as well. Beerbongs & Bentleys is one of only two hip-hop albums to go platinum in 2018 — the other was Cardi B's Invasion Of Privacy.
Beerbongs & Bentleys is available now through Republic RecordsGet it here.