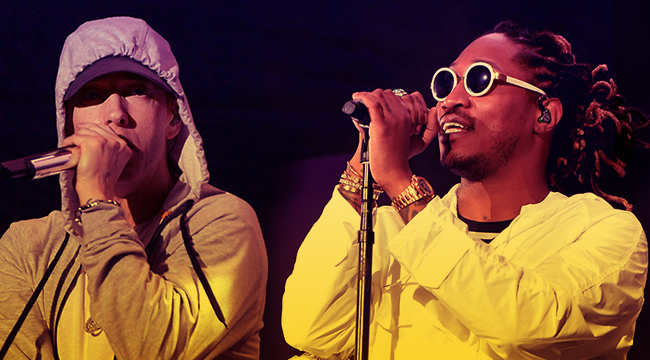 There are a pair of highly anticipated sequel albums coming out this month. Nas' Lost Tapes 2 aims to follow up the cutting room floor format of the original Lost Tapes, with tracks culled from his expansive vault. Nas has recorded so many tracks in that he's already announced there will be a Lost Tapes 3 and 4 down the road.
Elsewhere, Rick Ross is seeking to rekindle the magic of his debut Port Of Miami album, which featured "Everyday I'm Hustlin," the get-on-your-grind anthem that catapulted him into hip-hop stardom. 13 years later, Ross is an iconic figure in the rap game looking to show that he's still got the juice just like he did in 2006. Nas and Ross are releasing the latest sequel albums in a gradually growing canon of artists looking to breathe new light into their opuses. Sometimes the strategy is a home run like Dr. Dre's (The Chronic) 2001, but there are other projects that just shouldn't have been associated with classic work.
Here are some of the most notable sequel albums, ranked in terms of how well they stack up to their predecessor. Famed album series like The Blueprint, Tha Carter, and others weren't considered for the list:
1. Dr. Dre — 2001
[protected-iframe id="8873b69d4c9a48507a745fe5ca3668f3-60970621-76566046″ info="https://open.spotify.com/embed/album/7q2B4M5EiBkqrlsNW8lB7N" width="600″ height="80″ frameborder="0″]
In terms of sequels, it doesn't get better than Dr. Dre's 2001. The album was originally going to be titled The Chronic 2001 before Suge Knight and Death Row Records pettily undercut him with the Chronic 2000 album. Suge tried to take the name from Dre, but he couldn't recreate the experience.
Aside from the sentimental "The Message," Dr. Dre sticks to The Chronic's script of women, weed, weather, and gunsmoke over one of the cleanest soundscapes you'll hear on any album. While The Chronic was a dense introduction to G-Funk (for many), 2001 was stripped down to menacing, unforgettable loops and sharp drum programming that exhibited a master class in immersive simplicity. Dre brought along the same cast of characters from The Chronic, along with a height-of-his-powers Eminem who stole the show on several tracks.
2. Raekwon — Only Built 4 Cuban Linx 2
[protected-iframe id="b78cdd6ff480245f96e3489d92152f1a-60970621-76566046″ info="https://open.spotify.com/embed/album/64B2AghiyK1TbiTp8DmBeX" width="600″ height="80″ frameborder="0″]
While 2001 is undoubtedly classic, it was technically Dr. Dre's second solo album.
The mid- to late-2000s were a period in which a generation of hip-hop stars were settling into their roles as OGs, and going to the well of revisiting their classic work. The results were middling, but Raekwon set the bar with 2008's Only Built 4 Cuban Linx 2, a follow-up to his 1995 opus. Raekwon tabbed RZA to executive produce the project, which showed Raekwon and Wu brethren like Ghostface Killah, Method Man and Inspectah Deck sounding rejuvenated with his vivid, colorful crime tales over a slew of soulful, sinister beats. With tracks like "New Wu," "10 Bricks," and "Surgical Gloves," Only Built 4 Cuban Linx 2 is one of the few sequel albums that are arguably a classic in their own right.
3. Future — Dirty Sprite 2
[protected-iframe id="84a81fc932f43f9132b5dac65e306c79-60970621-76566046″ info="https://open.spotify.com/embed/album/0fUy6IdLHDpGNwavIlhEsl" width="600″ height="80″ frameborder="0″]
Future's debut mixtape Dirty Sprite was a star-making moment, with the nihilistic title track introducing him as one of the most intriguing rap personalities in recent memory. The ATLien developed a winning formula and stuck to it on the way to rap stardom, which arguably peaked in 2015 with a slew of releases, including Dirty Sprite 2. The album was full of lovelorn, melancholy laments over production that's at times murky like "Trap N—-s," or invigorating like "F*ck Up Some Commas" — but thumping throughout. The project wasn't quite a return-to-the-well moment for Future, who was on fire upon its release, but it served to deeper entrench Hendrix as an unquestioned trap legend.
4. Redman & Method Man — Blackout! 2
[protected-iframe id="ec61f2941ea2a43928830e5438d90f0b-60970621-76566046″ info="https://open.spotify.com/embed/album/1JtoN6UDMJczkjKnZJDzy6″ width="600″ height="80″ frameborder="0″]
When you rap as well as Redman and Method Man, it's hard to miss. That's why it was little surprise that the beloved hip-hop duo's follow-up to their Blackout! album was an amazing offering. Red and Meth were at the height of their commercial fame upon Blackout!'s 1999 release, but the 10-year redux showed that they hadn't taken any steps back lyrically. Their rewind-inducing, face-scrunching chemistry was on full display throughout the album, whether they were asserting their superiority on churning samples like "I'm Dope N—a," and "Four Minutes To Lock Down" or spitting game on the lush "Mrs. International."
5. Lupe Fiasco — Food & Liquor 2
[protected-iframe id="18f0bdf859d93a17fffe9a50ded53667-60970621-76566046″ info="https://open.spotify.com/embed/album/5rCCCernTo6IwFwEZM4H53″ width="600″ height="80″ frameborder="0″]
After much-publicized strife with Atlantic Records that put a break on a red hot career, Lupe Fiasco sought to rekindle the energy of a classic with Food & Liquor 2: The Great American Rap Album Pt. 1. Lupe gave himself a high bar with the lofty title, but the brilliance of the original Food &Liquor marked him as a contender to deliver transcendent work worthy of that distinction. Unfortunately, Food & Liquor 2 couldn't match the best of, but it was nonetheless a stellar effort that straddled the line between mass appeal and the stupendous lyricism that Lupe is known for.
6. Game — Documentary 2
[protected-iframe id="9dbac867d4547bd2210ad45353d855a7-60970621-76566046″ info="https://open.spotify.com/embed/album/4CPMuMFHgMhjlx5ZIzypFL" width="600″ height="80″ frameborder="0″]
Game knocked it out of the park with Documentary, a multiplatinum album that instantly made him a rap star who singlehandedly held down the West Coast (on a mainstream level) for years. He decided to commemorate the 10-year mark of his career with Documentary 2, a strong offering anchored by "100" with Drake and "On Me" with Kendrick Lamar. While the sequel didn't match the bevy of smash hits found on the original, tracks like "Dollar And A Dream" and "Just Another Day" show that he's still too good of a raw rhymer for that to matter.
7. Prodigy, H.N.I.C. Pt. 2
The late Prodigy is perhaps best known as one half of the legendary duo Mobb Deep, but his solo catalog stands up with many of his generational peers. His debut H.N.I.C. album was a classic effort that not only gave him an awesome nickname, but its mere evocation stoked anticipation when he released the follow-up eight years later. While not quite as sharp as the original H.N.I.C., the sequel has highlights like "Veterans Memorial Pt. 2" and "Click Clack" (featuring Big Twins) that display his still intact ability to commandeer arresting Alchemist (and Sid Roams) production with the gritty lyricism that he'd become infamous for.
8. Eminem, Marshall Mathers LP 2
[protected-iframe id="c5418df80a914bc670f90bbf02d97f78-60970621-76566046″ info="https://open.spotify.com/embed/album/6DN7GcZF1HywzrkGN6Eeqk" width="600″ height="80″ frameborder="0″]
Eminem has said that he decided to name his 2011 album The Marshall Mathers LP 2 because the songs he was recording for the project reminded him of his earlier work. Many fans and critics agreed that throughout the sequel, he rapped with a reinvigoration and passion that bolstered his always labyrinthic technical lyricism with more evocative impact. While his later work has been more polarizing, Marshall Mathers LP 2 is looked at by many as one of the late-career highlights from the "Rap Gods."
9. Wiz Khalifa, Rolling Papers 2
[protected-iframe id="d648cf9f73faf19774b102b95036f75f-60970621-76566046″ info="https://open.spotify.com/embed/album/0YFou4SbS16F4GhSADLDfz" width="600″ height="80″ frameborder="0″]
Wiz Khalifa defied the sequel blueprint by telling Genius' Rob Markman that Rolling Papers 2 didn't come from a desire to rehash the energy of his debut album, but an acknowledgment that he was at a "whole new point" in his career that nevertheless felt as important as his debut. In essence, Rolling Papers 2 was touted as a rebirth. At a whopping 25 tracks, it was a long rebirth. Though the album is simply too long to be as potent as the original, he had high marks that showed the palatable brand of breezy weed rap that got him to the new plateau he spoke of.
Some artists covered here are Warner Music artists. Uproxx is an independent subsidiary of Warner Music Group.