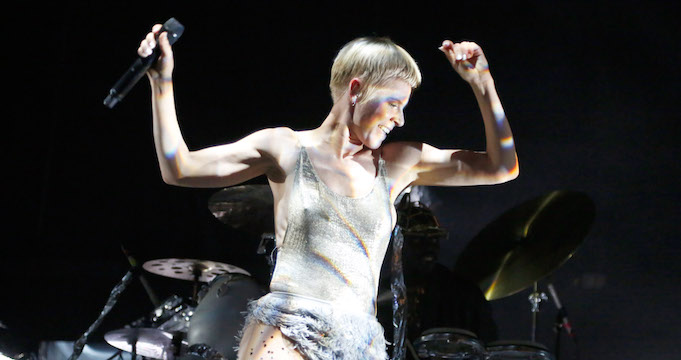 Robyn's Honey is one of the best albums of the year, due in part to its incredible, evocative title single. Fans got their first taste of "Honey" when a snippet of the song played over the end credits of an episode of Girls. The version of the song that ended up on Robyn's final album sounds quite different from the Girls clip — and while I love the slowed-down, more contemplative reworking of "Honey," part of me always wished we could hear the original version in its entirety.
Robyn visited BBC's Radio 1 Live Lounge this morning to drop a surprise holiday gift to fans and listeners. The Swedish pop icon performed a stunning "demo" version of "Honey" for Radio 1 host Clara Amfo. It's a testament to the brilliance of the song that it sounds so fully realized as both a slow burn and a club banger.
The singer also treated Radio 1 listeners to a cover of Wham!'s "Last Christmas," which Robyn calls one of her favorite Christmas songs. "[The holidays are] a melancholic part of the year, which makes it more interesting, I think," Robyn told Amfo before launching into her cover of the song. It's a faithful tribute to the Wham! version (Robyn called George Michael her "hero) but she makes the track her own with a heartbreaking piano accompaniment and soft vocals.
Listen to Robyn's "demo" version of "Honey" and cover of "Last Christmas" here. ("Honey" starts around the 2:01:35, and "Last Christmas" at 2:12:50.)