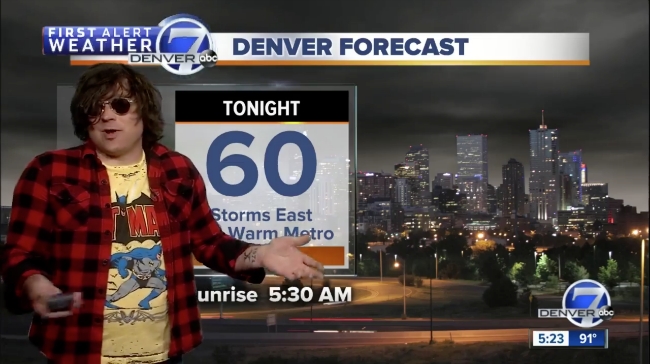 Ryan Adams has found a new way to advertise shows: going on the local news to deliver the weather. Adams launched his new career as a TV weatherman on Wednesday night, and it was weird and oddly entertaining for everyone involved.
Adams is no stranger to odd projects, cover albums and songs doomed never to find themselves on albums, but his most obscure song yet might be the one he wrote for a Denver TV station called 'Denver 7 Heaven.'
After a Twitter conversation with Denver 7 weatherman Shannon Ogden, the newscaster posted on Twitter that Adams would come onto the station this week to deliver a weather report.
And on Wednesday, with Adams in town ahead of a scheduled show at Red Rocks Amphitheater, he appeared on the station's 5 p.m. broadcast to deliver the report. What follows is a segment Adams called "exactly as weird as I thought it'd be."
Adams wore the exact outfit he sang about, though his yellow Batman shirt did clash with the green screen behind him at times. And though he was disoriented at first, he did get through the broadcast like the professional entertainer that he is.
There are some amusing moments, such as him imploring people to "get home early" to see the 5:30 sunrise the report listed. The segment ended with a specific forecast for his Red Rocks show on Thursday, and the opening lyrics to "Dirty Rain," a song from 2011's Ashes & Fire.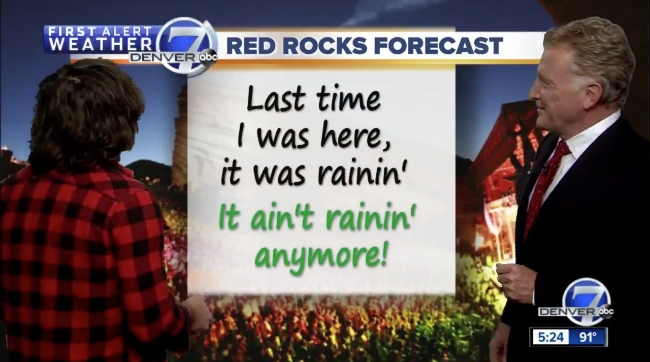 "Those are my lyrics on the weather," Adams said. "Which is surreal."
The best part is when Odgen points to the lyrics and asks Adams to sing the lines. The amateur weatherman stared at the green screen he pointed to rather than the monitor where the lyrics are, which gave the other newscaster pros a good laugh. He may not have done the best of jobs, but at least he knows not to bring an umbrella to Red Rocks on Thursday.