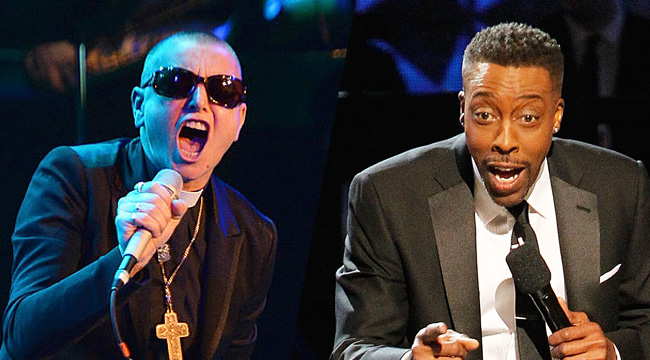 Prince's death will always leave an unfathomable void in the music world. Fans still feel raw with grief at this point, and the search for answers has unearthed much speculation. Most recently, the icon's personal chef, Ray Roberts, quashed the rumors of drug addiction (prescription or otherwise) and said Prince was just not feeling well over the past few months. He suffered from stomach and throat pain, and Roberts insisted that he'd never seen a lick of drug abuse from his boss.
Well, Sinead O'Connor doesn't accept the notion of Prince being clean. O'Connor, who is known for both Facebook rants and her own battles against demons, posted an open note to the Drug Enforcement Administration. She believes that one person — Arsenio Hall — is responsible for Prince's untimely passing. O'Connor levels this accusation (along with others) on Facebook:
Two words for the DEA investigating where prince got his drugs over the decades…. Arsenio Hall (AKA Prince's and Eddie Murphy's b*tch) Anyone imagining prince was not a long time hard drug user is living in cloud cuckoo land. Arsenio I've reported you to the Carver County Sherrif's [sic] office. Expect their call. They are aware you spiked me years ago at Eddie murphy's house. You best get tidying your man cave.
These are serious allegations, and a Hall rep quickly touched base with TMZ to deny O'Connor's claims as "absolutely false, ridiculous and absurd." The outlet also reminds the world that O'Connor wasn't friends with Prince but once alleged that he punched her. On Monday morning (before O'Connor's rant), the comedian spoke with Access Hollywood about Prince, who Hall says was obviously in pain, but "I feel like the cane preceded the pain. I think the cane was kind of swaggy, before the pain kicked in." Hall said Prince never disclosed any health issues to him.
UPDATE: Hall rep Tracy Parker emphasized the same denial given to TMZ while speaking to People: "The statement regarding Arsenio Hall is absolutely false, ridiculous and absurd."
Since O'Connor may decide to delete this Facebook post, here's a screenshot.