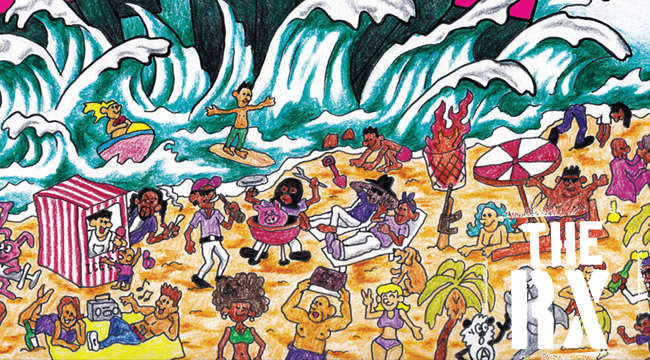 The RX is Uproxx Music's stamp of approval for the best albums, songs, and music stories throughout the year. Inclusion in this category is the highest distinction we can bestow, and signals the most important music being released throughout the year. The RX is the music you need, right now.
Vince Staples' music is not for popular consumption. I don't mean that to say that Vince Staples' music isn't wildly popular — it is.
Vince Staples, resident of Long Beach, California, Ramona Park Crip, purveyor of challenging, assertive music the like of which probably won't be considered mainstream for a decade or so, does not care for your popular consideration. Status, so much as its a tool to achieve a goal and not the goal itself, is not a primary concern of Vince's — if it is, it's of the financial more than the cultural or social variety.
Up until now, his music has been dark, devastating, eerie, unruly, grating, sinister, shocking, and unconventional, with tones and moods ranging from nihilistically languid to something that can only be described as the feeling of a swarm of wasps whose nest has been disturbed. He's a cactus with a smile drawn on, as inviting as he is prickly, as confessional as he is "War Ready." He doesn't want or need your approval, but with his latest release, the nostalgic FM! he just might win it anyway — though still very much on his own terms.
Dedicated to his "number one fan," his own younger self, FM! is built around the familiar Staples theme of summertime nostalgia. It's cleverly held together by a running motif of interludes borrowed straight from terrestrial radio. Popular LA-area radio host Big Boy of the long-running morning show "Big Boy's Neighborhood" ties everything together with sketches yanked straight from his own drive-time slot. The Power 106 host is as familiar to locals as Staples' Summertime 06 disaster funk and Big Fish Theory's menacing electronica is foreign to the domestic radio format. Big Boy might never get caught blasting the five-alarm sirens of "Blue Suede" or the doom-and-gloomy "Senorita," but that's where Kenny Beats, Hagler, CuBeatz, and KillaGraham step in to endow FM! with a sound that may be foreign to Vince's past work, but instantly engaging to anyone who'd tune in to "Big Boy's Neighborhood" for the latest "phone tap" sketch as they battled traffic on the 91 freeway.
FM! is one of Vince's shortest projects, including EPs like Prima Donna, but contains more potential hits than any of his other projects to date. From "Feels Like Summer" to "Outside" to "Relay," the beats upend every expectation of standard Vince Staples audio chaos by injecting bouncy, hand-clapping, west coast slap to his fatalistic, hyper-aware gangsta rap sensibilities. Simply put, they sound more like the G-Funk he would have grown up on, slapping 92.3 The Beat and Power 106 in his handset radio on the school bus. FM! is still laced with the sinister paranoia of earlier works, but now it's shot through with doses of sunshine that disorient and diffuse the perception of encroaching doom.
The newfound accessibility was evident in the enthusiastic crowd reaction when Vince debuted the new songs during his packed-house performance on his release weekend at ComplexCon. Sneaking new tracks like "Fun!," "Don't Get Chipped," "No Bleedin," and "Tweakin'" in among established standouts like "Lift Me Up," "Norf Norf," and "745," the packed Long Beach Arena floor sizzled when he played the new songs, the audience snapping with electricity despite many attendees never hearing the tracks before. It was a situation totally unlike the usual release-week jitters where the audience not knowing all the words to the new songs.
In this case, the audience didn't need to know the words. They felt them. They felt the beats, which are jerkier, not in the sense that they're harder to get into the groove of — they're actually much groovier than say, "Rain Come Down," the glitchy Ty Dolla Sign-featuring closer from Big Fish — but in the sense that people in the crowd were actually doing the jerking dance from a few years ago to them. This was Vince in his city, talking to his city, talking about his city, as always, but finally, maybe, in a language that they could all understand.
Incorporating more collaborations with other west coast fixtures like Kamaiyah and Jay Rock, both of who made appearances to perform alongside Vince on Saturday, creates more of a party vibe than his other works, like friends stopping by on a sunny July afternoon to catch up and make plans that might never get fulfilled — after all, anything could happen between daylight and the evening at Ramona Park, from a shootout to a police raid. When they joined him onstage, the crowd snapped; the energy they brought to the stage is the same energy they bring to the album. That same frisson of tension and release when your ears perk up because you just recognized a new voice on the album, and it is Kamaiyah, as Vince is finally serving up the kinds of songs that Kamaiyah sounds at home on.
Meanwhile, Vince's voice elongates and slurs on the bruising, but radio-ready beats like a rubber band, snapping perfectly into place in the newly conventional G-funk-inspired pockets of sound, yet despite his increased reliance on sing-song flows, his message is as urgent and damaged as ever. "My black is beautiful, but I'll still shoot you," he quips on "Fun!" He menaces and cajoles listeners with his familiar sardonic stone face, but there is a lighter lilt to his voice that, combined with newfound brightness of his change in production, could lull you into a false sense of security, but lyrically, he's just as dangerous as ever — just like Long Beach in the summer.
FM! is out now through Def Jam. Get it here.