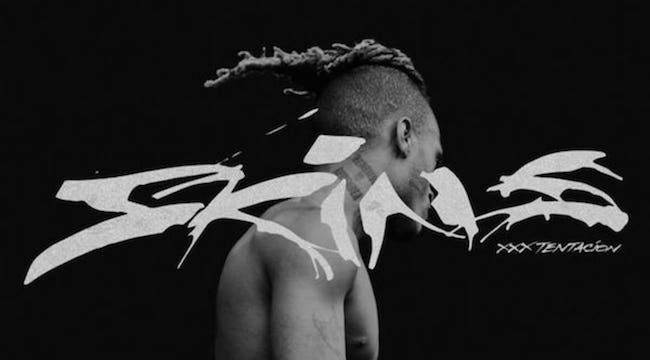 On Skins, XXXtentacion changes his like a reptile, cycling through and shedding styles like an indecisive musical python. As he crawls from straightforward slinky rap to lightweight pop to ill-advised, plastic grunge, though, it's hard to tell who is in the driver's seat, XXXtentacion, or his label handlers and collaborators. With just ten tracks, Skins illustrates the trouble with posthumous projects succinctly: Is this the album that the artist would have made, or just a cynical cash-in?
Shortly after XXXtentacion's shooting death in June, The New York Times published an article detailing the late rapper's most recent record deal, estimated to be worth $10 million dollars according to the newspaper's sources. The founder of Empire, the independent distributor that signed XXXtentacion, was quoted saying that the young rapper had completed "a significant amount of material" for Skins before his death.
The album itself seemingly belies that statement, but its first-week numbers will likely justify the record's existence for Empire, as well as the value of the deal they extended the young XXXtentacion in spite of his ongoing trial for domestic abuse. At the time of his death, he had been on trial for allegedly battering his then-pregnant girlfriend. Although the case was dropped in light of his death, recordings were later released that all but confirmed the charges against him — in his own words, no less. Of course, that wouldn't matter to Empire or to XXX's impressionable young fans. For them, he'd already passed into being a tragic hero, fallen all too soon.
We know that posthumous albums sell. Controversy sells, too; the fact is, despite his many faults and complications, XXXtentacion had a huge, dedicated fanbase. They turned his prior musical experiments 17 and ?, however juvenile and pretentious they may have been, into huge hits. 17 debuted at No. 2 on the Billboard 200, while ? charted even higher, landing at No. 1. While each album likewise ran the gamut of genres, from emo to reggaeton, in a kind of rebellious, teenage frenzy, neither really sounded like a complete idea.
Those problems are exacerbated on Skins; because the album is primarily constructed of scraps of working material, songs sound half-finished, cut-off, and derelict. It's XXXtentacion's shortest album as well — again, whether by design or necessity remains unclear. "I Don't Let Go," for example, features a verse that sputters out in its final couplet, with X literally mumble-rapping the final words of each of the last two bars. Was this verse something that he was workshopping, that he'd eventually return to and complete, or did he really care so little about actually saying anything in those last two lines? In the hands of a more accomplished artist, you could make the argument that there was a deeper statement behind the verse. Coming as it does on a posthumous album from an artist that already had a track record of creating songs and concepts that barely hung together thematically, it's hard to tell the difference between cutting room material and what X actually intended.
One of the few complete sounding songs is the ironically titled "One Minute" featuring Kanye West, the sole collaborator on the album. "Complete sounding" is a term used loosely; the song uses the same, repetitive, two-bar guitar loop for the entirety of its three minute runtime, while XXXtentacion only comes in at the very end to scream the song's title in a metal impression that fellow West collaborator Mos Def pulled off much better almost two decades ago. That Kanye's verse dominates the song's runtime and comes off as a controversial defense of XXXtentacion's reputation throws the absurdity of the collaboration into even sharper relief. Which one of them benefits from this co-sign? West's own tarnished reputation could hardly receive much redemption from clout chasing the most controversial artist of the Soundcloud generation. XXXtentacion working with a washed sounding Ye doesn't lend him any artistic credibility. Why does this exist?
Maybe Skins should have swapped titles with ? because it leaves behind more questions than it answers. While it does evoke a certain grungy moodiness in spots ("What Are You So Afraid Of" is the best song on the album) that is undoubtedly appealing for pulling on those bruised heartstrings, ultimately, Skins is an ineffective, inessential collection of posthumous clips and cuttings that could very well have stayed in the vault. Skins, whether directed by Xxxtentacion or the collaborators who stand to profit the most from work now that he's gone, is a project from an artist who never quite got comfortable in his skin. It's a shame we'll never get to hear what that would have sounded like.
Skins is out now via Empire and Bad Vibes Forever. Get it here.