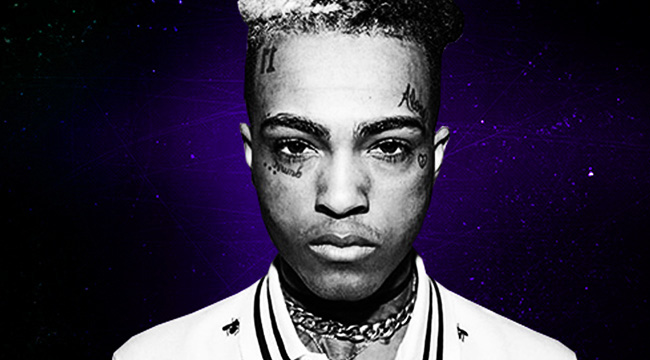 I always had a creeping feeling that XXXTentacion would end up being a martyr to his devoted fanbase. We already saw a lesser version of the circumstance as he rose to fame from a #FREEX campaign while he was in jail for robbery and battery. His sullen mugshot became a macabre fixture of the new school of hip-hop's iconography. Now, it will likely become an even more grimly venerated image in the wake of his murder yesterday.
The specter of death loomed large around XXXTentacion's lyrics, in pensive songs like the eerily titled "I spoke to the devil in Miami, he said everything would be fine," with lines like "I'm trapped in a changing maze, setting my soul ablaze, couldn't control the pace. Where is this going?" We now know where that blazing trail stopped: With his shooting death yesterday in Southern Florida.
XXXTentacion was a primary face of hip-hop's referendum on the infeasibility of separating an artist's abhorrent conduct from their art. His every action over the past two years added to the circus, riled critics and stoked polarizing, passionate debates. But there will be no more stories. In a vacuum, he was a victim of a tragic shooting. But while even the ex-girlfriend that he's alleged to have abused is mourning him, it's not surprising that many others refuse to.
XXXTentacion lived a lightning bolt of a life, destroying much in his path, from the innocence and peace of mind of his pregnant girlfriend, to the conventions of what an unsigned artist (who wouldn't even mix his records) could do with a Soundcloud account. The mark he left belies his 20 years on earth, from his musical impact to the wounds — both physical and mental — he left his victims with. One of those actions should weigh heavier than the other, but as the polarizing reaction to his death shows, it seems not to.
Writer and spiritual leader Ernest Holmes once said that "life is a mirror and will reflect back to the thinker what he thinks into it." Some people see XXXTentacion's life as a textbook example of Black men's immorality, homophobia, and abuse being swept under the rug because of their gifts, because of a need to coddle men dealing with unresolved trauma, or just because. Those who feel for him see his life as a tragic example of a foster kid failed by the system. Others look at him as an example of why the stigma around mental illness and therapy needs to be obliterated and not left to be trivialized and romanticized.
Some rue that a gifted 20-year-old was murdered before he got the chance to make sense of his life and realize his peak. Some people wanted to see him redeem himself a la Gucci Mane. Others wanted him incarcerated and made to reckon with his disgraceful abuse. They're all right. While supporters and detractors will mostly define his lifetime in absolutes, there are aspects of his existence that are as disturbing and tragic as occasionally impressive.
Tekashi 69 remembers him as a person who spread "nothing but positivity." There's a video of him talking to fellow controversial Floridian Kodak Black, advising him on leeches in his circle. He may have seen himself as a beacon of guidance to his peers, but he needed direction himself. Just last year he got into a fight with the Migos' entourage over something incredibly childish, then resolved to do better after the fight, reflecting how conflicted he was.
In a recent Miami-New Times piece, he expressed that he wouldn't change a thing about his life — including his abuse. The fact that he was still deified by his adoring fanbase, who went as far as to harass his ex for merely expressing her trauma, meant he may have never realized how terrible that statement sounded. There was still a slim chance he would though.
His efforts to hold charity events, like the one he had planned for this coming Saturday, to ride bikes with children, meant that as easy as it is to paint him as 100% irredeemable, he wasn't. In March, he announced that he was planning to enroll in school. Maybe he could have fully become the person he portrayed in harrowing videos like the one he made in December for the youth, but there's no need to assume that progression would come, or to foolishly use the once-in-a-century life of Malcolm X as a hollow talking point like Jidenna did.
What people who use simplistic, hyperbolic analogies like that fail to realize is how it prioritizes potential over traumatic actuality and highlights the speaker's inability to empathize with abuse victims. Given how even hip-hop veterans like Kanye West and Jay-Z reflected on how they didn't think about their treatment of women until they had daughters, it's easy to glean that most men can't properly commiserate with abuse victims.
It's easy to chalk the disdain for XXXTentacion to his critics being "angry feminists" or "fake woke," but maybe they just don't want to be stomped and called a "f—–t" like he did the gay roommate he had in jail, or strangled and threatened with penetration via barbecue fork like his ex-girlfriend alleges she was. She said when she lived with him in Orlando, she was threatened with death "literally every day." She told the cops: "I'm like scared. It's like he's going to like end up killing me or something."
That won't happen now, and there will be no chance for redemption for the young Florida artist, just as there will be no more chance of abuse committed at his hands. Those who defended his spat with Spotify and lazily used the "censorship" card in lieu of respecting the gravity of his actions will likely graduate to using the "don't talk ill of a dead man" adage to deflect from coming to grips with why his contemplative music, however heartfelt and relatable, was forever colored by a traumatizing aggression that made it so.
For his younger fans, a true nod to his existence would be engendering discussion about why they saw themselves in his agony, and what could be done to mend their pain before they follow in his footsteps with the people in their life. As his fans blast his music and empathize with the pain he felt, many will recall the pain he caused.
The phrase "rest in peace" seems overused to the point that it doesn't mean anything, but I truly hope he does, because he often radiated a boiling rage and overwhelming sadness. But I also hope his victims can finally get to live in peace with the realization that their lives won't exist in the shadow of his continued ascension as an entertainer in spite of their trauma. His complicated legacy is that of abuse, ingenuity, sadness, flashes of brilliance, and loathsome violence, which goes to show that nothing is cut and dry — not even in the finality of death.