"Did you notice the wind stop?" Blackpink's Rosé asked a crowd of thousands of screaming fans during their main stage headlining set. "I think it was all the Blinks," she said. It was an example of how everyone, including the weather, seemed to stop in anticipation of Blackpink's historic set during day two of Coachella 2023. With artists like the K-pop megagroup, Rosalía, Labrinth, and Jai Paul's first-ever concert, day two was certainly one to remember. Let's recap what we saw.
Friday night, Bad Bunny became the first-ever Latin solo artist to headline the main Coachella stage. This time, Blackpink were the ones making history. The girl group became the first-ever Korean act to headline the festival, and they certainly delivered on expectation. The four pop stars opened with their hit number "Pink Venom" and it didn't take long for fireworks to light up the stage, mirroring the group's explosive energy. Everything from their engaging choreography to their black-and-pink outfits were expertly planned. A long stage bisecting the crowd allowed them ample space to move around and highlight their collective force, while the big-screen cameras were more focused on giving each of the individual performers their spotlight moment. After launching into tracks like "Kill This Love" and "How You Like That," Blackpink gave each member the opportunity to shine with their solo efforts. Jennie was first, singing her solo number "You & Me" complete with a dance break. Jisoo, the last Blackpink member to release a solo track, delivered her song "Flower," which dropped only a few weeks ago. Rosé was next with a version of "On The Ground" and "Gone" and Lisa came last in the solo act lineup with her track "Money," which had the crowd screaming along.
Blackpink's set wasn't the only historic Coachella performance of the night. All eyes were on Jai Paul, who had his first-ever performance. That's right — not just his first-ever Coachella performance, but his first time performing live ever. The UK artist gained popularity over a decade ago but took an extended hiatus after his music was leaked online. In 2019, the artist returned to drop his music in an official capacity. Because Jai Paul isn't used to performing in front of a crowd, much less to a crowd of thousands at one of the biggest festivals in the world, it was clear he had some understandable nerves. Unlike seasoned performers like Blackpink or Charli XCX, Jai Paul didn't address the crowd during his set or try to hype up the audience. Instead, he walked out on stage and launched straight into the music. Even still, his dance-y beats and impressive falsetto vocals were enough to win over the crowd as he played fan-favorite tracks like "Jasmine," "BTSTU," and "Str8 Outta Mumbai."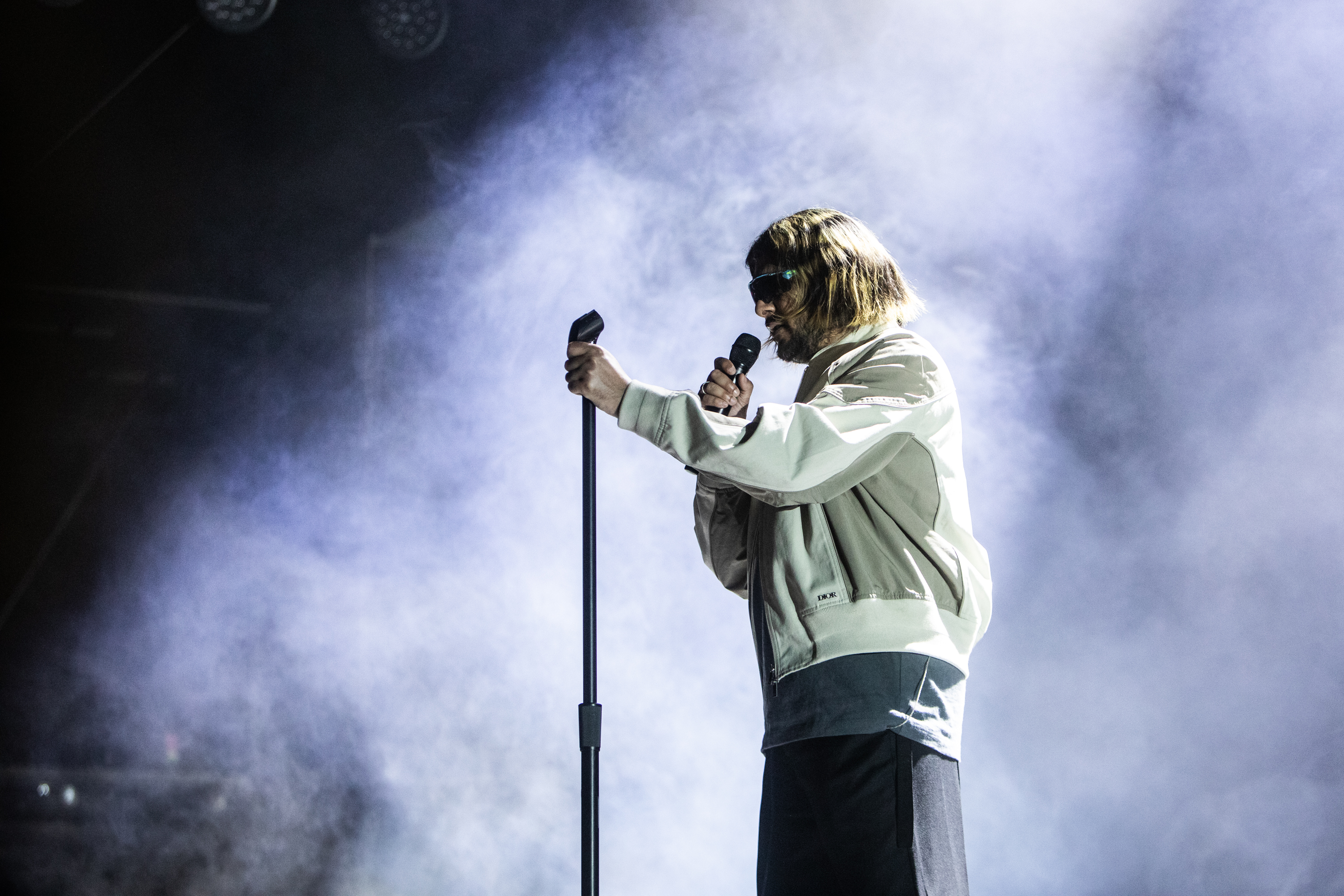 Speaking of stage presence, Charli XCX was in full pop star mode. Backed by an electric stage design and small group of immensely talented back-up dancers, Charli showed off her full potential with fun choreography and hyped-up crowd engagement. She continually addressed the crowd during her set, keeping the energy high and eliciting consistent screams of approval from fans. She even shouted out the other artists who would take the main stage after her, saying: "This song is for all my bad girls out there. All the bad girls who came to see me, Rosalía and BLACKPINK in your f*cking area." It seemed like the entire festival was collectively jumping to songs like "I Love It" and "Vroom Vroom." She also brought out a surprise guest; fellow singer Troye Sivan joined her for an engaging rendition of "1999" that had the crowd partying like it was 1999.
Rosalía was another seasoned performer who took the Coachella stage. As those watching the livestream at home saw, Rosalía really put her all into her emotional set. At one point, the singer dimmed the lights and poured her heart out to "Diablo." The singer's choreography and camera work were un-matched but as a viewer at the festival, it felt like Rosalía was much more focused on giving a performance to the livestream camera rather than to the crowd. Still, she had some touching fan interactions, like when she grabbed one of the cameras and walked out to the crowd barrier to let some fans scream her lyrics into the microphone. Later on in her set, Rosalía brought out a special guest: her recent fiancé, Rauw Alejandro. Together, the two delivered a few tracks off their collaborative EP and shared some adorable moments on stage.
Rosalía and Charli XCX weren't the only artists to bring out big stars during their set. Labrinth closed out the Mojave tent on Saturday night, inviting none other than Billie Eilish to perform their joint track "Never Felt So Alone" to the delight of the screaming crowd. He displayed his powerful vocals while delivering a number of intimate tracks like "Mount Everest" and "Still Don't Know My Name." Similarly, Boygenius' set had many intimate moments, though the crowd was much more sparsely attended since fans had already started packing in to see Blackpink at the next stage over. The group consisting of Phoebe Bridgers, Julien Baker, and Lucy Dacus kicked off their set with the a cappella number "With You Without Them" and a hard-rocking rendition of "$20" before moving into quieter numbers like "Emily I'm Sorry."
Find more of our Coachella 2023 coverage here.