You might have forgotten this thanks to the annual cultural ubiquity of her signature hit (and you'd be forgiven for doing so), but Mariah Carey actually has multiple Christmas albums on her career resume. However, thanks again to that aforementioned hit, the veteran singer — who has more classic albums under her belt than most artists of her generation have Billboard-charting singles — has become the unquestioned queen of the holiday season.
So it's a no-brainer that her latest tour takes advantage of this fact to put the full range of her talent (and her Christmas catalog) on display. With a set that hit seemingly every standard and contemporary classic and enough sparkles to put Swarovski out of business after running out of stock, Carey's Merry Christmas One And All Tour kicked off in style at Yaamava' Resort & Casino at San Manuel, just an hour and a half outside of Los Angeles on Wednesday night.
The cozy 3,000-cap theater at the Native-owned resort made for the perfect venue, as it's big enough for a dry run of the theaters she'll be playing for the next month and a half, but small enough to allow her and her team to make any tweaks they need to or mitigate any of the borderline technical glitches that arise at just about any tour openers.
Fortuitously — or perhaps due to 30-plus years of practice — "nothing went wrong," as MC put it during her show's snow-sprinkled finale. Even if it had, though, Carey has the unflappable unshakable professionalism of a 35-year veteran. A pro's pro, even in the first few awkward moments where she worried aloud that her shoes might make her slip and take a tumble, she stayed upright by sheer force of will, absolutely too cool to let any possible viral moments poke holes in the immaculate production.
Opening the show with a few nods to the host venue — her dancers performed the show's intro on and around a luggage cart dressed as bellhops before Mariah herself popped out of a massive gift box — the singer gave early acknowledgments to her band, backup singers, and musical director as she sang updated editions of well-known holiday fixtures. Her infamous Glam Team also made a couple of appearances for mid-show touch-ups, and she sought the crowd's approval as she debuted a new ensemble (that's how she put it, "ensemble") after a few more costume changes.
Her crowd interactions and gospel-washed renditions of the seasonal classics were the main focus, but Mariah's too much of a pro to let a whole hour go by without touching on her storied catalog, which she did with what she called her "2023 MC Hitlist Medley." Not many stars could do a literal hour of No. 1 hits and still choose to do a show based on Christmas songs, but MC also knows how to give a crowd exactly what they came for, eliciting literal SHRIEKS of delight and anticipation with every intro to one of her many, many '90s and 2000s hits. (The only downside for me personally is being 6'2 and not wanting to block anyone's view behind me.)
Meanwhile, the concert is helping to raise Yaamava's profile as a venue, along with many more recent A-list bookings. Landing Mariah is a result of the hard work of the casino's Vice President of Entertainment, Drew Dixon, who started with the resort in 2021 when it first rebranded and revamped its image. His partnership with Live Nation, from which he departed for Yaamava', has brought an impressive cachet to the new theater in its early days, which bodes well for its future — snagging coveted bookings from the likes of Ed Sheeran, Janet Jackson, Maluma, Missy Elliott, and more. The diversity is highlighted and exemplified by bookings of both regional Mexican superstars and obscure Filipino favorites alike, along with Top 40 stars and legacy acts like Carey and Jackson, appealing to concertgoers looking for a more curated experience. There's just something cooler about being able to look an artist in the eye and interact with them the way Mariah did with fans at her show.
As Vegas residencies become more commonplace and hot artists opt for out-of-the-way but modern and intimate venues like Yaamava', these venues also become more viable for fans to see their faves without paying arena prices for tickets. Plus, there's the benefit of simply being able to crash in your room after the show — or, if you're too amped up, hit the casino and try your luck. In our case, it was the former, but the Yaamava Resort also offers restaurants like the Pines Steakhouse for late-night meals, as do other venues of its ilk. I'd recommend catching just about any artist at a similar venue if possible.
But even if you can't enjoy a smaller venue like this on Mariah Carey's Merry Christmas One And All Tour, taking it in at an arena (or the Hollywood Bowl, where it stops next) is worth the price of admission. If the past few years have given you the mistaken impression that the veteran singer is "just" a novelty act, her collection of both holiday mainstays and hits will certainly prove you wrong. If you're a music lover, that's the best gift you could give yourself this holiday season.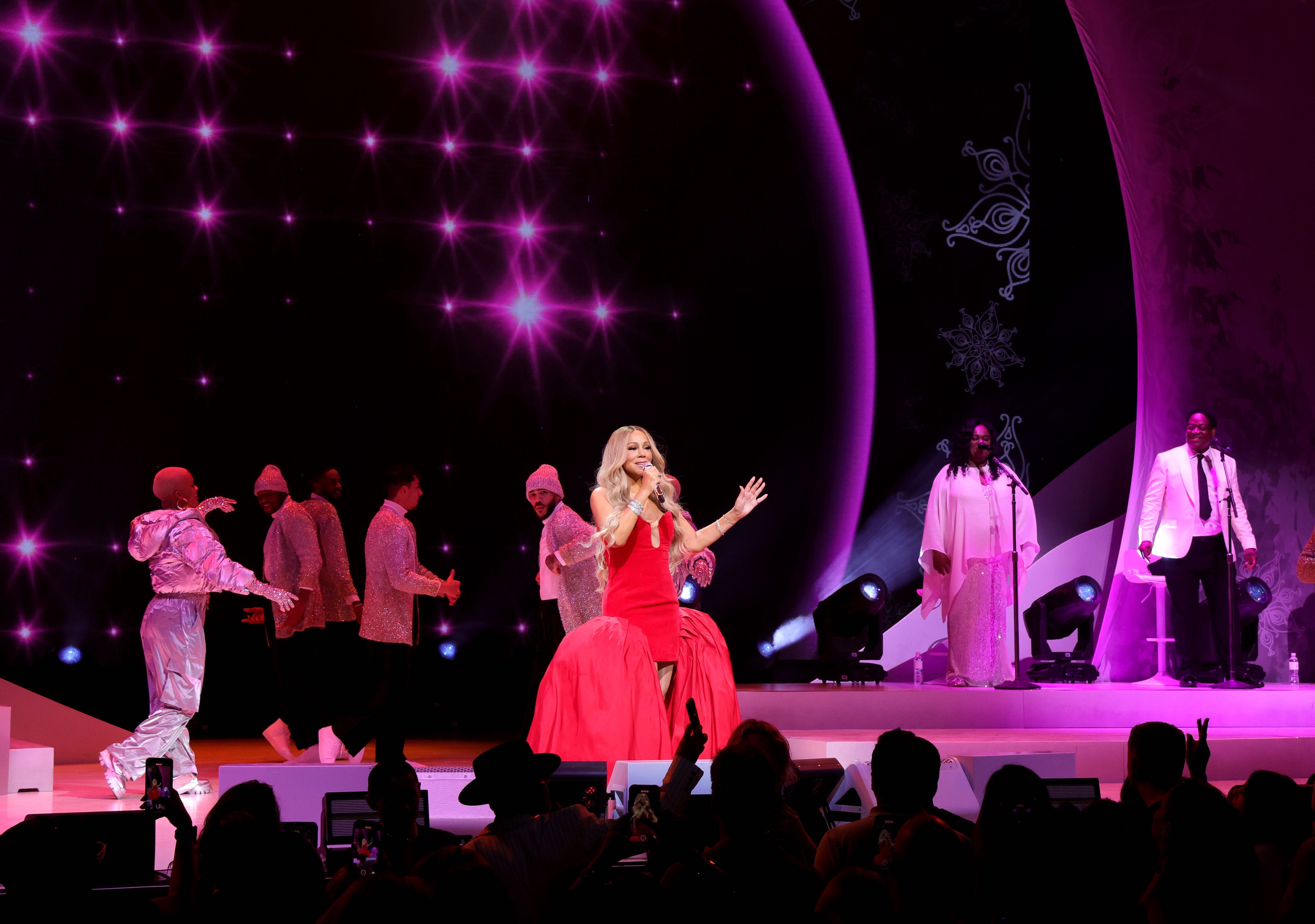 Uproxx was hosted by Yaamava' Resort & Casino for this story. However, they did not review or approve this story. You can read our press trip/hosting policy here.