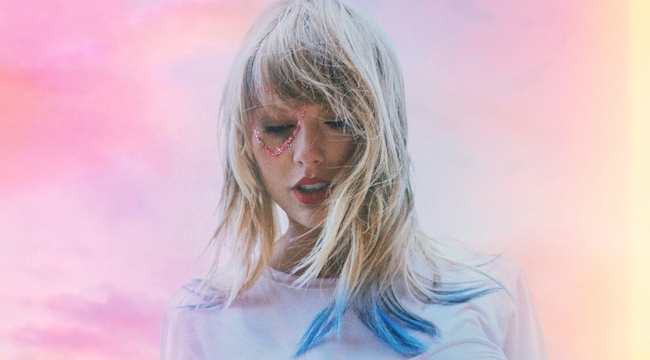 Though it was preceded by a lot of label drama, and a couple of tricky singles, Taylor Swift's seventh album Lover is still one of the most anticipated of the year. And boy, does it deliver on its title. After making a name for herself writing poignant and powerful breakup songs — among other things — our heroine Taylor is now deeply in love, and has been for three summers. Thus, the subject of her new record, the first one she's ever owned outright, is her massive feelings and strugglings within a relationship, instead of in the aftermath.
One of the best parts of all the love songs on Lover is that they don't attempt to paint love as this perfect, easy thing; they're full of the frustrations, challenges, and bittersweet memories that accompany real-life adult relationship. And that's part of why they're so deliciously addicting. Because so many of the tracks on this album in particular are love songs, and because it's one of the things Taylor does best, here is a ranking of the best new additions to her discography in this category. Please note: this only includes songs off her latest album, so "All Too Well" and "Delicate" stans can please calm down.
10. "London Boy"
Guys, I'm ranking the song I connect to the least as the lowest. Personally, I just don't care about uni or high tea, and I think given her considerable powers Taylor could've written a way more compelling song about London, or loving someone who is English. But, I do think the high camp and, ahem, British representation on this song (not to mention the creative geography) will please her fans from the area so much that I almost don't care about how much it doesn't connect with me. Like, if Taylor ever writes a song about McMinnville, Oregon I swear to God I'll just lose my mind over it, so I imagine that's how all the London Swifties are feeling right now, and it makes me happy for them.
9. "I Think He Knows"
Taylor is great at telling her own side of the story, but she flips the script on this track with a songwriting trick where she frames her own thoughts of desire and lust through the framework of a lover who is well aware of her feelings. For a writer who has spent a lot of time telling her lovers things they maybe didn't know about how the relationship fell apart, Taylor spends a lot of this album telling the listeners about a shared world that the object of her affections is already in on. We're the intruders here, and based on some of the lyrics in this song, it's time for us to show ourselves out.
8. "Lover"
Coming in at number three on an album of eighteen tracks (!), the title track on Taylor's seventh album is a callback to her songwriterly days, and would easily fit in with anything off Red. "Lover" hones in on the three best things about being in love: being together, feelings of intimacy, and having a place to call home. Often enough in songwriting, the "home" is the lover themselves, but Taylor builds out a pretty picture of a shared living space that is a pretty new topic for her. Oh, and the other great thing about this one is the reference to dad jokes. True love indeed.
7. "The Archer"
After a couple of confetti-cannon singles in "ME!" and "You Need To Calm Down," Taylor recalibrated our expectations for Lover by releasing the infamous "fifth track" off the record, a slot generally reserved for a magnificent love song. "The Archer" most clearly shows signs of Jack Antonoff production by never quite building to the peak it promises, but there's also something deep and beautiful in exercising the restraint. Who could stay? This song, for one. Sometimes the best love is a slow burn, not a white-hot heat that immediately fizzles.
6. "Afterglow"
There's something refreshing about a person who can both identify and acknowledge their overreactions and nuclear meltdowns. In this relationship, at least, Taylor seems to have perfected that art: "Hey, it's all me / In my head / I'm the one who burned us down," she sings, but finds solace in a partner who is still willing to meet her after the dust has settled. Playing with some of the same themes that the album's closing song, "Daylight," hits on, the track helps build a narrative of Taylor's current relationship as a place where she can be flawed, admit her mistakes, and come back to the light.
5. "Cruel Summer"
Co-written with not just her frequent writing partner Jack Antonoff, but the one and only Annie Clark (that'd be St. Vincent, for the casual readers), "Cruel Summer" could've conceivably existed on Masseduction, 1989, or the last Lorde album. And yes, those are all compliments. While some fans thought this might be yet another reference to Taylor's rather epic feud with Kanye West — due to his 2012 compilation album of the same name — this steamy love song focuses much more on a romantic narrative than anything to do with Taylor's public drama. The best line? "Summer's a knife." Writing this on one of the hottest August afternoons, I couldn't agree more.
4. "False God"
A fun game to play with an artist as versatile as Taylor is to identify the "style" of a particular song, coordinating entries into her massive catalogue with different artists they evoke. According to these, "False God" is her The 1975 track on Lover, incorporating an unexpected yet cooly soulful saxophone, religious imagery with an existential crisis on the horizon. Yes, it's all there, and the results are fantastic. This feels like one of the most "adult" songs on Lover, delving more deeply into the potential roadblocks and periods of frustration that are bound to crop up in any long term partnership.
3. "Paper Rings"
As much as I love country Taylor, I cannot relate to anyone who has ever been upset she went pop, because that shift gave us so many unstoppable, effortless bops, and "Paper Rings" joins that list in a heartbeat. Referencing her own affinity for "shiny things" (she's a cat) and a bunch of little Easter eggs about her dreamy new relationship on this near-perfect pop song, "Paper Rings" is the dance-around-the-kitchen-table and/or move-the-furniture love song that 2019 couples didn't know they needed. Hell, I'm single and it still makes me groove — that's just the power of a great pop song.
2. "Daylight"
The last track on a Taylor Swift album has always held a special place in whatever narrative she's currently embroiled in. In the midst of Reputation's campy anger and pain, she gave us the glowy hopefulness of "New Year's Day;" among 1989's sparkling endings, "Clean" was a self-reclamation, and so on. "Daylight" functions in much the same way, gently closing the door on the dark night of the soul that Taylor survived to reach the peacefulness contained on Lover, and pinpointing her new era of real and true love as golden and renewable.
1. "Cornelia Street"
The high-water mark on Lover as far as anyone is concerned, "Cornelia Street" sounds like classic Taylor, a gorgeous meditation on how much it would hurt to lose someone — imagined from the perspective of still having them. It's a brilliant reversal on both the concept of a love song and a break-up song, and gives us the same kind of detailed storytelling that fans have always adored. Whatever kind of magic Taylor seems to have found, I hope she never loses it. (And yes, I will be taking a selfie under the Cornelia Street signpost on my next trip to New York.)