Riho vs. Hikaru Shida
The other women's match on this card was announced with a promotional graphic. Though AEW does need at least two number one contenders for that first AEW Women's World Championship match, it doesn't officially have any stakes beyond Riho and Hikaru Shida both trying to get a win. Still, it wouldn't be surprising to see either of these women end up earning her way into the first title match on the first episode of AEW's TV show with through this match.
We've seen a little bit of how good Riho and Shida are in AEW so far, with Shida wrestling on Double or Nothing and Riho at all their events. They both quickly won over a lot of fans who weren't familiar with their work in Japan, and the spotlight of a one-on-one match could easily win over some more.
SCU vs. Luchasaurus, Jungle Boy, and Marko Stunt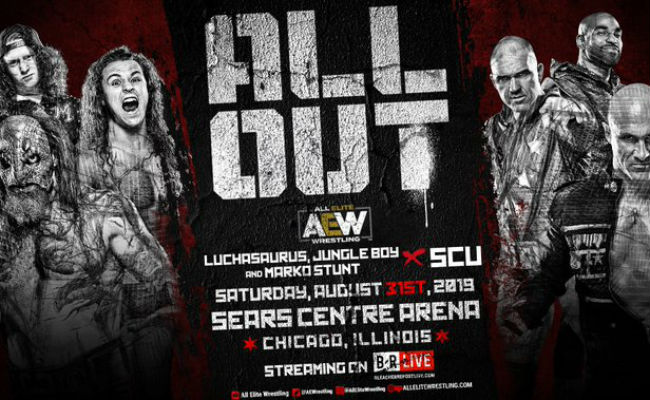 All Out's one six-man tag match was set up on the most recent episode of Being the Elite. Members of SCU (SoCal Uncensored) (Christopher Daniels, Frankie Kazarian, and Scorpio Sky) experienced visions/media of dinosaurs, kids, and The Jungle Book and realized who they needed to wrestle next! It was this adorable trio of A Boy And His Dinosaur And Another Boy Who Signed With AEW More Recently And Who Taya Valkyrie and John Hennigan Apparently Walk On A Leash. While SCU is very established as a team at this point, their opponents are much less so, and it should be interesting to see how they work together.
Cracker Barrel Clash: Joey Janela vs. Jimmy Havoc vs. Darby Allin
The triple threat match between deathmatch indie weirdos Joey Janela, Jimmy Havoc, and Darby Allin was set up with a backstage fight in the second episode of The Road to AEW All Out that inevitably drew comparisons to the real-life semi-fight Janela had just had with a former WWE Superstar at a Blink-182 concert, which led to the above AEW-Blink-182 crossover video.
Considering what Janela, Allin, and Havoc have gotten up to on the independent circuit and already in their AEW careers, it looked like their match could get crazy. On Tuesday, there was a development regarding this match that some might describe as "crazy," though not in the way Janela vs. Jon Moxley was at Fyter Fest – it was revealed to be officially sponsored by Cracker Barrel. Here is an excerpt from the press release dubbing this match the "Cracker Barrel Clash," which is probably my favorite press release I have ever received:
All Elite Wresting (AEW) today announced that Cracker Barrel Old Country Store has been named Presenting Match Sponsor of the triple threat bout between Darby Allin, Joey Janela and Jimmy Havoc at the upcoming ALL OUT event in Chicago on Saturday, Aug. 31.

Dubbed the "Cracker Barrel Clash," the match was sanctioned after the disintegration of the partnership between the three wrestlers following their loss at FIGHT FOR THE FALLEN where the trio teamed up to face Shawn Spears, Sammy Guevara and MJF in a six-man man tag team match. After the bout, the three tag team partners had a disagreement that devolved into a wild backstage brawl until AEW officials intervened. Now, Allin, Havoc and Janela will settle their differences in the ring in the highly anticipated three way match at ALL OUT.

Cracker Barrel's relationship with AEW spans years as EVP's Matt and Nick Jackson are "super fans" of the brand. Cracker Barrel has partnered with the duo in the past to create the now iconic "Biscuit Party" caps, and has also sponsored three of their matches. With 660 locations in 45 states, Cracker Barrel frequently hosts AEW wrestlers and their families across the country. The "Cracker Barrel Clash" marks the first official match sponsorship at an AEW event. The sponsorship includes cross-promotional activities with AEW talent, customized co-branded graphics, in-venue signage and social media activation…
This makes this match seem about a corporate as that VHS filter they used in its announcement made it seem indie. But maybe Cracker Barrel is more down with weirdness and ultra-violence than people might guess! Maybe it will include a cracker barrel that has been wrapped in barbed wire or filled with tacks! Maybe it will include a cracker barrel that has been wrapped in barbed wire and filled with tacks! Anything is possible, right?