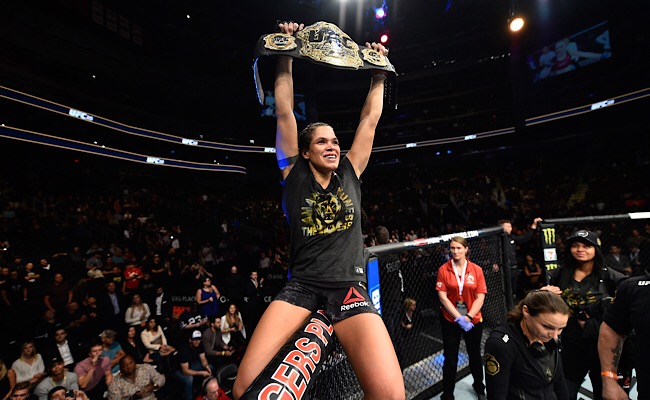 Two-division champion Amanda Nunes will defend her bantamweight crown against Holly Holm at UFC 239 on July 6 in Las Vegas, Nevada, ESPN reported Wednesday afternoon.
The highly-anticipated bantamweight showdown will serve as the co-main event to Jon Jones' light heavyweight title defense against Thiago Santos. The announcement of Nunes-Holm comes after Nunes announced she likely wouldn't fight again until November or December.
Holm's last bout came in June 2018, when she defeated Megan Anderson. She underwent a subsequent knee surgery to repair her meniscus, was scheduled to fight rising star Aspen Ladd in March before that fight was unexpectedly cancelled, and eventually signed a new six-fight deal with the UFC.

Holm is the final remaining of the big four women's fighters for Nunes, who has defeated legends Miesha Tate, Ronda Rousey and Cris Cyborg in that order.
"I would love the opportunity to fight for a belt against Nunes," Holm told Uproxx Sports in January. "Usually when people lose the belt, they don't get it again. I want to show people I'm still here and I can do that."
Nunes last fought Cyborg at UFC 232 in December, where she knocked out the UFC legend in the first round.
The announcement on Jones' title defense also comes the same day he and Stipe Miocic teased a showdown at heavyweight. If that bout does some to fruition, it'll likely have to wait until the fall or 2020.