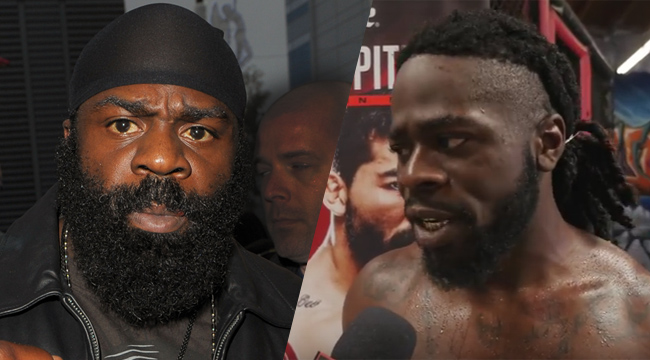 Kevin 'Kimbo Slice' Ferguson was taken from us way too soon at the age of 42, just four months after a record setting Bellator match against fellow backyard fighter Dada 5000. But his son is ready to pick up the Slice mantle and continue to fight for Bellator, and his first fight for them (also his first pro fight at all) will go down at Bellator 162 on October 21.
Kevin Ferguson Jr., also known as "Baby Slice," will be taking on Rick Bing, another fighter that is making his pro debut. This is no CM Punk vs. Mickey Gall type situation where Bellator is throwing Slice into the meatgrinder against a typical Bellator level fighter. Baby Slice's amateur record sits at 1-0 (that one win being a first round knockout). Bing holds a record of 0-2.
Ferguson Jr. was originally set to debut for Bellator back in August, but an injury just days before the event scuttled the fight. Back then, Baby Slice was definitely not lacking in confidence.
"I'm prepared, I've been prepared for this," he told Sherdog at the time. "My dad's been preparing me for this moment. He told me to always learn from his mistakes. He didn't learn the ground, he didn't train the ground. He just trained standing up. So when I was a kid, I trained the ground. I wrestled in high school. So when these guys try to take me down, they're in for a rude awakening."
Baby Slice has had an extra two months to prepare, and with an equally inexperienced fighter to face, there's a good chance he'll walk away from his Bellator debut with his first professional win. It could be a while before he's anywhere near ready to try and compete alongside the rest of the Bellator welterweight roster. But Bellator has never had an issue trying to groom less than ready prospects into stars for the promotion. We'll see how they do with Baby Slice.