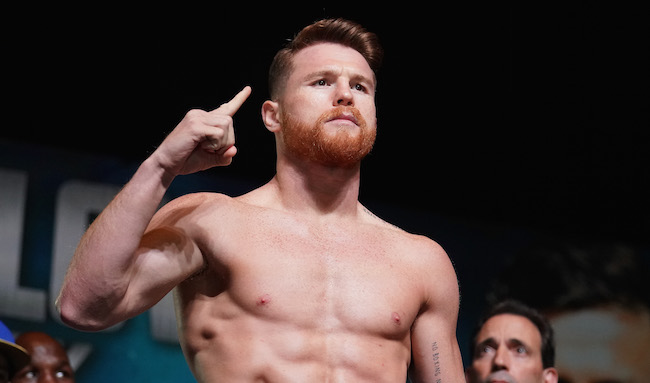 The boxing world is busy preparing for the massive rematch between Canelo Alvarez and Gennady Golovkin on May 5 in Las Vegas, as the two stars of the middleweight division will look to bring resolution to their rivalry after the first bout finished in a controversial draw.
Initial promotion for the fight is over and camp is underway for the two combatants, and with two months until fight night Canelo's camp has already hit a potential snag. The Mexican superstar tested positive for trace levels of Clenbuterol, which is on the banned substance list of nearly every major drug agency.
Alvarez and his promoter, Golden Boy, have alerted the Nevada State Athletic Commission and Golovkin's camp of the positive test, but claim the trace levels Alvarez tested for are due to contaminated beef he's consumed in Mexico. Golden Boy released a statement on the matter on Monday, complete with a quote from Canelo and from the lab director that conducted the test.

The lab director said the levels fell within the "range of what is expected from meat contamination," which certainly helps Alvarez's case. Canelo promised to clear his name from an "embarrassing situation" by committing to any and all testing, while also moving his camp to the United States immediately to prevent any possibility of meat contamination causing a problem again.
We will await the reaction from Golovkin's camp as well as the NSAC, but hopefully Alvarez is telling the truth and will avoid any further positive samples as we move forward to, what we hope, will still be a fight on May 5.