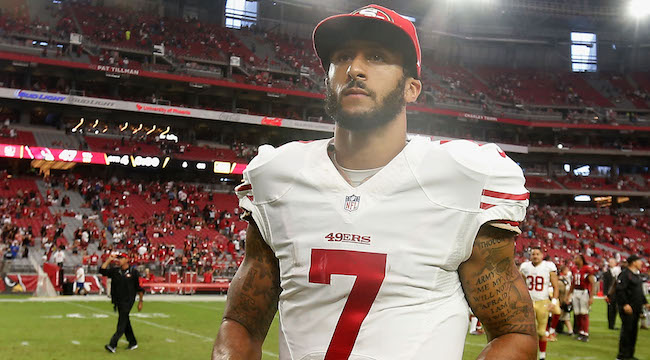 Even if he's currently unemployed at the moment, there aren't too many more polarizing figures than Colin Kaepernick at the moment. The former 49'ers QB has drawn support from fellow athletes or scathing criticism from figures needing a political boost.
So it shouldn't be a shock when President Trump decided to take his own shot at Kaepernick during a rally in Alabama. But not before President Trump took a few shots at the NFL's declining ratings, in which he thought they were due to the excessive penalty flags seen in every NFL game. However, Trump took time during his rally to address the issue of players kneeling during the national anthem.
"Wouldn't you love to see one of these NFL Owners, when someone disrespects our flag to say, 'get that son of a bitch off the field right now, he's fired, he's fired," Trump said to the crowd. "You know, some owner is going to do that. He's gonna say, 'that guy disrespects our flag, he's fired.' And that owner, they don't know it. They don't know it. They're friends of mine, many of them. They don't know it. They'll be the most popular person for a week. They'll be the most popular person in the country."
Anthem protests have been a popular form of protests for NFL athletes this year. Seattle Seahawks defensive end Michael Bennett hasn't stood for the anthem yet this year, nor does he plan to. Oakland Raiders running back Marshawn Lynch has intermittently sat for the anthem, and in the NFL preseason, the Cleveland Browns staged a group protest of the national anthem.
Beyond the plain optics of his statements, Trump has a history of attacking the NFL which could, at least in theory, be traced to a failed bid to purchase the Buffalo Bills in 2014.
How Trump's comments will play with athletes across the sports world going forward will be interesting. Steph Curry has already stated he has no intentions of visiting the White House, and many of Curry's teammates have echoed his sentiments. LeBron James has also made pointed comments about President Trump before. It stands to wonder if tonight's comments from the president will only widen the divide between athlete and politician.