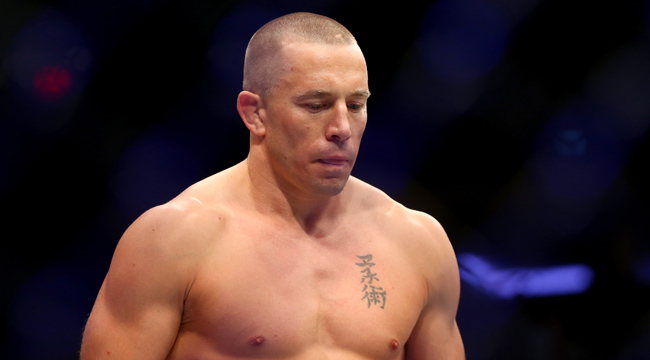 With Georges St-Pierre's rumored retirement slated for Thursday morning, Khabib Nurmagomedov made a last-ditch effort to make a November showdown happen.
St-Pierre (26-2) hasn't fought since November 2017, when he returned from a four-year layoff to submit Michael Bisping for the middleweight title. Now 37 years old, ESPN has reported St-Pierre had hoped to secure a fight with Nurmagomedov this year, but when it appeared the deal wouldn't go through, he made the decision to retire.
Nurmagomedov challenged St-Pierre as reports emerged on his potential retirement, offering to fight at 155 or 160 pounds in Montreal, New York, Moscow or Abu Dhabi.

St-Pierre later responded, via ESPN:
"I saw what Khabib wrote, and I appreciate it very much," St-Pierre said. "Unfortunately, these decisions aren't up to us. I will address everything at the press conference tomorrow."
Nurmagomedov (27-0) is unbeaten in his career, most recently dispatching Conor McGregor via fourth-round submission for the lightweight title. Nurmagomedov is currently suspended from fighting until July, but has maintained he won't return to the Octagon until his teammate and cousin are eligible to return from their respective suspensions stemming from the melee that took place after Nurmagomedov's UFC 229 main event fight against McGregor.
If St-Pierre does step away from MMA for good, he'll go down as one of the greatest UFC fighters of all-time, defeating versatile fighters like Matt Hughes, BJ Penn and others over his illustrious career. He's won 13 consecutive fights, with his last loss coming at the hands of Matt Serra in a 2007 first-round knockout.
It's really a shame we never got an opportunity to see St-Pierre match up against other greats such as Anderson Silva, McGregor or a young up-and-comer like Nurmagomedov.