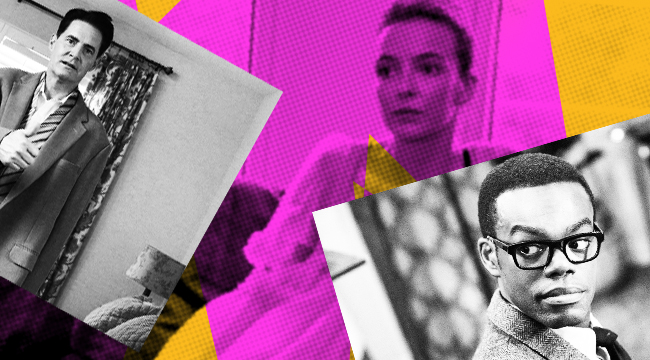 The Emmys will never please everyone. For every one person who's happy about Matthew Rhys and Keri Russell getting nominated for their stellar work on The Americans, there are four more who are screaming about Marvel's Inhumans getting snubbed. That's what makes award shows so exciting and infuriating: an equal number of your favorites were acknowledged and ignored.
So, when I yell at the Emmys for forgetting about Halt and Catch Fire, which aired one of the best final seasons in recent television history, I'm also praising them for nominating Barry, The Good Place, The Marvelous Mrs. Maisel, GLOW, Atlanta, American Vandal, and One Day at a Time (the last two of which received one nod, which is better than nothing, I guess). But mostly the yelling thing. Here are the most baffling omissions from the 2018 Emmys.
1. Kyle MacLachlan in Twin Peaks: The Return
Twin Peaks: The Return was, somewhat surprisingly, nominated for nine Emmys. But that's what makes Kyle MacLachlan's exclusion so puzzling. He gave THE performance for any actor or actress on any show last year, or should I say performances? He was Agent Cooper and Dougie Jones and Evil Cooper. MacLachlan shouldn't have been nominated once — he should have been nominated three times. But instead: John Legend for Jesus Christ Superstar and Jeff Daniels for The Looming Tower, which I guess is a show.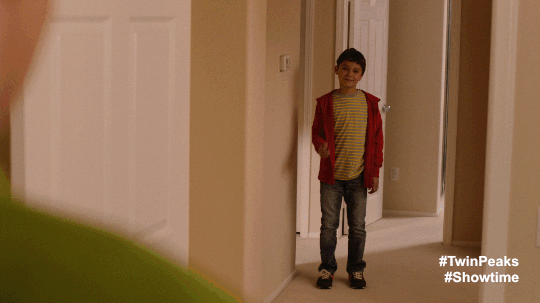 The Emmys do not deserve that GIF.
2. The Good Place
Some 25 years after the Cheers series finale, Ted Danson was once again nominated for playing a bartender (if only for an episode). But Outstanding Lead Actor in a Comedy Series and Maya Rudolph for Outstanding Guest Actress in a Comedy Series is where the nominations for The Good Place end. It's hard to dunk on the Outstanding Comedy Series category when it includes Atlanta, Barry, GLOW, The Marvelous Mrs. Maisel, and Unbreakable Kimmy Schmidt, but couldn't the Emmys find room for the best (only great) sitcom on network television? Then again, I probably shouldn't complain too much: Modern Family wasn't nominated for for the first time in the show's history.
3. Jodie Comer in Killing Eve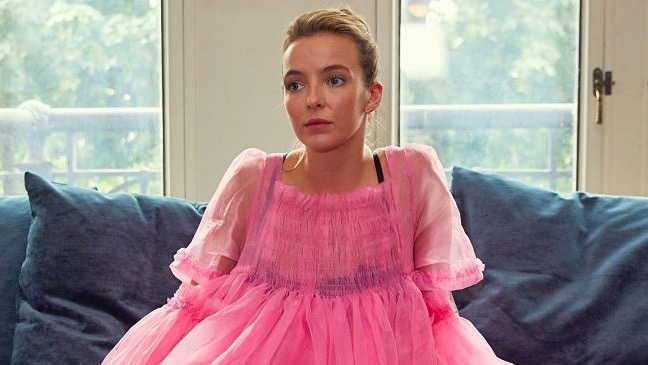 Big congratulations to Killing Eve star Sandra Oh for getting nominated for Outstanding Lead Actress in a Drama Series (becoming the first Asian woman to do so)… but seriously, what about Jodie Comer? Before playing the dangerous but delightful Villanelle, she was a relative unknown, at least to American audiences, but now I want her cast in everything, up to and including a future Fast and Furious movie. She'd better invited to the ceremony. I can't wait to see what she wears (please be the pink dress please be the pink dress).

4. BoJack Horseman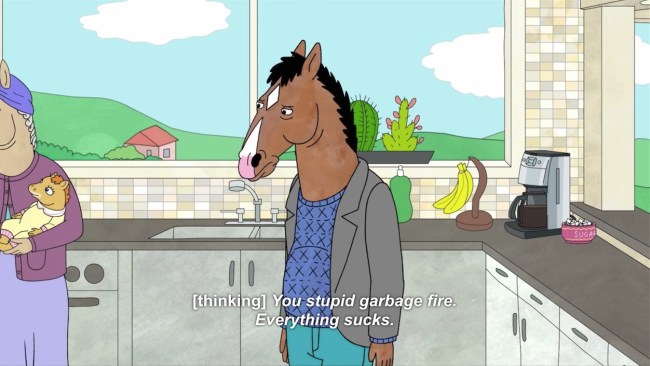 The single worst puzzling category might be Outstanding Animated Program. The good: last year's winner Bob's Burgers and Rick and Morty, both of which are very deserving. The bad: no Big Mouth and no BoJack Horseman, which might be the show on television, animated or otherwise. In no universe is Big Hero 6: The Series, or South Park, or past-its-prime The Simpsons better than "Life Is a F*cked Up Mess" or the series that gave us "Stupid Piece of Sh*t."
5. Alison Brie in GLOW and Gina Rodriguez in Jane the Virgin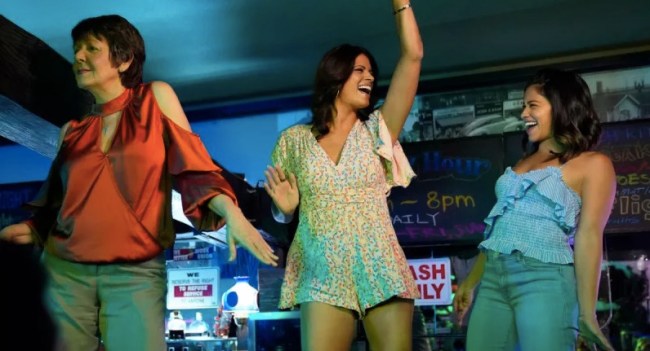 GLOW did very well for itself, especially for a freshman season. It picked up 10 nominations, including Outstanding Comedy Series (where it will battle, Liberty Belle vs. Welfare Queen-style, Atlanta, Barry, and The Marvelous Mrs. Maisel, among other comedies), Outstanding Directing for a Comedy Series, and Outstanding Supporting Actress in a Comedy Series for Betty Gilpin. Meanwhile, Alison Brie, who has been on some of the finest shows in the last decade, including Community, Mad Men, and BoJack, was ignored. Her performance isn't as comedically flashy as Gilpin's (who, to be fair, is excellent), but Ruth does a lot of the necessary dramatic heavy-lifting, while still bringing the humor through her wrestling alter-ego, Zoya the Destroya. But I guess Brie, who has never been nominated for an Emmy, should be used to this by now.