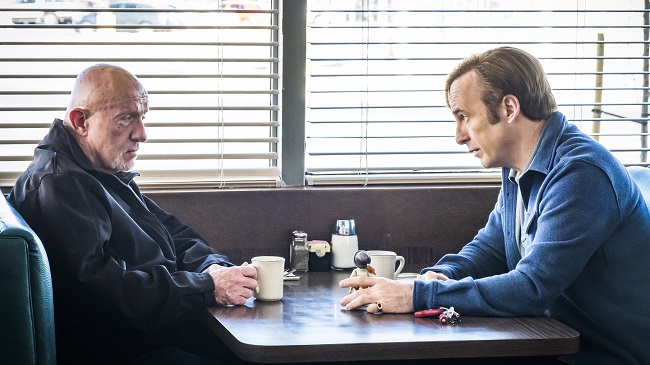 There's still a week and a day between now and the season four premiere of AMC's popular Break Bad prequel series Better Call Saul, but that doesn't mean the network is stopping there. AMC executives are so happy with their ongoing arrangement with co-creator Vince Gilligan and company, they they renewed the critically-acclaimed show for a fifth season. They made their surprise announcement to entertainment journalists gathered at this year's Television Critics Association summer press tour, which was also hit with a deeply personal bit of advertising by Better Call Saul star Bob Odenkirk.
According to Entertainment Weekly, Odenkirk told the assembled press that season four is one of the show's "faster" ones, as "the first episode is a slow burn but after that, it moves as fast as possible." He then dropped his pants partially to reveal a temporary tattoo of the Better Call Saul logo encased by a heart and the August 6th premiere date.
"I'm a real company man. I want everybody to know when it's coming back. It was such a long wait. So where can I put the information where everybody will see it?" he told the giggling journalists. "See that?" Of course, had Odenkirk really been a "company man," then the season four premiere date tattoo wouldn't have been a temporary one.
(Via Entertainment Weekly)