You were first cast as a Son. Traveling back to the Sons Of Anarchy pilot, Marcus and the Mayans were obviously SAMCRO rivals. Fast forward to Mayans M.C., and the two clubs get along great. Does all of this feel like a strange journey to you?
I never knew what was going to happen when I was beefing with the Sons, when I was slapping Jax Teller around or something was going wrong. I'd say to myself that next week, I was gonna get it, they're gonna let me have it. But never knowing what would happen was cool because if I didn't know, then the audience didn't know, you know what I'm saying? And it keeps them on the edge of their seats. It's been a very slow-fast, emotional ride, and I've been enjoying it. The show is almost as good as riding a motorcycle.
People really dig one of your stand-up sets from the year 2000. You talked about how there weren't many roles for Latinos, other than gangbangers and drug dealers, and you said, "I want to do work that has meaning." Did you find that meaning?
All of my work, whether it's a stereotype or a negative model, will always bring meaning because I always bring some part of my life into my character. You can't damn the people who are gang-related because I remember when I was, we had codes, and sometimes it's your only family. I come from a big family, but that was my strong family that you go to when shit is not going right. I lost most of my guys over the years because of the streets, but those guys were definitely there when no one else was. So the thing is, in the comedy, I exaggerated the women I dated and other things, but in the roles that I've taken, I've maybe played about 40 normal guys and 140 bad guys. And I remember all the bad guys, but I don't remember the good guys too much. You know what I'm saying? I put a part of myself into the bad guys, trying to find the good in them because they don't know they're bad.
Do you ever think about making a return to stand-up?
Well, I do two shows a year. One is a charity show, a Christmas show, for ToysForTots. And then I do another one for whoever wants to put me up. I'm not cheap, so that's the thing. And stand-up takes you all over the place, and I'm older now. I like to be at home with my wife, boy, and dogs, that's my thing. I like to go to work, and it's cool because I'm at home, and with the Mayans, I'm with my other family, so I'm always with family, which is a beautiful thing. To go out again and do the comedy, I don't think I have the energy for that anymore.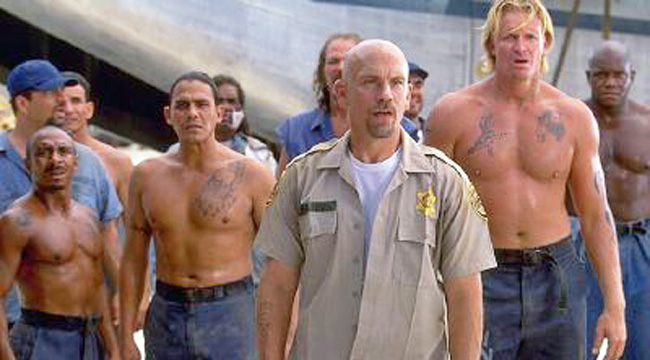 Well, you've been in over 70 movies, including one of my favorite ridiculous action flicks, Con Air.
Yeahhh. That was one of the best experiences of my career. With that job, I made enough money to buy two homes, and I was able to quit my day job in 1995 because of that movie. It was one of the best experiences for me with the biggest stars, and I learned a lot from them, just being able to watch them.
Do you have any favorite moments from the set?
Too many. A lot of practical jokes that I can't talk about. It was like 22 crazy guys, just having the time of their lives. It was a lot of fun, I remember one time … [dissolves into laughter] … no, I can't say that either. But there were a lot of great times! A lot of stuff just popped into my head. You know, the one thing is that isn't that bad is that I was a big John Malkovich fan. So I remember sitting in the makeup trailer, and I was just cast, so I didn't know the extent of all the actors, but I look at the cast sheet, and I see John Malkovich. I'm sitting down, and you know who comes in and sits next to me? Fuckin' John Malkovich. I've never been star-struck, but I was star-struck that day, and I remember he said, "Good morning," and I didn't even answer him. There were like 14 hours in that day, and then I was just an actor like him, and we talked a lot during Con Air.