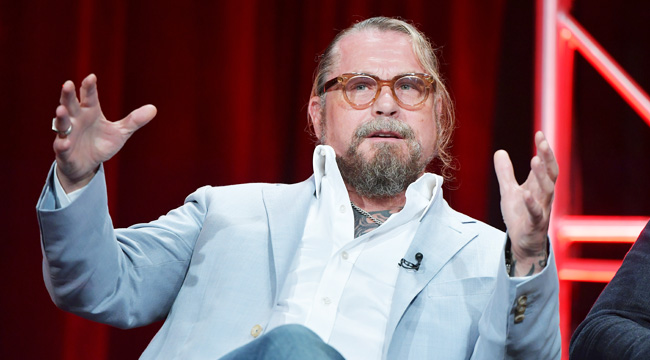 Mayans M.C.'s second season trailer promises more fallout from all the double-crossing we saw last year on the biker drama. Given the subject matter, the show landed squarely in the wheelhouse of the Sons of Anarchy universe when it came to violence, and that's something that co-showrunners Kurt Sutter and Elgin James defended earlier this week at the TCAs. Of course, this discussion followed the mass shooting in El Paso that appears to have been directed towards Latinos. Sutter believes that Mayans M.C. is "an easy target" for similar reasons, given that the show revolves around Latino bikers.
The series can be an "uncomfortable" watch, admits Sutter (who's as vocal as always). He believes the sensation might feel heightened because "it's not being portrayed by pretty white people." He also brought up the glossy violence that one witnesses in any given Marvel Studios, D.C., or Sony superhero movie, which is very rarely criticized in comparison to what one sees on his FX show, where the violence feels brutally real with lasting effects:
"Every superhero movie is loaded top to bottom with violence, but because it's done with lasers by f*cking pretty folks in tights, somehow that's more palatable. I would say that sh*t is more irresponsible than the stories we're trying to tell. Because within those stories we saw the ramifications of that. We see f*cking people shattered. We see families shattered, we see the pain."
Naturally, Sutter didn't stop there and argued that Mayans M.C.'s violence hasn't been "done in a gratuitous way," and he's correct on that note. Yet one can also argue that some of more depraved Sons scenes may have felt, yeah, a little gratuitous. Those largely came in later seasons, though, so who knows what the future holds for E.Z. and the crew.
On a not-unrelated note, I wonder if Sutter and Elgin will find time to watch Amazon's The Boys. They'd probably dig it.
Mayans M.C. will return on Tuesday, September 3rd at 10:00pm EST.