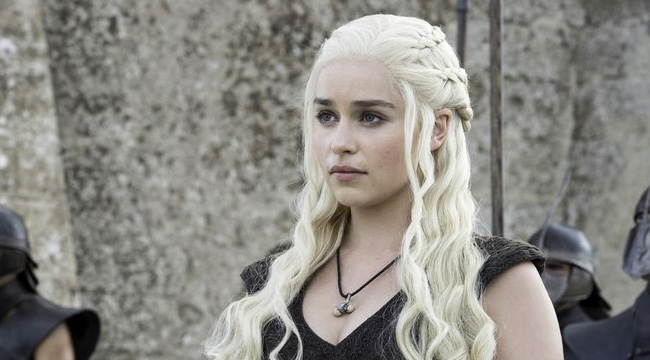 With only six episodes left until Game of Thrones is a wrap, most filming seems to be done with the principal actors involved. Unsurprisingly, some shooting continues on, with the crew getting pickup shots and, according to Emilia Clarke who plays Daenerys Targaryen, multiple fake endings. It seems as if the actors, as well as fans, have plenty of theories on where the show is going to go, and Clarke is pegging the creators as paranoid. After season seven's multiple leaks, who can blame them?
Speaking to The Hollywood Reporter's Chatter Podcast, Clarke explained that she doesn't have any little birds that are privy to any concrete information on the ending of the show. "I think they're filming a bunch of stuff and they're not telling us. I'm being serious," she said, before extrapolating on her conspiracy to throw off the actors.
"Since then, people are saying something on set, and you're just like, 'I think that they're filming other stuff. Everyone's being really cagey about it… There's lots of different endings that could happen. I think we're doing all of them and we aren't being told which is actually what's going to happen."
There's more to dive into here. Clarke said the reading of the final episodes were "the most intense of her life," which might stem from the fact that they're shooting so many red herrings. Or, could we possibly be seeing Clarke here, ignorant of the true ending because she's possibly deceased when it happens?
2019 is so far away.
(Via The Hollywood Reporter)