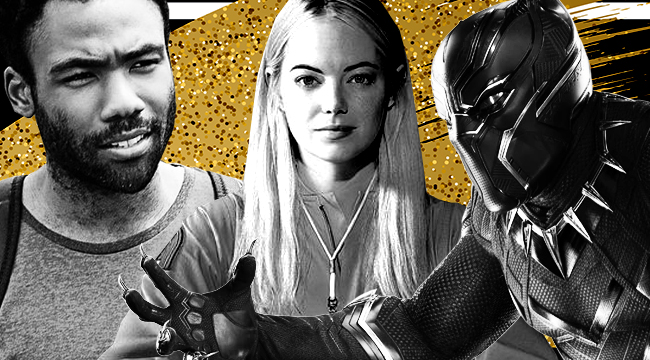 Every awards show provokes controversy in some manner, whether it happens with nominations, or the actual awards ceremony, or both. And since the Golden Globes span both TV and film, there's double the potential for outrage over perceived snubs or the inclusion of seeming outliers. Category-based drama is almost always an issue with this awards show, since studios are notorious for jockeying between competitions that sort-of fit (even sometimes making major stretches) while campaigning for projects that can arguably slide into different boxes. Naturally, producers prefer that their films land in the category with the least vicious competition, a move that may have been counterproductive for the Best Motion Picture Drama category. 2019 also brought major shenanigans occurring within TV categories, as we will discuss below.
Movies
The Best Motion Picture — The Best Musical Or Comedy and the Best Drama categories got funkier than usual. This is especially the case since two box-office winners — the Lady Gaga/Bradley Cooper powerhouse vehicle, A Star Is Born, and the Queen biopic Bohemian Rhapsody — could be considered unavoidably "Musical" by most people. However, they both feature dark and tragic subject matter, so they're not entirely comedic, even if they're filled with, say, flashes of Freddie Mercury's brilliantly flippant and sarcastic wit and life-affirming moments within both films. Here, the Hollywood Foreign Press Association was cool with tucking them both into the Drama category. That leaves the Musical Or Comedy category to the likes of Mary Poppins Returns (where it inarguably belongs), as well as inclusive smash-hit Crazy Rich Asians and comedy-drama Vice. That's all well and good for the Comedy side, but oh boy, the competition for the Drama category is going to be fierce. With Black Panther up against not only crowd-pleasers like Bohemian Rhapsody and A Star Is Born but also critical favorites like BlacKkKlansman and If Beale Street Could Talk (and, yes, A Star Is Born), there's no telling how this one will turn out.

This Globes category hot mess is nothing new, of course, but expect to hear plenty of mockery for Bohemian Rhapsody being included in a "Best" film category at all (when A Quiet Place was overlooked, as were critics favorites like First Reformed, Eighth Grade and Sorry to Bother You). Even though Queen fans loved the movie (and there were no doubts that Rami Malek would be nominated everywhere), there's still some lingering ruckus about the movie's timeline-tweaking of Mercury's illness as well as the alleged downplaying of his private life.
Black Panther breaks the superhero curse? Superhero movies generally get the shaft when it comes to these ceremonies (unless we're talking about the People's Choice or MTV Movie Awards, which aren't taken seriously at all, hence the Best Kiss category). Even Wonder Woman was snubbed in 2018, despite critics almost unanimously singing its praises, but there's always been a clear message here — that comic book movies may rake in megadollars, but they're not prestigious enough, so their stars can present awards, rather than win them, right? Well, Marvel Studios made some cinematic history here by scoring their its first Best Drama nomination. The film also landed nods for Best Original Score and Best Original Song, so despite actor and actress snubs for the film, almost everything's coming up Wakanda. Will this translate to the Oscars? We'll soon find out.
The indie spirit isn't strong this year: The Independent Spirit Award nominations recently arrived in droves for Eighth Grade and First Reformed, neither of which were substantially honored by the HFPA. Further adding to the oddness, Eighth Grade's Elsie Fisher was recognized for her performance, but Ethan Hawke got the shaft for his First Reformed turn as an alcoholic priest with a crisis of faith. Hawke's been raking in the awards this season so far and recently gave a firey and much-lauded speech at the Gotham Awards, so it's notable that he wasn't nominated for a Globe. Likewise, Toni Collette was expected to gain a nod for her terrifyingly transformative turn in A24's Hereditary, and that didn't happen. Then again, Spike Lee's BlacKkKlansman was mostly shut out of the Indie Spirits, but it received a Best Drama nomination from the Globes, so there's that.
Audiences are still in the dark on some movies: Yes, it's often the case that some awards season-type movies don't arrive in theater until almost Christmas, and many don't arrive at all except in the larger cities, so unless folks are lucky enough to live in LA or NYC or attend festivals, they don't get to see these films until they stream on iTunes in January or February. Mary Poppins Returns should be a big success when it arrives in multiplexes on Dec. 19, but as of now, the only widely-circulated nomination in the Best Comedy category is Crazy Rich Asians, which obviously limits public discussion about that batch of films.
The most serious snub of all: Even though we're seeing worthy crowdpleasers on this nominations list, the HPFA has done the unthinkable and shut out Paddington 2 across the board. Granted, it didn't fit into the Animated category, but seriously, was there no room in Comedy/Musical for this movie? Yes, the film is full of heart and contains some drama, but these categories are so loosey-goosey, that leaving out the Pervuian bear seems like a crime. And when a children's sequel takes great pains to pull a Godfather II in terms of quality, pays homage to Wes Anderson, and Hugh Grant gets snubbed despite shining as a dancing villain, there are simply no excuses left. Yes, both Grant and Paddington voice Ben Whishaw were nominated for A Very English Scandal in a TV category, but this omission still stings like the dickens. Get it together, HFPA.
TV
Get ready to be disappointed, fans of The Americans: The Russian spy drama took its last turn on FX this season and duly received nominations for leading duo Keri Russell and Matthew Rys, as well as a nod for Best Drama on TV. Great news? Well, some social media commentary is already bracing for the worst possible outcome here. It's the show's last chance to win a major category at the Globes, and although Matthew Rhys did win his category at the Emmys this year (remember, he declined to propose during his speech in the manner of Glenn Weiss), he's up against both Jason Bateman (Ozark) and Bodyguard star Richard Madden, who's the talk of the streaming town now that his show arrived on Netflix. Speaking of Bodyguard, that's also competition for Best Drama against The Americans, as are two solid contenders, Killing Eve and Homecoming.
Atlanta got shut out in an unexpected way: Donald Glover did receive a nomination for his acting, but the series was entirely shut out of the Best Comedy category, which contained an unexpected outlier instead. That is to say, it's no surprise to see The Marvelous Mrs. Maisel, Barry, or Kidding, and it's wonderful that The Good Place didn't get "forked" again, but what's up with including The Kominsky Method? Yes, the series is garnering solid reviews, but there's very little buzz there, and in fact, some people haven't even heard of the show, let alone streamed it on Netflix. Come to think of it, this is a Chuck Lorre comedy about aging that stars Michael Douglas and Alan Arkin as fading legends, which makes one wonder if Netflix is trying to stretch its demographics too far. Regardless of their business decisions, it's flat-out strange that The Kominsky Method was nominated for Best TV Comedy, seemingly at the expense of Atlanta.
Streaming services and premium cable channels stayed strong: As far as the Golden Globes are concerned, our streaming future has arrived and won't be going anywhere. That's pretty evident in the Best Comedy and Best Drama TV categories, where NBC's The Good Place is the only non-cable or streaming nominee, and there are also no broadcast TV nominees in the Best Limited TV series category either. Acting categories are definitely trending in the same direction, although not as severely yet, other than one major snub where Netflix is concerned…
Why was Maniac forgotten so soon? Netflix has been fairly obvious about their desire to reign not only as the currently leading streaming service but also by holding their own in the Peak TV era. That's presumably why director Cary Fukunaga's Maniac received such a huge push with two Oscar-darling leads, Emma Stone and Jonah Hill, on board. Yes, the series was sort of self-indulgent and incredibly bizarre, and perhaps the HFPA wants to curb any artsy-fartsy accusations by not indulging every one of Netflix's whims. The limited series was wonderfully odd and provided for some fun time travel moments and engrossing character studies, but perhaps a curtain-chewing Sally Field chewing and a software-copulating Justin Theroux were steps too far. Maniac, you were simply too much.
Some major contenders had off years: Game Of Thrones obviously would have dominated several categories as usual but wasn't eligible because of the huge gap between seasons. Next year, however, look for a major farewell tour from that cast, and perhaps The Handmaid's Tale (which received acting nods but no major categories) will be back on top of the awards lists as well.