Welcome to our weekly chronicling of Mayans M.C. episodic moments that live up to the depraved mindset of the series' co-creator, Kurt Sutter, whose Sons of Anarchy previously included some seriously depraved gems over the course of seven seasons. Be on the lookout later this week for Dustin Rowles to expertly read too much into this episode while diving deep into the episode's callbacks and theories about where this new club goes from here.
Earlier this week, Mayans M.C. was renewed for a second season after less than a handful of episodes, and it seems fitting that this news arrived just prior to the fifth episode, "Uch/Opossum" (written by Bryan Gracia and directed by Batán Silva), an entry that sees a hellacious amount of character development along with some touches that will please Sons fans. In this episode, as well, the love triangle of sorts between EZ, Emily, and Miguel becomes a convincing one and the focus of some scenes we'll discuss here.
Oh, and the series finally gets carnal this week, a move that's arguably been overdue. Granted, this club has been laying ground and striking deals, which is important for where they're headed, but given that there's a returning audience, there are certain built-in expectations. If you're reading this, then you are well aware of Sons Of Anarchy's fondness for constructing strategically placed sex montages, and people (myself included) have noticed that Mayans M.C. hadn't gone there yet. And while we're not seeing anything quite at the level of a Jax Teller/biker butt obsession yet, this fifth episode includes a few semi-raunchy couplings. What we see is miles away from the most notorious sex montage in Sons' history, but these couplings are both visceral ones that contrast with each other and tell us where these respective characters are right now. We'll get to that soon, but first, here's a warm-up (foreplay?) scene … with a "polite conversation" between two male characters about The Godfather saga.
Honestly, this floored me. Granted, I expected references to the Corleone family at some point during the series, given that Sons heavily layered them into the final seasons' story arcs, especially regarding the the Jax-Juice dynamic (with the latter being branded a traitor by the former, to fatal ends), but I didn't expect Mayans M.C. to outright allude to the The Godfather so soon, and that happens here through straight-up dialogue. This goes down while a contemptuous Miguel confronts EZ for visiting his wife, Emily, at the hospital. The cartel head had summoned the prospect to land that he's zoned for rampant commercial development, and Miguel rambles about his plans to reshape his family's legacy. Well, EZ calls out Miguel's Captain Obvious game:
EZ: "Michael Corleone. Capitalism. Wash the blood off the family money."
Miguel: "Right. Who are you in that movie?"
EZ: "I'm not sure … as long as it's not Fredo."
Yup, no one wants to be Fredo! The weakest Corleone brother got the ladies but ended up dead, and that's pretty much what happened to Juice in Sons (the guy barely got to enjoy his prison pie after being raped by Marilyn Manson's Aryan Brotherhood character, who killed him at the behest of a disgusted Jax). To make such a straight-up callback to Sons between EZ and Miguel is a gutsy move before all character dynamics are established, and at this point, we don't know what Emily truly wants from her ex-boyfriend, nor does she seem to know.

Miguel's not the only one sending EZ warnings about Emily. He's getting it from all ends with Angel saying that EZ's obsession jeopardizes the club and Felipe cautioning, "She's not the same girl you knew eight years ago." But is she? Emily pays a visit to EZ toward the end of the episode. She falls into his arms and cries about not knowing her own identity, and they nearly kiss, but Angel interrupts them, so Emily goes home …. and you know what that means … someone is getting lucky, and it's not really EZ (who has to make his own luck).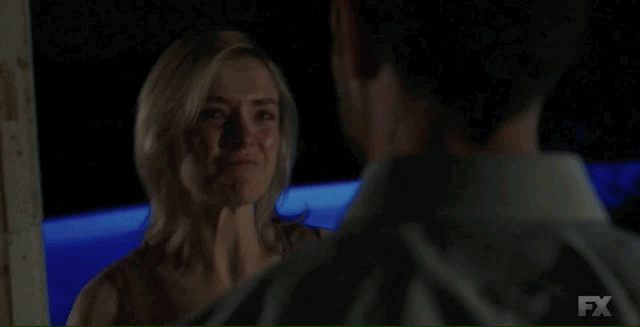 Yup, Emily gets down with Miguel in a roundabout way. It's angry sex, which shakes up how we view Emily, who (until now) has behaved like a ceramic doll. Yes, some of that perception comes down to her porcelain skin, but it's got a lot to do with how she's been written for the first episodes (as a Mafia-esque wife). Yet she's been letting herself see what's truly happening inside her family, and the resulting picture may have been slow in coming but tells us a lot about the Emily In Process. Clearly, a woman doesn't marry a cartel head unless she's also a little bit dangerous, and yep, this sex scene (her skin's already scraped and bruised to hell after the festival ruckus) seals that deal.
To put it mildly, what happens here between Miguel and Emily is melodramatic, and although the aggressive nature will likely disturb some viewers, it's also reminiscent of Sons' Jax and Tara lovingly banging near a dead body or going at it in a bathroom while that porn star sorta walked in on them. And in the same twisted way, these new characters are grabbing an escape from their own unfathomably painful circumstances, so Emily and Miguel (bizarrely) humanize themselves with this hate-love display. In other words, they're bad people but people nonetheless. He insults her for not keeping their son safe from the rebel kidnappers. She slaps him, and he cruelly laughs … and then there's hair pulling, and lip locks, and spitting, and choking. And then they get down to some consensual business.
Hey, this marriage apparently isn't as sterile as it appeared, and Emily appears to now be fully in league with joining Miguel's bad self. Then came the second half of the sex montage with EZ grinding away on top of a woman before the camera pans over to a timer on the beside table. We see that he's having sex with the same prostitute that we saw with a Mayans-friendly cop.
Clearly, EZ is hurting, and he doesn't even realize that Emily and Miguel have adopted a united front, at least temporarily. Yet it's oddly comforting to see that this series' characters aren't — to be blunt — celibate because people were probably starting to wonder what was up. Granted, spoiled Jax Teller was already in the position to fall into bed with groupies (while wearing his club jacket) almost as soon as Sons began, and Mayans M.C. had a lot of upfront business with which to contend. Still, this series needed some sex on top of all the drugs and violence. Will Emily again run to EZ in the near future? We'll find out next week.
Mayans M.C. airs Tuesday nights at 10pm EST on FX.