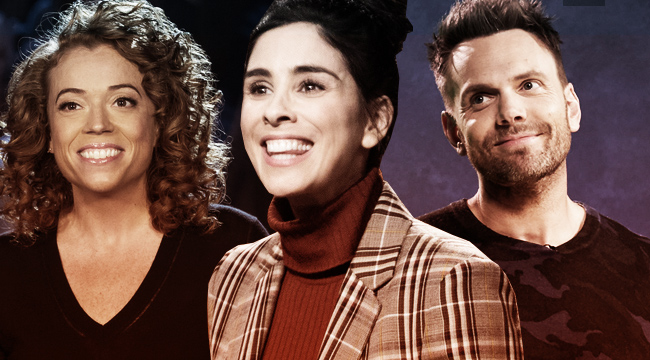 Over at the official YouTube channel for Sarah Silverman's late night-style talk show, I Love You, America, the two most popular videos, appropriately enough, are a comedy sketch and a monologue. The first is a commercial for a fake Halloween store, "Drew Nostume's New Costumes," where you can find whatever you need to "spook your conservative neighbors" or "make your liberal neighbors Dema-crap their pants." On a more serious note, the second sees Silverman address the then-recent allegations of sexual misconduct against fellow comedian and longtime friend Louis C.K.
I mention these clips for two reasons: (1) to demonstrate the range and variety of material audiences should expect from I Love You, America, and (2) prove the point that Silverman's program has done what no other late night streaming-only show has achieved. That is to say, the weekly Hulu series has demonstrated its relevance and longevity when it comes to surviving in the ongoing era of "Peak TV." One of the easiest-to-spot indications of this is the fact that, unlike Silverman's contemporaries, Michelle Wolf and Joel McHale, I Love You, America is still on.
This may sound like a cheap shot, but I don't mean it as such. It's simply a statement of fact. The former Daily Show correspondent's otherwise brilliant talk show found itself on the chopping block in August, as did the Community star's follow-up to the hugely popular The Soup. The latter premiered back in February and managed to produce 19 episodes, while the former's initial 10-episode order debuted in May and ended without a renewal. Both cancellations were as abrupt as they were inexplicable, yet while low ratings may have been a factor, Netflix almost never releases the numbers for such things.
On a more awkward note, Wolf's fellow ex-Daily Show team member Hasan Minhaj's upcoming Patriot Act, a similarly late night-ish series with an admittedly political angle, was officially given an "unprecedented" 32-episode order just 10 days prior. (Norm Macdonald's new show is also set to debut in mid-September, a month after the cancellations.) Such disarray makes it sound like the streaming giant — which also boasts David Letterman's triumphant return and Chelsea Handler's initial experiment with the form — is still trying to figure out how to crack the "late night talk show code" for its subscribers, even though many broadcast and cable-based talks shows have successfully gone online.
So what gives? Letterman is Letterman, and the sheer excitement of his adoring, devoted fans was enough to attract plenty of eyeballs to My Next Guest Needs No Introduction. (Not to mention the kinds of people he interviewed, like former President Barack Obama). As for Handler's Chelsea, while it endeavored to become something more than her previous program, Chelsea Lately, Netflix repeatedly retooled the concept, but to no avail. By the time McHale's second batch of episodes was out and Wolf's first was coming to a close, the streamer was apparently no longer willing to experiment.
Letterman's name guaranteed dedicated viewership. Handler, Wolf and McHale's, however, did not. Or, at least the fanbases they developed while working at their respective E! and Comedy Central programs weren't as big, or as enthusiastic, as that of the former CBS personality. And when they were all plugged into the complex algorithm that Netflix employs to splits its subscribers into thousands of "taste groups," Letterman's name likely came up more often than the "late night" or "talk show" categories. Though without any official comment from Netflix about the three nixed shows' ratings, this is all conjecture.

As for I Love You, America, it's pretty much the only ongoing late night-style talk show on Hulu right now. Kevin Smith led a short-lived series called Spoilers there in 2012, and Triumph the Insult Comic Dog's election specials flirted with elements of the genre, but Silverman's program stands wholly on its own. Perhaps the Netflix competitor's smaller scale has proven beneficial, meaning that I Love You, America hasn't been tasked with attracting as many viewers. Then again, maybe the show's success has everything to do with its drive to provide all potential audiences with sketches, monologues and interviews that are as funny and entertaining as they are poignant. The two clips mentioned above suggest this very thing.
When I Love You, America was first announced by Hulu, the streaming service described it as a topical program in which Silverman would "discuss the current political" and "emotional landscape of the country" with a mix of field pieces and studio tapings. This is precisely what season one did with comedy bits like "Jesus In A Sandwich Shop," field pieces that follow Silverman to Louisiana and Texas, and interviews with a political candidate and an ex-member of the Westboro Baptist Church. Like the "Drew Nostume's New Costumes" gag, these and other segments never drew a hard between two more or groups — especially when it came to divisive political and pop cultural topics. Silverman would occasionally advocate for one position over another, of course, but throughout the first season, she remained devoted to the "America" of the title.
Consider Silverman's own words on the subject of trying to appeal, whether for entertainment or political purposes, to general audiences. Speaking with Uproxx last year, she said the country was politically "divided because there are powers that be that need us to be divided," which in turn "can be really overwhelming and just make you go like, 'Oh, what the fuck is the point?'" However, she continued, "when you get a chance to be intimate, to be one on one with someone whose sets of beliefs are different than your own, there's an opportunity for our defenses to be down."
Her sentiments were the same as the ones she espoused in her Netflix stand-up special, A Speck of Dust. In it, the comedian spoke at length about trying to converse with, if not understand, people who weren't necessarily her target audience.
"Screaming at each other has never caused change," she told Uproxx in another interview. "Sure, sometimes major protests and rioting in the streets causes change, but when it's people one-on-one? Having a screaming competition in that setting never changes minds. So we need to try and understand each other."
Unlike Wolf, McHale and Handler, and more like Letterman — if not current broadcast luminaries like Jimmy Fallon and James Corden — Silverman has tapped into a surprisingly vibrant strain of broadness at an otherwise disruptive time for television. When it seems like everyone else is trying to make content for very specific niches of interest, the 47-year-old comedian is more interested in getting her material out in front of coastal liberal elites, conservatives from the American Heartland, and everything in between the two, and beyond. In other words, pretty much anyone who has a Hulu subscription and happens to find I Love You, America in its catalog.
New episodes of 'I Love You, America with Sarah Silverman' are now streaming on Hulu.