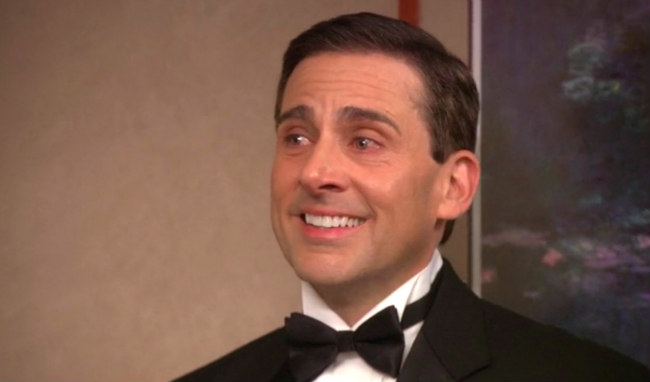 Steve Carell has no interest in starring in a The Office reboot. "It might be impossible to do that show today and have people accept it the way it was accepted ten years ago," he explained earlier this year. "The climate's different. I mean, the whole idea of that character, Michael Scott, so much of it was predicated on inappropriate behavior. I mean, he's certainly not a model boss. A lot of what is depicted on that show is completely wrong-minded. That's the point, you know? But I just don't know how that would fly now." But even though the Beautiful Boy star is lukewarm about donning Prison Mike's purple bandana again, that doesn't mean he's completely over The Office.
Over the weekend, many members of the sitcom's cast, including Jenna Fischer, Ed Helms, Rainn Wilson, and Angela Kinsey, reunited for a brunch at developer Greg Daniels' house. "Some of the old gang got together today… it was so great to see everyone!" Kinsey tweeted. "I turned to Ed and said, 'I feel like we are at a family reunion.' He smiled and said, 'We are.' Thanks Greg for hosting! For those who couldn't make it… you were missed!" Among those not in attendance were Mindy Kaling, John Krasinski (who's busy writing the sequel to A Quiet Place) and Carell, who responded with a simple, but heartfelt message.
"We miss you too Steve" Fischer wrote back. "Sorry you had to miss this one. More to come!"
So there you have it. More reunions on the way. Let's just be sure everyone remembers to knock really loud..
(Via Twitter)