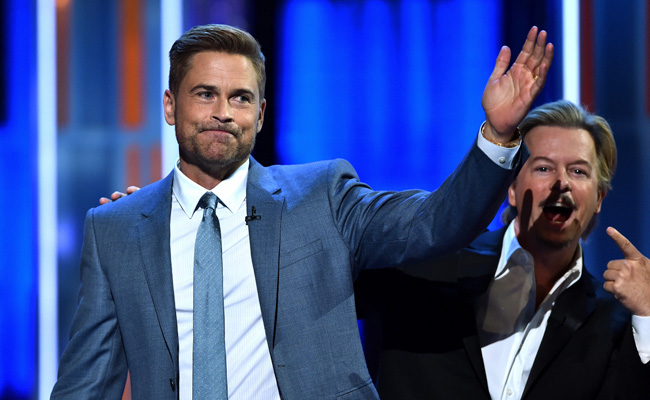 Comedy Central Roast of Rob Lowe (Comedy Central, Monday 10:00 p.m.) — David Spade hosts a salute to actor Rob Lowe. Roasters include Jimmy Carr, Pete Davidson, Bo Derek, Peyton Manning, Rob Riggle, and Jeff Ross. A lot has been made about this special. We could roast Lowe for a lot of things – drug use, nanny scandals, sex tapes, take your pick – but apparently it's Ann Coulter who gets the worst ribbing tonight.
Rizzoli & Isles (TNT, Monday 9:00 p.m.) – The end is here. Rizzoli & Isles signs off tonight with a few farewell videos, a "bon voyage" party, and, of course, one last murder mystery.

College Football: Southern California vs. Alabama (ABC, Saturday 8:00 p.m.) – Southern California takes on Alabama in Texas. All-American receiver JuJu Smith-Schuster leads the Trojan offense against a solid Tide defense. To keep up with all of the action this weekend, check out our handy guide.
College Football: Notre Dame at Texas (ABC, Sunday 7:30 p.m.) – Notre Dame heads to Texas to take on RB's D'Onta Foreman, Chris Warren III, and a Longhorn offense expected to run.
Killjoys (Syfy, Friday 8:00 p.m.) – Season two ends with the team joining forces with an old enemy in order to thwart Level Six's plans for the Quad.
Cheer Squad (Freeform, Friday 9:00 p.m.) – In the first season finale, the Sharks head to Orlando to compete for their third world title.
Dark Matter (Syfy, Friday 9:00 p.m.) – A few of the crew members' dark pasts come to light after an incident causes chaos on board the ship.
Aquarius (NBC, Saturday 9:00/10:00 p.m.) – Ken and Emma reconcile, but Emma remains determined to find Manson. Elsewhere, Hodiak searches for the truth behind Bunchy's murder and Shafe reunites with an old friend in rehab. Later, Hodiak's privileges are suspended after a run in with Internal Affairs and the Manson family enjoys a bit of luck when a music producer comes calling.
NASCAR Sprint Cup Series: From Darlington, S.C. (NBC, Sunday 6:15 p.m.) – The Southern 500 takes place at Darlington and seven-time winner Jeff Gordon looks to earn another title, driving the No. 88 for the injured Dale Earnhardt Jr.
Big Brother (CBS, Sunday 8:00 p.m.) – Nominations for eviction are revealed.
Power (Starz, Sunday 9:00 p.m.) – Mike and Angela continue to hunt the mole in their departments as she looks for a stronger lead to confirm Tommy's alibi. Meanwhile, Tariq makes a dangerous new friend and Milan orders the push of a new product.
The Last Ship (TNT, Sunday 9:00 p.m.) – Chandler's whole world has been turned upside down, so he returns to America to find answers about the true cause of the epidemic.
Fear the Walking Dead (AMC, Sunday 9:00 p.m.) – Alicia meets a woman with a bloody past as Travis struggles to connect with Chris while searching for shelter.
BrainDead (CBS, Sunday 10:00 p.m.) – Gareth witnesses a terrifying bug encounter in Red's office while Luke and Laurel try to crack the secret agenda in Red's massive budget deal.
Survivor's Remorse (Starz, Sunday 10:00 p.m.) — Reggie and Flaherty come to blows over Cam's contract extension.
The Strain (FX, Sunday 10:00 p.m.) — The Master plagues Eph when he offers to return Zack; Dutch meets up with an old group of friends; and Palmer hunts for answers for Setrakian's secret strigoi blood treatments.
American Ninja Warrior (NBC, Monday 8:00 p.m.) — In Las Vegas, the finalists tackle the first stage of a four-stage course modeled after the Mount Midoriyama course in Japan.
Bachelor in Paradise (ABC, Monday 8:00 p.m.) – A new bachelorette arrives in paradise only to find that all of the men are already paired up. Another woman leaves the house to go after the man she spurned after a bachelor breaks up with her; a handsome hairdresser sends himself home during the rose ceremony and leaves three women without roses; and one woman leaves Paradise without a beau (again) after the guy she was with ended things.
So You Think You Can Dance (Fox, Monday 8:00 p.m.) – The remaining four dancers compete tonight. Don't worry, though, no one's going home.
Harley and the Davidsons (DSC, Monday 9:00 p.m.) – Discovery's latest original mini-series follows the birth of the iconic bike and the men who created it. In part one, Bill Harley and his brother Arthur develop a new bike and Walter Davidson tests it in a series of races. If motorcycle culture doesn't interest you, maybe seeing Daario Naharis (Michiel Huisman) with his clothes on for a change, will.
Running Wild With Bear Grylls (NBC, Monday 10:00 p.m.) — Lindsey Vonn joins Bear on the French island of Corsica, where they rappel down a rock wall and dine on sea urchins.
LATE NIGHT GUESTS
The Tonight Show Starring Jimmy Fallon: Meg Ryan, Nick Kroll, John Mulaney, Dan White
The Late Show With Stephen Colbert: Anna Gunn, John Dickerson, Simone Giertz