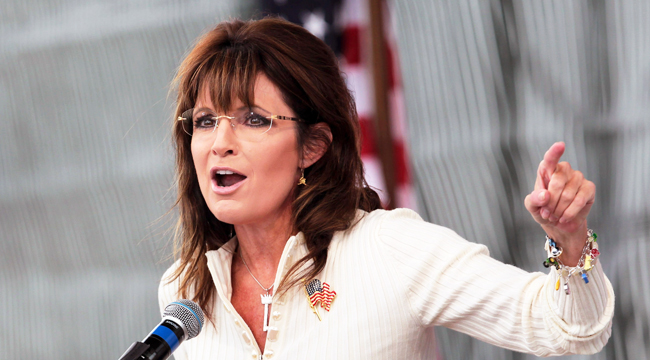 Sacha Baron Cohen's Showtime series, Who Is America?, has quickly grown notorious for his creative duping of right-wing figures. Most recently, Cohen's trickery resulted in disgraced former Sheriff Joe Arpaio admitting that he'd accept oral sex from Trump during a surreal interview. One target who may not be humiliated on air, however, would be former Alaska Governor Sarah Palin. She raised hell while calling out the "evil" and "sick" Cohen, who she said interviewed her in character as a "heavily disguised, disabled U.S. Veteran."
Showtime has yet to publicize the subject matter of said interview, which apparently might not see the light of day for an unexpected reason — and not because of Palin's own vocal objections. As Deadline reveals, Showtime Programming President Gary Levine characterized Cohen as being very selective and meticulous about the content of his program, and Palin's segment might not have met the British comedian's standards:
[T]he chief reason why the Palin interview may not make a future episode's final cut is because Baron Cohen "is always refining" the final product because he "has a very high bar" said Levine. The Borat creator even screens episodes before audiences so that he can fine tune the series.
Levine further stated that "several people" may have "thrown themselves in front of buses that may not be heading their way," meaning that Palin might have added herself to the public list of those who fell for Cohen's antics for no reason at all. And the omission could make sense, given that this Who Is America? season will only run for seven episodes, and there are plenty of likely targets on Cohen's agenda.
Episodes that have already aired include Cohen trolling Roy Moore with a pedophile detector. This season of Who is America? also prompted the resignation of Georgia state lawmaker Jason Spencer, who dropped his drawers and hurled racial slurs during his segment. Perhaps Palin simply wasn't entertaining enough while being duped? Sounds like that's entirely possible.
(Via Deadline)