Meat's back on the menu, girls!
The latest episode of Yellowjackets, aptly named "Edible Complex," finally delivered a dinner scene fans have been anticipating for a long time now. It didn't include Shauna Shipman's baby (thank the Antler Queen) but it did make use of poor Jackie's frozen physique. It was a bacchanalia of mythic proportions set to a Radiohead needle drop where flesh became fruit and teen girls went wild.
It was the most f*cked up thing we've seen on this show so far, and we loved every minute of it.
Below, is our Yellowjackets Sting Meter, where we recap the episode by measuring the erratic, unexplainable behavior of the show's main lineup. We're ranking the players according to how dangerous, deadly, and certifiably insane they appear in each episode, and you best believe that after their little flirtation with cannibalism, everyone on the team should be committed. Who's just a whacky worker bee and who gets crowned Mad Queen of episode two's "Edible Complex"? Let's find out.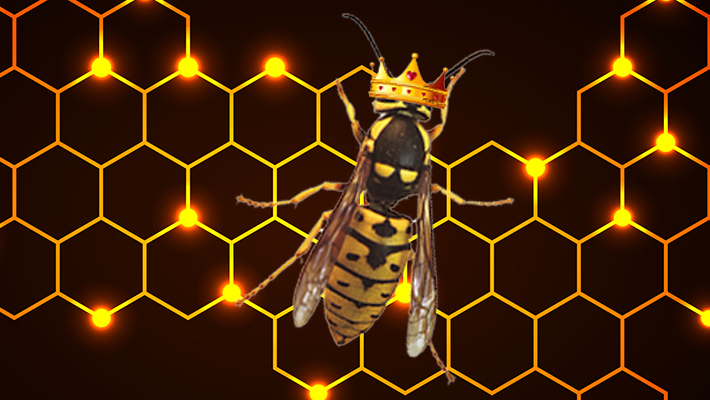 Queen Bee – Taissa Turner
This week's episode gave us a cornucopia of crazy but somehow, Taissa Turner managed to reign above it all. Gnawing through nautical ropes to search out craved symbols in the wintry wilderness feels like the kind of sleepwalking episode that needs medical intervention. Instead, in the past, Tai swears her only confidante to secrecy while in the future, she downs shots of espresso like she's an alcoholic at an open bar, and dreams up child abduction scenarios that drive a wedge between her and her ex. Speaking of driving, crashing your car to avoid accepting responsibility for abandoning your child at school? Not cool Tai.
Shauna
Foushee once sang, "I've been trying not to go off the deep end." But Shauna Shipman, she's happily drowning in the loony lagoon this week. In the present, she's explaining away her obstruction of justice using her cuckold husband and feminism (duh). But in the past? In the past, Shauna is playing dress up with the corpse of her dead bestie, treating her like some frozen necrotic barbie while they "argue" over ear coffins and hair braiding and whether the mom-to-be wants to eat her. She does, obviously, but somehow we get the feeling it's not just Jackie's flesh that Shauna is hungry for.
Travis
Travis lived through the unfortunate experience of being stranded in the woods for over a year with a cabin full of hormonal, hangry teenage girls. Obviously, the "vice grip of his trauma" was going to be tough to break. But sex fantasies about Lottie and deep fakes convincing him his brother is well-and-truly dead were just the beginning. In the present, Travis is paranoid and suicidal, rambling about needing to speak to the darkness and devising near-death rituals to do it. We're not sure we trust Lottie's account of his eventual demise, but we are certain that Travis needed the kind of help none of the women on this show could give him.
Lottie

Speaking of help, Lottie's "intentional community" of heliotropic f*cks is still holding Natalie hostage in the present. While their Anthropologie-garbed guru goes all Gordon Ramsey on her minions for confusing maca root with ashwagandha (we guess their "best selves" still can't make a good smoothie), Nat's forced to wade through her bullsh*t to get to the truth of what happened to Travis. In the past, Lottie weirdly seems more mentally stable. She's defending Shauna's grieving process and smoothing over the feathers that ruffle when so many hens occupy one house. We hate to say it, but maybe the woods were good for her.
Natalie
The worst girlfriend award of the episode undoubtedly belongs to Natalie, who thought ripping the pants off her boyfriend's missing brother, covering them in her blood, posing them to make Travis think Javi had died, and then f*cking the sadness away were all good choices.
Misty
Adult Misty is a grammar-respecting queen who understands that "goose chase" and "wild goose chase" are two very different things. But teen Misty? Teen Misty most definitely did the "girl poop."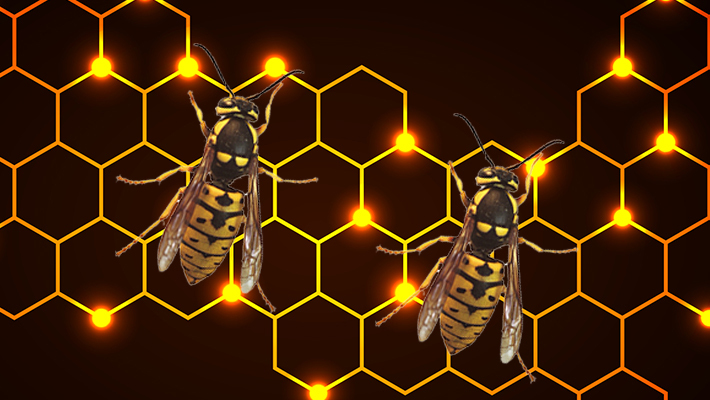 Van

Van is losing out on precious REM sleep because her girlfriend wants to take a midnight stroll over a cliff and refuses to talk to their resident "witch doctor" about her weird-ass dreams. Someone get Van some Ambien and an all-expenses-paid trip away from this hellhole.
Coach Ben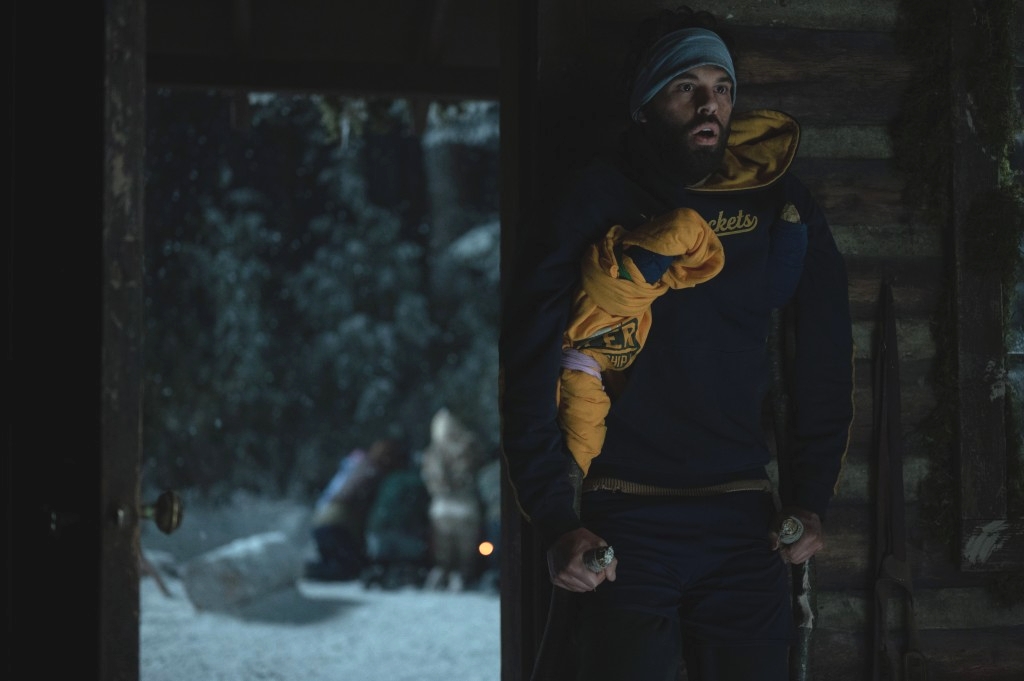 Coach Ben is too soft, too delicate for this cannibal tribe life. He's also already down a leg which makes him easy prey the next time these girls get a craving for people meat.
Citizen Detective Thread
Misty's got a new stalker and it's Elijah Wood but there's no way the woman he's wheeling around the old folks home is his actual mom, right?
Cozying up to the underage daughter of your number one murder suspect doesn't seem like something they teach you in detective school. There's no way this case against Shauna holds up in court now, right?
Why is Lottie still getting visions of Laura Lee?
What's with the moss on the trees?
Which Tai are we speaking with right now?
'Yellowjackets' airs on Sunday nights on Showtime.