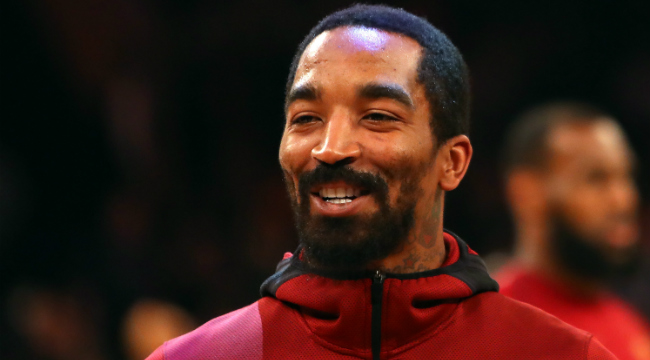 The NBA news cycle is never-ending, and even when you think something is so ridiculous that it will dominate headlines for weeks, something else happens that pushes it to the periphery.
One such incident last year involved J.R. Smith throwing a bowl of soup at assistant coach Damon Jones. Smith chucking soup at a coach was instantly hilarious and led to plenty jokes on Twitter — some of which even Smith himself had to admit were funny. ESPN's Brian Windhorst and Dave McMenamin were the men behind breaking that story, but they left out one detail on purpose.
It was eventually revealed that Smith's soup of choice that day was chicken tortilla, but that was left out of the original story. It wasn't a necessary detail at first, but once the Twitter machine started spinning and people began trying to figure out what soup he threw — and what soups were best for throwing — Windhorst decided to withhold that information out of spite.

The ESPN reporter revealed this fact to Kevin Draper of the New York Times in a recent profile, noting it was something of a protest for him as he's been upset in recent years with the way the sports media as a whole (including ESPN sometimes) handles his reports.
"I knew instantly that it was chicken tortilla," Windhorst said. Frustrated that ESPN's news desk paid more attention to the type of soup than to the dozens of articles he had previously filed, he refused to report the detail. "It was sort of like my silent protest," he said.
It makes sense that this would be the story where Windhorst would make this kind of a stand. It wasn't a critical bit of information and the story itself wasn't really all that important beyond illustrating the tensions building in Cleveland.
Also, yes, I fully understand how meta it is to aggregate a story about someone's frustration with how his stories in the past were aggregated. Go read the full piece, which offers an insight into how he's moved on from being "the LeBron James beat guy" to being one of the best overall reporters in the league.