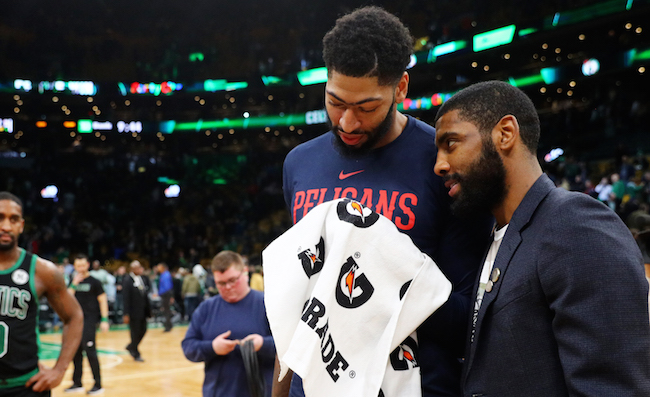 Anthony Davis is officially on the trade block after he and his agent Rich Paul made a trade request by informing the Pelicans he would not sign a supermax extension this summer.
Davis wants to go somewhere to compete for championships, per Paul, and the immediate favorites to acquire him in the minds of most (and the oddsmakers) are the Lakers and Celtics. Both have stumbling blocks to get over before they can land the superstar, however, as Los Angeles has to hope their young core of players is valued by the Pelicans and the Celtics have to wait until this summer to deal for him due to the CBA's Rose Rule.
The Pelicans may very well wait until this summer in order to find out who has what picks in the 2019 NBA Draft and to bring the Celtics and their stockpile of young players and future draft picks into the mix. However, according to Yahoo's Chris Haynes, there is another issue standing in the way of the Celtics acquiring the star center.

Boston, as they are constructed right now, are as good a chance as Davis will get at being on a title contender, as is his stated goal, but there is apparent concern that, despite his promise before the season, Kyrie Irving could walk this summer in free agency. Haynes notes that makes Davis a bit wary of Boston and that they aren't on his "top target" list.
Regarding team preferences, Boston is not a top target for Davis, sources said. There's a growing belief of uncertainty that Kyrie Irving will not re-sign with Boston, sources said, even though he vowed to do so at the beginning of the season.
It would be nothing short of incredible to see Irving go elsewhere this summer after proclaiming to an arena full of Celtics fans he would be staying just prior to the season. We've seen the frustration Irving's had with his young teammates, even going so far as to call LeBron and apologize to him for once being like that, but the expectation for most has been he'll work through it and stay on board. If that's not the case, then Boston's entire grand plan for being a championship contender for the next four years may crumble behind a departing Kyrie and Gordon Hayward struggling to find his form after his horrific leg injury.
Now, it's crucial to note that, just like with Paul George and Kawhi Leonard, preferred destination means nothing in trade talks for New Orleans when it comes to considering what offers are on the table. That said, if Paul and Davis make it clear to Boston there's no guarantee he signs long-term, the offer the Celtics make to the Pelicans could be impacted.
It seems fairly clear the plan is to leverage Davis into New York or Los Angeles, but the question is whether other teams will be scared off of Davis enough by that push to not put out better offers than either of those teams could or would make. As for Boston's chances, if the Pelicans were to wait it out until this summer anyway, they may very well be willing to wait until Irving has made his free agency choice if it means the Celtics are more willing to put their best offer on the table.