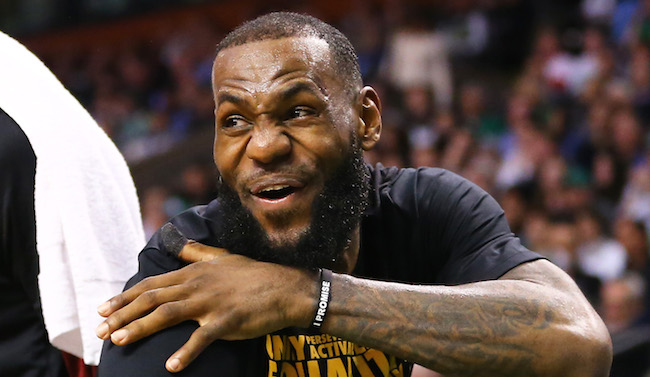 The Cavaliers are back. Well, they might be back. It's kind of hard to tell after one game.
In any case, Cleveland looked a lot better on Sunday in thumping the Celtics in Boston than it had at any point in the past month and a half. The catalyst for the sudden shift in quality of play from the Cavs was the introduction of the four new players they added at the trade deadline, the departure of the six they sent out and, most important, a clearly-rejuvenated LeBron James.
That last part goes hand in hand with the first two, as James was clearly excited to be playing with a new batch of teammates who were younger, more athletic and, maybe most signficant, seemed to be engaged on both ends and willing to do what was asked of them. James raved after the game about his new point guard George Hill and was very complimentary of Jordan Clarkson, Rodney Hood and Larry Nance Jr. as well. James can now see potential with this team. He can see the opportunity to win and reach another Finals, and it had him looking more excited on the bench and on the court than we've seen out of the King all season.
While there are obviously ramifications on the Cavs' ability to compete this year, what may be more important to them is how the revamped roster makes James feel about the future. LeBron's impending free agency this summer has loomed over every move the Cavs have made all year, and prior to the deadline things felt particularly bleak on that front. However, Koby Altman and company have appeared to succeed in making moves that please James, and those around the league have noticed a shift.
A league executive spoke with Sean Deveney from Sporting News and said that what felt like a 50-50 chance LeBron would stay in Cleveland prior to the deadline had shifted in favor of the Cavs following their blockbuster trade.
"I would have said it was a 50-50 proposition that he would go back to Cleveland this summer before all of this, even a week ago," one league executive told Sporting News. "I think this moves it more in the Cavs' favor. They're younger and deeper. If the lifestyle is all the same to him, and I don't know that it is, I'd think he would stay in Cleveland.

"I would put it from 50-50 a week ago to now, something like 75-25 that he stays. Even if they don't win this year, they've given themselves room to grow."
Obviously, the conjecture of one NBA executive isn't necessarily earth-shattering news, but it does point to how the league views a favorable response to the moves from James as a fairly significant positive for Cleveland. The general conversation about the Cavs shifted pretty dramatically based on Sunday's results, and that's always a bit of a dangerous proposition considering it is one game. That said, it was impossible not to see a change in attitude from James and the rest of the team, and that has to be at least some kind of positive sign.
If Cleveland's deadline moves do prove to be enough to keep LeBron, while also maintaining the Brooklyn pick, Koby Altman will undoubtedly see his reputation skyrocket into those of the league's front office elite. What was seen as a nearly impossible outcome now seems more likely than not to some, and any questions as to whether he could handle this role have to be put to rest.