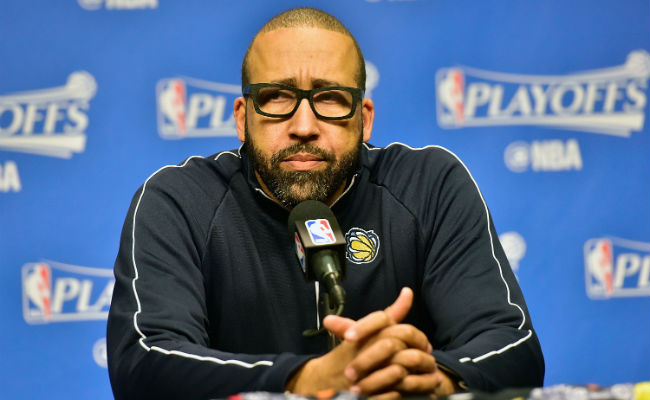 David Fizdale is the new head coach of the New York Knicks, which means now we'll finally get into some of the rumors about what happened to cause his dismissal from his former job.
Fizdale was fired by the Memphis Grizzlies early in the season after an apparent conflict with Grizzlies star Marc Gasol. Everyone involved has been quiet about whatever it was that led to the coach's dismissal, but some of that story appears to be finding its way into the public eye now that the New York media has its focus on Fizdale.
A New York Daily News piece published on Saturday went further into an alleged incident where Fizdale and Gasol got into it about the state of the locker room and their tenuous relationship. As the Grizzlies continued to struggle, it's said, the two parties became frustrated with their expectations of one another.

According to Stefan Bondy, that led to a blowup where Fizdale quipped that, much like Gasol, he wished he were dealing with another person entirely.
Trying to morph the Grizzlies was always going to strain a relationship with Gasol, and the toxicity reached a pivotal moment when, according to a source, Fizdale confronted the team about its lack of desire following a defeat. The coach went around the locker room asking each player if he believed he could win a championship. If they lacked belief, they didn't belong on the Grizzlies.

The younger players went along. Gasol, however, answered, "No." Then when asked for an explanation, Gasol replied, "We don't have the right leader."

Fizdale had a solid comeback, but it couldn't have helped his future with Gasol.

"I get it, you want Gregg Popovich, and I want LeBron James," the coach told his star player, according to a source.
It's a pretty witty reply to a contentious situation, but Grizzlies assistant coach Nick Van Exel says that it's complete bunk.
So it sounds like that source may be embellishing or flat out telling a lie, but there are certainly a lot of other supposed stories of tension between Fizdale and the Grizzlies. The coach had success in Miami and it seems he wanted to make some changes in the locker room in Memphis, something that rubbed many, including Gasol, the wrong way. But the Knicks and Fizdale do have one thing in common if his quote is indeed accurate: they both want LeBron James, and can technically get him this summer.