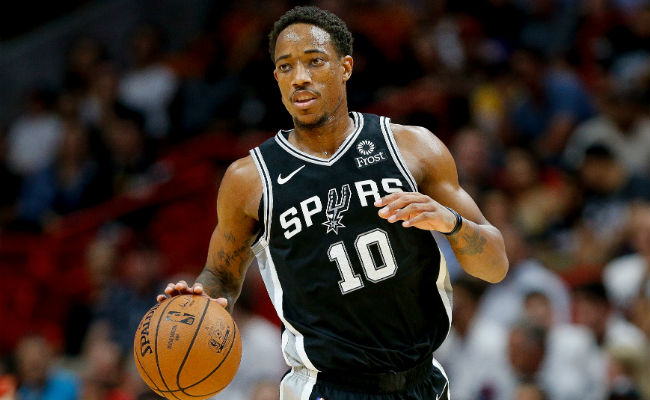 DeMar DeRozan didn't take a trade out of Toronto too well initially. Things are fine now, and he's a member of the San Antonio Spurs (and seemingly happily so). But when he was first shipped out of Toronto as part of a package that netted Kawhi Leonard, he was understandably upset.
DeRozan claims he was told he would not be traded, which is why he was shocked to find out he was, indeed, moved from the team he had spent his entire career with. And while he's come to terms with that and continued his career in San Antonio, the initial response was outright shock.
DeRozan was profiled in a Bleacher Report piece that detailed exactly what was going on with him when he first heard that he would be moving to San Antonio. And it's not surprising that he was out doing other things and enjoying his offseason. But what was most interesting is that DeRozan was in the one place where society still says it's not cool to check out what's happening on your phone: the movies.
More specifically, DeRozan was in Los Angeles at a screening of Equalizer 2.
DeRozan found out about the trade after getting out of a screening of The Equalizer 2, featuring Denzel Washington. Upon leaving the movie theater in Los Angeles late into the night, he checked his phone. "[I] was wondering why I was getting missed calls," he says.
It really is unfortunate timing, as a movie theater really is the one place where you an actually miss big things happening unless you happen to be on an airplane without WiFi. DeRozan said he went to a Jack in the Box to get some food after the show and checked out his voicemails. And once he found out, though, it took him a long time to process it all.
In the parking lot, he got the call telling him he had just been traded to San Antonio. "It just caught me off guard," he says. "I sat in the Jack in the Box parking lot for, like, two hours just trying to process it all, like just trying to process the whole thing, and it just tripped me out honestly, just trying to figure it out, but that's how I found out. Midnight, sitting in the Jack in the Box parking lot for about two hours till I went home."
DeRozan giving these details is really interesting because, well, who among us hasn't sat in the parking lot of a fast food restaurant trying to come to terms with uncontrollable realities that dramatically alter the course of your life. It's a very human thing to do. The trade was a shock in many ways, but DeRozan seems to be making the most of it in San Antonio. Sometimes, all you can do is keep going and try to do the best you can.