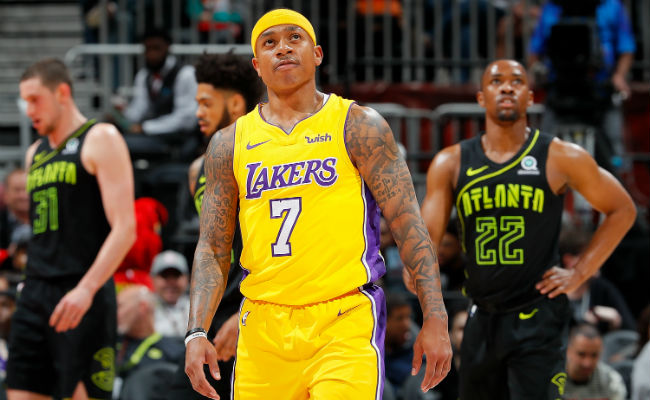 Isaiah Thomas' hip has been a big deal for months. Whether it held him out of Boston's postseason series against Cleveland in 2017, nearly held up the trade between the two teams that sent Kyrie Irving to Beantown, or caused him to miss much of the first half of the season for the Cavaliers, Thomas' hip has been at the center of attention for some time.
It was announced earlier this week that Thomas was going to sit down with doctors about the injury, and on Wednesday afternoon, the Los Angeles Lakers announced that Thomas will get some work done on his right hip on Thursday.

ESPN's Adrian Wojnarowski added some more details, saying that this is a "minimally invasive procedure."
This is, obviously, a devastating blow to Thomas, who is getting this done a few months before he becomes a free agent. There have been concerns about what kind of deal Thomas could command on the open market, both because of the fragility of his hip and because he is an undersized, score-first point guard whose step back this year, it can be argued, is a sign of a sharp decline at age 29.

While anything can happen, Thomas has made it clear that he would like to go someplace where he gets a starting job, which could be harder to come by after undergoing a procedure this close to free agency. Chris Mannix of Yahoo Sports suggested that, as a response to this, Thomas is likely looking at a deal with the hopes of proving what he can do to teams.
Thomas is averaging 15.6 points in 26.8 minutes per game for the Lakers this season. Los Angeles acquired him from Cleveland at the trade deadline.