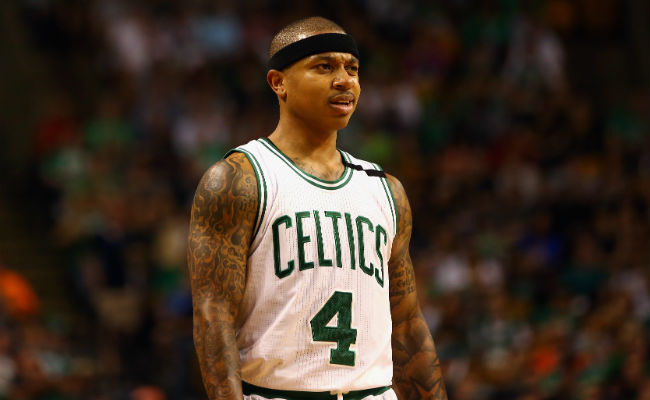 The plight of Isaiah Thomas is one of the most unfortunate of the 2017-18 NBA season. In a calendar year, Thomas went from a breakout star with the Boston Celtics expecting a big payday in free agency to a person with an extremely uncertain future.
Thomas played with a torn labrum last year and later bowed out shortly before the Celtics were knocked out by the Cleveland Cavaliers in the Eastern Conference Finals. Then came a trade to that same Cavaliers team and a long rehab period that ran into January of this year.
Thomas struggled on the shores of Lake Erie and was subsequently traded to the Los Angeles Lakers at the trade deadline this season. Last week, his season came to an end when he needed surgery on that same hip. But speaking to the media on Friday, Thomas reiterated that he doesn't regret playing for Boston despite the complications that have followed for his hip.
Thomas said that, at the time, he needed a distraction to take his mind off the tragic death of his sister.
"I don't regret it," Thomas said. "At that time, I was going through something way bigger than basketball, so basketball was the only thing that could really numb in that point in time."
In the months that followed there was some speculation that Thomas didn't agree with the direction of the Celtics medical staff, but he also downplayed casting any blame on anyone for his current state.
"It is what it is and I can't control that. I mean, you can say 'Yes, I wish there was a better decision made on both sides,' but at the same time it is what it is," Thomas said. "I can only control so much, but now that I've fixed the main problem the focus is to get back to 100 percent."
Getting back to 100 percent is, indeed, the only option for Thomas, who doesn't have a contract after this season. It seems unlikely that he will find a starting job next fall given his injury history and his resulting play, but that's something he still says he wants to find. It's been a weird year for IT, though, and we're a long way away from him expecting a Brinks truck full of cash from the Celtics.