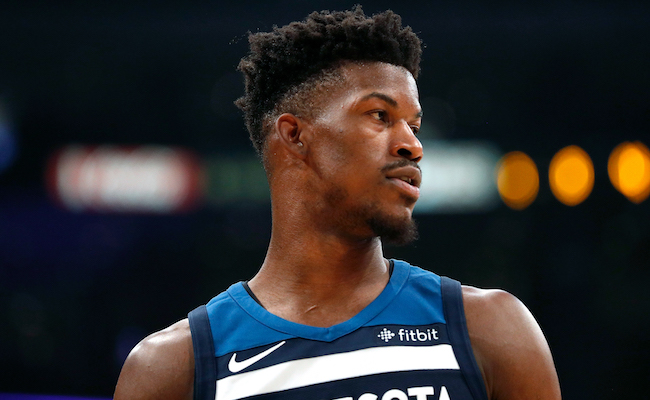 The Jimmy Butler sweepstakes is fully underway and, as of the weekend, Minnesota Timberwolves owner Glen Taylor is directly involved in the proceedings. Given his reported push to secure a deal that would send Butler elsewhere and Butler's projected absence from Monday's Media Day festivities, there could be fireworks in the (very) near future and, on Sunday afternoon, ESPN's Adrian Wojnarowski injected a new potential suitor into the mix.
That suitor is the Cleveland Cavaliers.

As noted here, Taylor and Cavaliers owner Dan Gilbert have a history of deal-making and, while Cleveland may not make a ton of sense on the surface, there could be fire to the smoke. Plenty of whispers exist that Gilbert has no plans to press the reset button after the defection of LeBron James and, beyond that, the Cavaliers have considerable salary (George Hill, Tristan Thompson, J.R. Smith, etc.) that could come in handy when attempting to match salaries. Finally, the Cavaliers have an outstanding draft pick owed to the Atlanta Hawks if it falls in the top 10 and, if Cleveland wants to make sure that selection conveys sooner rather than later, adding Butler would work wonders to securing a better position in the East's pecking order.
With that said, Cleveland doesn't have a ton of assets that would likely interest Minnesota, particularly with Kevin Love (who has an obvious history with the Wolves) unable to be dealt until January after signing a massive extension. There are teams with much better (theoretical) packages to offer but, as we've seen in the past, ownership can dictate quite a bit and it may not be wise to rule out an off-the-radar pursuit from the Cavs.