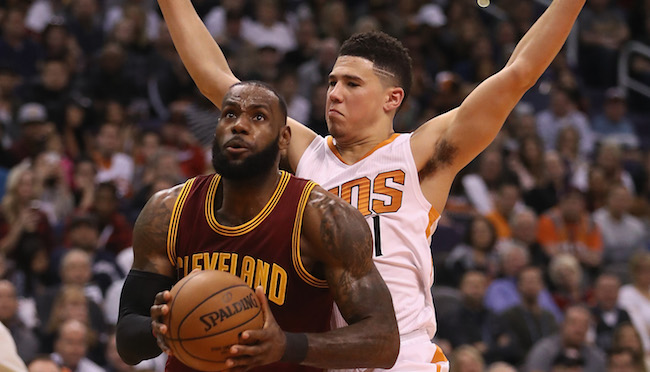 We know what it will take to land Kyrie Irving from the Cavaliers, as reports have come out that Cleveland is requesting a hefty price from inquirers for their star point guard. Cleveland is reportedly asking for something akin to the package the Nuggets got in return for Carmelo Anthony back in 2011, which requires a team to give up a mixture of young assets on rookie deals, future draft picks, and win-now veterans.
There aren't an awful lot of teams that seem to have the ammunition to bring all three of those, and, as of now, none of those organizations that can are ready to meet the Cavs' price. The Suns are among the teams that have the ability to piece together an intriguing offer for Irving, and while two of the three requirements Cleveland has set forth for acquiring Irving can be pretty easily met by Phoenix, they're less than enthusiastic about parting ways with one of their young, budding stars (at least, they hope they'll become stars).
According to Cleveland.com's Joe Vardon, the Suns continue to refuse to put either Devin Booker or Josh Jackson into a trade package, which most assume will include Eric Bledsoe and a future first-round pick — possibly the 2018 Heat pick.

Cleveland also wants Josh Jackson, a 6-8 rookie drafted fourth overall by the Suns in June. Phoenix reportedly doesn't want to trade Jackson, and a source said the Suns told Devin Booker he would not be traded — which would seem to put a serious hamper in this potential trade.

"If that deal (Bledsoe, Miami first rounder and Jackson) for Irving was there, it'd be done by now," a league source with knowledge of the Cavs' thinking told cleveland.com.
This goes along with the previous reports we've heard about the Suns not wanting to part ways with Jackson, and few could have expected them to be willing to send Devin Booker in a deal. The question is whether the Cavaliers will be able to hold out and get the package they want, or if the pressure of moving Irving prior to training camp will cause them to make concessions in their demands.
The Suns couldn't deal Jackson even if they wanted to until Aug. 2 (30 days after signing his rookie deal on July 3), but once that date passes all possible cards can be put on the table by Phoenix. That's an advantage the Suns have over a team like Minnesota, which can't deal a free agent signing like Jeff Teague until Dec. 15. As Wojnarowski notes, it's not out of the question that the Cavs could wait until then, but that runs a significant risk of creating some unnecessary locker room tension for the first almost two months of the season for a team that still has Finals hopes.
As Vardon reports, if Jackson gets put on the table, Irving likely will be headed West to Phoenix, especially considering the Heat and Celtics, two long-time rivals of Cleveland, are among the top assumed competition for Irving.