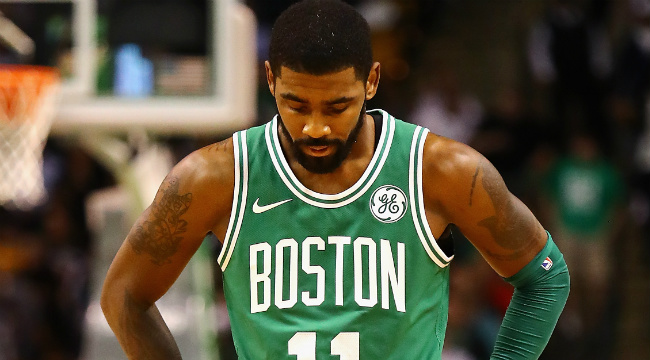 Kyrie Irving's season came to an abrupt end as knee pain turned into a pair of surgeries in the last fortnight. The latest surgery needed to occur to remove screws Irving had put in his left knee when he fractured his kneecap back in 2013.
The Boston Celtics star won't be available for the postseason as he recovers, but the good news is that his prospects for the 2018-19 season look strong right now. The Celtics announced on Saturday that Irving's surgery was successful in removing the pair of screws in his left patella.
Celtics general manager Danny Ainge said everything went "exactly as planned." He also gave a glimpse into when the team's star will be 100 percent, saying that Irving is expected to be ready for next season after a summer of rehab.

"The surgery went exactly as planned and we expect Kyrie to be fully healthy for training camp in the fall," Ainge said in the release.
Irving officially joins Gordon Hayward as an injured Celtics superstar expected to be ready in time for next season. Meanwhile, Marcus Smart and a few other banged up Boston players still hope they can positively impact the team's postseason roster. Skeptics think a Celtics team without Irving can't compete in this postseason, but right now next year's team will certainly have a lot to prove.