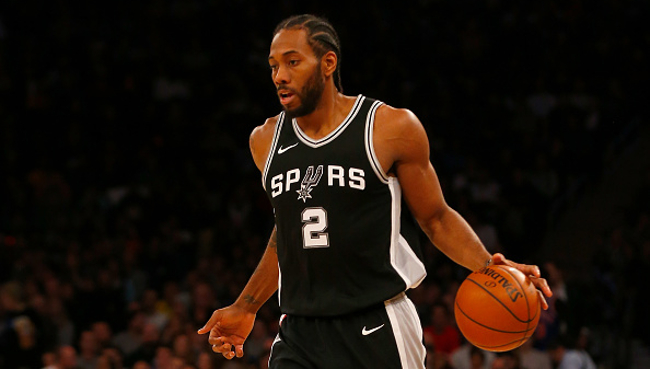 While many anticipated a slow start to NBA free agency due to LeBron James likely taking some time to mull his decision, there was a flurry of activity shortly after midnight on July 1 as the majority of teams and players decided not to wait on the King's next move before they locked up their money.
Whether a product of a market that was thin on money or simply teams and players deciding they didn't need to be held up by one player's move, there was no shortage of signings in the wee hours of Sunday morning. The biggest of those were Chris Paul inking a 4-year max in Houston and Paul George doing the same in Oklahoma City in a stunning decision with regards to the length of his contract.
With George officially staying with the Thunder, that puts the Lakers in an interesting position as they work to land LeBron James and possibly another big name this summer. There are grumblings that DeMarcus Cousins might be their target on a short-term deal to avoid locking in a huge contract on him after his Achilles injury. The other option for a legitimate star is trading for Kawhi Leonard, but after a frenzy of discussion ahead of the opt-in date for James, talks have apparently cooled pretty significantly as free agency has begun.

"The Lakers have not been really aggressive the last few days with San Antonio," Wojnarowski says. "This isn't a negotiation among teams — Boston, Philly — where everyone's upping the ante. It's been slow building. Maybe the Lakers want to see how this plays out with LeBron. They've already lost Paul George. The Spurs have a threshold and it's very high for a Kawhi Leonard deal, they're not giving him away and they're going to be willing to walk away from this frenzied period of free agency and still try to play the long game. Maybe try to repair that relationship, offering that $219 million deal supermax contract. But right now Boston, Philly, or the Lakers have shown interest but no one has made it easy for the Spurs to just say yes to a deal."
It is wise from both sides to proceed cautiously at this point. The Spurs seem content to push for the best offer they can get and the George signing may help them as it could provide hope for another team that they could convince Leonard to stay in a similar manner. Unless LeBron indicates to L.A. that he needs them to land Kawhi for him to sign, they will want to hold off on dealing out their best assets for a player that very well might come to them in free agency in a year — although, again, that was assumed with George last year.
In any case, it appears as though anyone hoping for a quick resolution to the Leonard issue will be forced to wait at least a little while longer as more of the free agency puzzle sorts itself out.