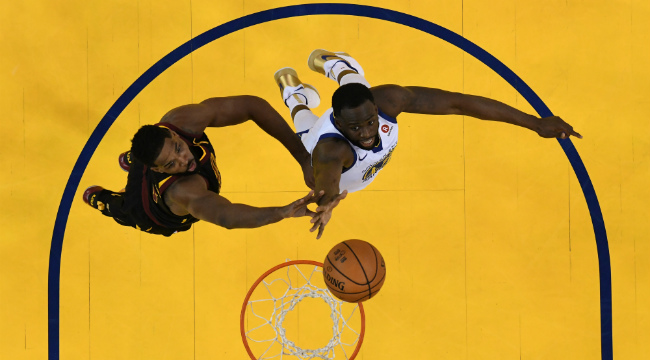 Much has been made in the last day or so about the series of events that led to an altercation between Draymond Green and Tristan Thompson. It's pretty well-documented that the pair do not like each other in the slightest, as they had several incidents during the 2018 NBA Finals. Add in that Green aired some dirty laundry during the Warriors' championship parade and it makes sense that there's some animosity between the two.
Reports have popped up recently about the pair getting into a fight during the summer, although there's no word on whether it was a fight, some jawing, or something else. That is until Wednesday, when Marcus Thompson of The Athletic shined some light on exactly what happened.
The gist of the story is that the pair were attending a party in Los Angeles thrown by LeBron James after the ESPYs. Thompson apparently accosted Green — the phrases "face mush" and "more like a shove" popped up — and tensions rose.

At this point, Green's superstar teammate, Thompson's ex-superstar teammate, and some others stepped in to ease tensions.
Again, the two separated before a full altercation could ensue. Several NBA stars, among them LeBron and Kevin Durant, intervened. They were reminded this wasn't that type of party.

After a conflict resolution session among NBA millionaires, temperatures settled. The party continued with Green and Thompson co-existing without issue, laughing and partying the rest of the night.
It would be kind of stunning if there was no beef between the pair — they've fought one another for an NBA title each of the last four summers, and with the various verbal shots at one another over the last few months, the risk ran of things boiling over if they came face-to-face off the court. But fortunately, people were there to keep the situation from getting out of hand, and the two seem like they're cool to some extent for now.
(Via The Athletic)