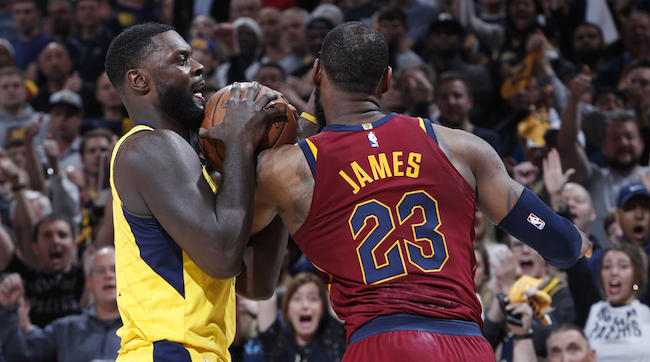 LeBron James and the Cleveland Cavaliers did what they had to in Indiana, earning a split with the Pacers to level the series at 2-2 and regain homecourt advantage heading into Game 5.
After blowing a large second half lead in Game 3, the Cavs appeared headed for a similar fate in Game 4 before they were eventually able to knock down just enough shots, courtesy of Kyle Korver, and avoided letting the full Lance Stephenson experience derail them down the stretch.
Stephenson put his full arsenal of tricks on display late, from earning the Pacers a technical foul by finally getting a rise out of LeBron James to his end-of-game wrestling match with Jeff Green in an effort to force a jump ball. After the game, Green shrugged off Lance being Lance and how he simply couldn't allow himself to lose composure, which is what he wants. LeBron noted something similar, although he did get caught in a brief moment of frustration with some embellishment by Stephenson, explaining it was like getting caught laughing in class as a kid.

"I should have never got a tech in the first place," LeBron says. "There's a timeout called and this guy's following me to my bench. I give him a little nudge and he falls to half court. Come on. But I should know better. I've been dealing with this since elementary school. It's like I tell you a joke and then you laugh and you get caught. That's what happened. Lance told me a joke. I laugh. Teacher caught me. Now I gotta go see the principal. That's what happened."
It's a pretty perfect analogy, as Lance is just trying to get the reaction from LeBron to get seen by the refs and earn his team a free throw. He succeeded on Sunday night, but the Cavs had the last laugh and will head back to Cleveland looking to avoid falling for any of Stephenson's shenanigans in Game 5 and beyond.